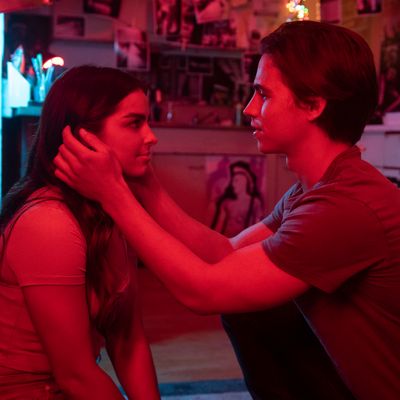 Photo: KEVIN ESTRADA/NETFLIX © 2021
Well, Netflix's He's All That is here, and because the worms in my brain that demand content that will make me go, "… why?," I have no choice but to watch it. The gender-swapped She's All That remake stars TikToker Addison Rae as Padgett Sawyer, who, like the actress portraying her, is a popular influencer. Padgett has a big, messy breakup with her white rapper boyfriend on Instagram Live, loses followers, and plans to regain her fame the only way she knows how: making a bet with a friend to turn a loser into a hot prom king. Romance, betrayal, and dance-offs ensue.
Before I offer myself as sacrifice to the teen-movie gods, a few predictions about what I am about to witness: Addison Rae will sing; she will do at least one TikTok dance; and, for my sake, I hope there is a Freddie Prinze Jr. cameo. For his sake, I pray there is not. Join me on this journey as I document my experience watching He's All That.
Spoilers ahead, but, I mean, you can probably guess everything that's going to happen in this movie.
- Okay, so we're opening on Addison Rae's very pink, very Instagram influencer bedroom. Her dresser has a ring light. This movie is going to kill me.
- Don't worry, she has a retainer! Relatable!!
- Oh no, she's livestreaming as she's getting ready for school. This is going to be a big component of this movie isn't it? Fake livestream comments always look corny to me.
- Oh God, there's floating hashtag graphics around her head. Please, no.
- Now, she's off to school with the tiniest backpack. How will all seven of your textbooks fit in there, Addison? There's no support in the straps, and your back will be ruined.
- I forgot Rachael Leigh Cook is in this!! Am I excited? Am I sad? She's playing Addison Rae's mom, which doesn't track for me.
- So, now Addison Rae is at school and one of her friends is played by Madison Pettis, who I only know as the little kid who plays the Rock's surprise daughter in The Game Plan. Hmm, maybe I do deserve to watch this movie.
- Addison is dating a guy named Jordan Van Draanen who is also internet famous for … music? He has a song called "Turf War in the 424," one of the area codes for Beverly Hills. He has another song called "On the Mean Streets of Pali," as in the Palisades where Matt Damon just dropped $17.9 million on a house. I cannot wait to hear this terrible boy sing his terrible songs.
- Ah, here's the titular He of the movie, Cameron Kweller, who is going to be All That-ed out of his beanie, shoulder-length hair, and various plaid.
- Okay, Cameron's younger singer just yelled at him to "Never touch my BOSE!" Is this the beginning of lots of product placement?
- Well, Jordan Van Draanen absolutely does not look like he's in high school. That is an adult man with spiky hair and no shirt.
- So, Cameron does photography! Moody! However, that means we won't get a recreation of the opening painting scene from the original movie.
- Now we've got some Sun Chips promo. This is absolutely going to be a recurring theme.
- Oooh, the break-up scene! Jordan is cheating on her with a girl named Aniston. ("It's a family name.") And now Padgett is throwing croquembouche at him. Oh yeah, she somehow found time to make him croquembouche, a dessert that takes about three and a half hours to make.
- Product placement No. 3: Lucky Charms. Rachael Leigh Cook just said she "forgot about the marshmallows." Rachael … are you okay??
- Uh oh, a viral video of Padgett and Jordan's breakup! That main focus seems to be that Padgett had a big snot bubble?? Now, she's being called Bubble Girl and hemorrhaging followers?
- Here she is! Kourtney Kardashian as Jessica Miles Torres. Torres is another influencer? Or brand manager? Who's to say. (Note: Okay, I guess she's supposed to be Padgett's social-media sponsor …?)
- Product Placement No. 4: Padgett's friends are both drinking from Core water bottles.
- Okay, I Googled it and the actor who plays Jordan is 22, much younger than I thought. I was convinced this movie had a 32-year-old man walking around shirtless in a high school.
- Cameron is a Horse Boy!!! He works at a stable before school. What time does school start for them? How do they have time for livestreams and horse care? Regardless, long live horse boys.
- Now, Cameron and Addison Rae are throwing horse shit at each other. I love cinema.
- I'm getting some Julien from Gossip Girl vibes from Addison Rae's Padgett. Except, Padgett is extremely smiley and overly earnest? She's too nice. I don't trust her.
- Product Placement No. 5: Doritos!
- Now, we're at a pool party. Just in time for Product Placement No. 6 and No. 7: Pizza Hut and KFC.
- There is karaoke at this pool party, and, Jesus Christ, Addison Rae is singing "Teenage Dream" and has a full-on dance routine. Is this her bat mitzvah?
- Oh, wow. Cameron AKA Addison Rae/Padgett's makeover project just jumped on stage to help her sing. SOS.
- Okay, now they're on a date, and he's taken her to a train station, a place she has apparently never been before? Padgett always smiling like a concerned mom. Also, there is no sexual tension. She seems like his babysitter.
- Makeover montage, baby!! Cameron's face is shaved. His hair is cut and pushed back. He's wearing a suit. And … I guess that means he's hot now!
- They're going to a party themed, "Drop It Like F. Scott." This is why I got a degree in English.
- Uh oh, new boyfriend and old boyfriend fighting at the party!
- Jordan just delivered the funniest line of this movie. He woke up after everyone left the party and said, "The party's over until I say it's over."
- So, Cameron is cool now because he did a big fight? Also, they livestreamed the fight and now Padgett's going to get a brand deal? I don't understand.
- TWIST! Padget's friend Alden (a.k.a. the Rock's daughter) is running for prom queen now. And she quit the dance team to start a new one with Jordan? How will Padgett recover?!
- Oooh, now Padget and Cameron are getting in a horny dark room! Guess she wasn't too sad about the poor thing. Also, how is there space in this home for an entire dark room?
- Okay, now he's wiping off her makeup and putting her hair behind her ears. Tables are turning!
- Product Placement No. 8: Cameron's younger sister is online shopping at Old Navy.
- Uh oh, big reveal! Cameron was part of a makeover bet this whole time! And now, we get what I've been waiting for: a character saying, "fuck." Cameron yells to Padgett, "I was a FUCKING bet?!" Is this why this is rated TV-MA?
- Okay, I left to get a snack, and now the mom is going to prom with Padgett? Oh, she's a chaperone.
- Product Placement No. 9: They're talking about Skittles.
- Oh, hello, Matthew Lillard? An original cast cameo!
- This school's prom has a dance-off? And no one is wearing dresses that are conducive to dancing? Now, there is Bring It On–style krumping. I change my mind; I love this movie.
- How much is left of this movie? Twenty minutes? What else even needs to happen?
- Oh yeah, prom king and queen. Jordan and Padgett win — a surprise! And now Padgett is giving a speech after being crowned queen? Why does she have a photo presentation prepared?
- She just said "this is the real me" and showed a picture of her making a silly face! Everyone drink!
- She just gave up her crown to second place — a goth girl named Celeste, incredible. And here comes Horse Boy to the tune of Sixpence None the Richer's "Kiss Me."
- Aw, they kiss!
- Aw, now there's an EDM remix of "Kiss Me."
- Aw, there's a photo montage of them traveling around Europe and getting matching tattoos that say "loser." Love is not dead after all!
- Of course, there's a blooper reel.
- That was bad and you should absolutely watch it.