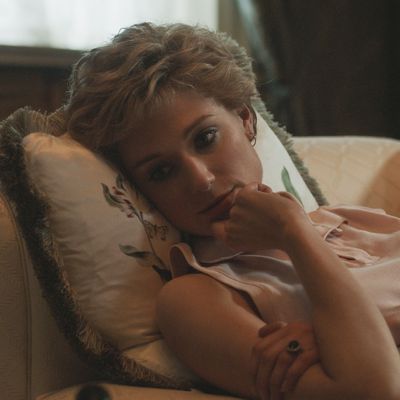 This morning, Netflix released more official images from The Crown's upcoming season — which feels like a real tease, considering we won't be able to watch it any time soon. The new stills show Dominic West, who will be taking over the role of Prince Charles, and Elizabeth Debicki as Princess Diana, both looking appropriately morose. Following the series's routine casting overhaul, season five will also include other replacements, like Imelda Staunton as Queen Elizabeth II (whose first look in costume was revealed last month), Jonathan Pryce as Prince Philip, and Lesley Manville as Princess Margaret.
As you may recall, the most recent season of The Crown left off in 1990, with Margaret Thatcher, played by Gillian Anderson, stepping down from office. Jonny Lee Miller will take over in season five playing Prime Minister John Major. Debicki takes over the role of Diana from Emma Corrin, and the upcoming season will likely pick up some time in the early '90s. Given the sad-looking stills, we'll probably see the downfall of Diana and Charles's marriage, including her infamous — and recently denounced — BBC Panorama interview, which, according to Deadline, will be included in the upcoming story line. Season five is expected to end around Diana's death in 1997.
Although a decision was made earlier this year to make season five the show's final one, season six was added back in last month, allowing the series to explore the period in "greater detail." The show won't bring us to the present, but it's now slated to wrap up sometime in the early aughts. Because of the cast changeover, the new episodes are still in production, meaning season five won't be available for streaming until sometime in 2022, with season six coming the following year. Patience, they say, is a virtue, but I'd much rather just watch it now.