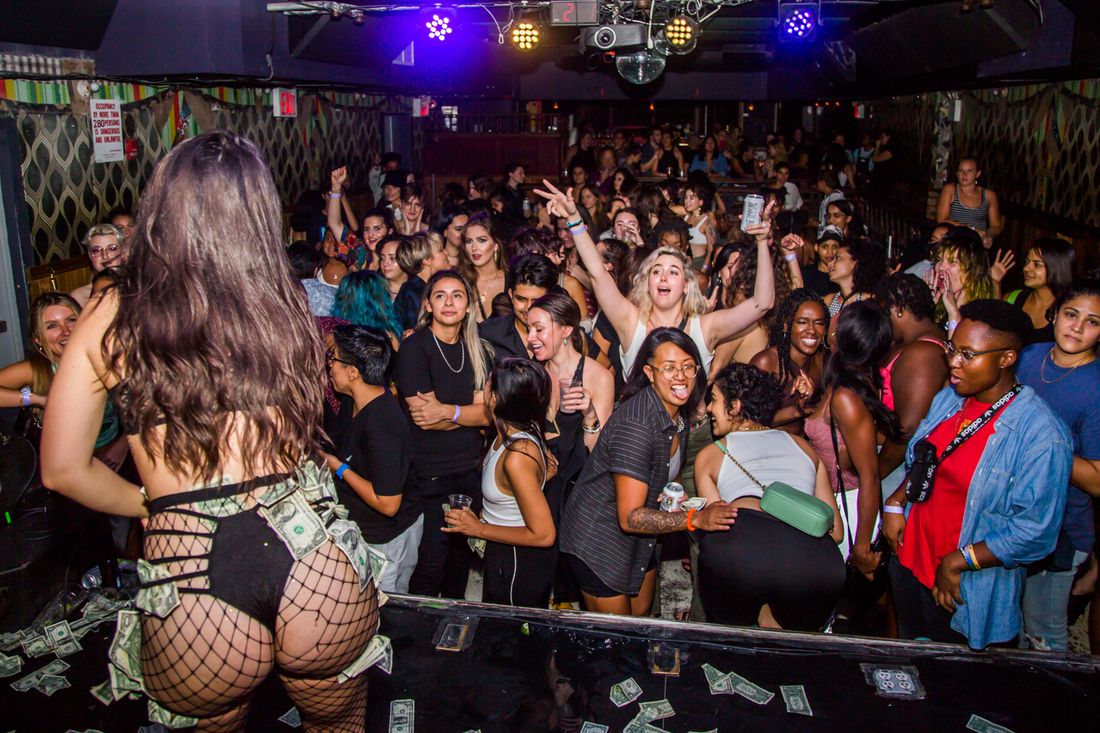 Burlesque dancer Scarlett Snow performs at a Hot Honey party.
Photo: Cristina O'Connell
I love to bitch about the gay bars I go to (umm … the Rosemont), but in reality, doing so is quite a queer luxury. As of this summer, the Lesbian Bar Project estimates there are only 21 queer women-centered bars left in all of the U.S., fewer than there are gay guy bars in New York City alone. Of the 21 remaining bars, New York has three: Henrietta Hudson, which recently rebranded itself as a charcuterie-serving hangout with cabanas; Cubbyhole, a sticky Greenwich Village staple where you can squeeze through a sardine-packed mass to order a well drink, cash only; and Ginger's, in Park Slope, which hasn't been open since COVID began. It's not exactly a thriving scene.
To combat the drought, there are quite a few regular parties for queer women that take place at non-queer venues, like the very popular, usually very sexy Gush, and Scope, a new post-pandemic party for astrology lovers. This week, as tropical-storm Henri made this the second-wettest summer in city history (wink), I went to "Hot Honey," a collaboration of sorts between "Hot Rabbit," a queer party that's been going on for over a decade, and Honey Burlesque, a mostly-gay dance troupe founded by my host for the evening, the 26-year-old dancer Scarlett Snow. It was their first reunion since February 2020, and despite the weather, nearly 200 people — baby gays in rainbow shirts and older gays in flannel — showed up to throw dollar bills at the go-go girls and groove on the flooding dance floor. "I have a lot of gay male friends, and they shit on queer women: 'Oh, they don't go out! They're not fun,'" one shawl-wearing partygoer told me while waiting in line for a tarot-card reading. "But there's a hurricane happening, and we're here. We're having fun, together. Fuck you guys!"
10:50 p.m. | Despite carrying an umbrella, I arrive dripping wet to Baby's All Right, a bar and concert space at the Brooklyn foot of the Williamsburg Bridge. Inside, I find Scarlett: a tiny pixielike brunette who is bopping energetically around the venue, giving cheery, singsong orders about the lighting and the sound system. "She wanted more women-centered events in New York," an older woman, a co-organizer, in a button-up with a white T-shirt underneath, tells me, pointing at Scarlett, who, in response, shakes her hips and screams back, like a cheerleader, "We need more!"
11:13 p.m. | Backstage, which smells like a Bath & Body Works, Scarlett and three other burlesque dancers squeeze into flimsy outfits and start stretching in ways I didn't know were quite possible for the human body. "Your butt looks WILD! Girl, you turned around, and I was like, What is THAT?" Scarlett calls to one of the dancers. While she decides whether or not her outfit requires fishnets, Scarlett tells me about the troupe's preshow routine. "Everybody thinks we're back here making out with each other and feeling each other up — which, granted, we do touch each other's, you know, places sometimes, only recreationally," she says with a put-on bubbly laugh. "But this is actually what's going on: We're freaking out about our costumes, calming each other down, stretching, and lying on the floor like we've just died."
11:47 p.m. | As partygoers arrive, the dancers gather in a mostly nude huddle and let out a piercing group scream before the first performer takes the stage. Scarlett tells me how she got into nightlife and burlesque in high school nine years ago in Florida. "I'd finish my English homework and then ride off to Jacksonville and take my clothes off in front of a bunch of lesbians," she says, clarifying that she was 18 and legal. But when she arrived in New York, she found there wasn't much work for femme female dancers hoping to shake it for someone other than creepy straight guys. "You see gay male go-gos, you see drag, you see performance artists. You don't really see that at queer women's spaces. They're like, 'Here's Bud Light on tap,'" she tells me. "We're not made for the male gaze. We're not here to have some guy be like, 'Yeah, pull it down, mommy.' That's just not what we do."
12:10 a.m. | At the bar, I spot two women occupying the same barstool, sipping beers and whispering past each other's matching Stevie Nicks manes. Apparently, they're both single moms who met each other in quarantine and are proud to say, unlike some other COVID couples, that their relationship "beat that fucking thing." "We were each other's only adult company for a very long time," one of them tells me. They're here tonight because the Sleater-Kinney concert (the femme partner's tenth) in Queens got rained out. I mistakenly bring up St. Vincent, the singer and one-time Sleater-Kinney producer, and one of them moans with physical disgust and waves me away. "She's their fucking Yoko Ono," she says, blaming her for the band's partial breakup.
12:22 a.m. | Scarlett introduces the first burlesque performance of the night, telling the crowd, "Some of our friends were a little afraid of getting wet … but none of us are afraid of getting wet in here." Meanwhile, rainwater starts to pour from the ceiling onto the dance floor. The first dancer sends the crowd, and especially the only two grinding gay guys, into an absolute frenzy when her sultry, lace-covered Sade set suddenly transitions into "Savage." But the gay guys stop twerking when the next dancer comes on and strips down to Ashnikko's "Slumber Party" ("Me and your girlfriend playin' dress-up at my house / I gave your girlfriend cunnilingus on my couch").
1:08 a.m. | Downstairs, the bathroom is a total party, even though it's flooded in two inches of standing rainwater. "I'm trying to make out with someone," one girl in big gold-hoop earrings tells me. "I need to kiss. And I'm curious if other people are trying to make out too." Another woman in long braids says she came all the way from D.C. for "Hot Honey" with her girlfriend of four years. "We were college roommates and then we were friends and then we were graduating and I was like, 'I like you,'" she says, making a joke about how they're not really "U-Haul lesbians" but rather "pre-U-Haul" lesbians.
1:23 a.m. | The women from D.C. aren't the only ones who traveled for the party. Back upstairs, I meet two girls who met on Tinder and came into the city from Long Island. This is their third date. "Our first date was at a bar. She got really drunk," one of them, with a beauty mark on her cheek, says of the other, with bubblegum-pink hair, who replies, "She had to take care of me." Her girlfriend responds coyly, "But I didn't mind," and we all do a shot of Patrón.
1:35 a.m. | Backstage, I check on the dancers, who are dumping wads of one-dollar bills into plastic grocery bags. "The best part is when you get home and some cash falls out of your clothes or your ass cheek," one of them tells me.
2:25 a.m. | I meet another queer couple out together tonight — one with TERF bangs and the other a Lorde look-alike. "I'm getting the vibe that a lot of baby gays are here. I'm visibly seeing it," Lorde tells me, something I had picked up on earlier in the night. They're here with the two gay guys, who they say are also baby gays, "a himbo and a finance gay." Bangs, a market researcher, tells me she's a devoted "Hot Honey" attendee. "These parties have become a last resort," she says, lamenting the closure of Ginger's. "It's a beautiful introduction to the New York gay scene. Here's what could be." But then we're interrupted by the gays, who have been at the tarot-reading station. Asked if they learned anything interesting, one says he connected with an ancestor: "There's an ancestral spirit right here that's like, 'Heyyyyyyyy.'"
3 a.m. | Outside, I join a group of short-haired women smoking cigarettes and talking about their sex lives. "I date pillow princesses, which is annoying as shit," one of them, with a very gravelly voice, says, and her friend responds, "All lesbians should be a switch. ALL OF THEM. But I love a femme with masc energy." "Hellz yeah," the gravelly voiced woman replies, adding, "Look at these shorts, bro. I've got fucking papayas on my fucking pants. It looks juicy as fuck." I can't help but point out that papayas are a rather yonic fruit, and a lip-ringed girl agrees, "You cut that shit in half and it's like, BOOM." All of them are "Hot Honey" regulars, partially because of Scarlett, whom one of them attempts to describe in seven words: "Good person. Sexy as hell. Great ass." Asked why this is different than other queer nightlife, she says, "There's anything for fucking gay dicks all night long. It's all for the dicks. I'm like, Yo, I need some fucking vag on vag." And then the conversation turns back to Scarlett: "All I need is fucking Scarlett dancing her fucking ass on my face."
3:45 a.m. | It's getting late, and everybody's getting really drunk. At the bar, I get caught in a very awkward, very close five-person exchange, and I can't tell who, if anyone, is flirting with whom. "I think my girlfriend might be cheating on me," one girl, who had been onstage getting a lap dance, says, and a motorcycle enthusiast on my other side leans over to compliment her boobs. Another girl butts in to tell me she's straight but might be interested in kissing a hot platinum blonde with a barbershop cut. I tell her that's Scarlett's fiancėe.
4:02 a.m. | Overwhelmed by all the early morning horny maneuvering, I say my good-byes and step back outside, where the rain has finally stopped. Waiting on my car, a woman in a puffy black dress gives me a disappointed look: "Everybody went to Baby's All Right and found a soul mate," she says. "And I'm standing here alone."