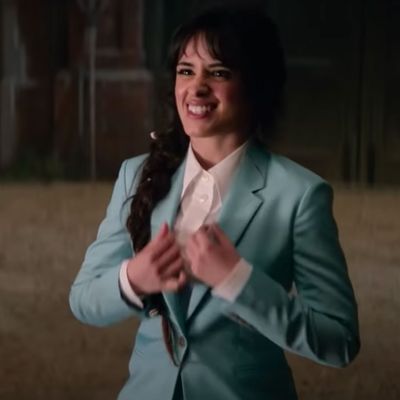 Photo: Amazon Prime Video/YouTube
There is a Cinderella for most every occasion. There's the 1950s animated Cinderella. There's the quintessential musical Cinderella, which stars Brandy, Whitney Houston, and the hottest Prince Charming to date. We've had a British Cinderella, an Extremely '00s Cinderella, and a Cinderella who watched Save the Last Dance once. There's been Cinderella offshoots in Ella Enchanted, Ever After, and something called A Cinderella Story: Once Upon a Song. And now, we make herstory with a Girlboss Cinderella.
If you felt something yesterday, that was just boss babes around the world absolutely shooketh at the release of Amazon Prime's Cinderella trailer. We meet our shero (Camila Cabello) designing clothes for her business, Dresses by Ella. This Cinderella isn't like other Cinderellas. She has a JOB and DREAMS and BILLY PORTER as her FAIRY GODMOTHER. He transforms her raggedy clothes into a blue pantsuit before turning them into a gown. (Wearing pants to a ball? Brave!) Also, James Corden is there because of course he is.
As the presence of Mr. Corden suggests, this newest Cinderella remake is a musical. However, it doesn't have songs from Disney's Cinderella, nor does it feature the Rodgers and Hammerstein score. I'm assuming this is for various legal reasons or because nobody wanted to go to prison for trying to do a version of "Impossible/It's Possible" without Whitney and Brandy. Rather, this Cinderella is … a jukebox musical?? The trailer features townspeople singing Janet Jackson's "Rhythm Nation" and palace guards chanting Queen's "Somebody to Love." There's also at least one original song ("Million to One") and probably a few more called, like, "In My Own Little Home Office," and "Lean In, Stepmother."
If anything, the faux-empowerment angle is unsurprising; She-E-O Cruella was a sign of #feminist fairy tales to come. It is funny, though, to watch Hollywood try to girlboss the princess out of these remakes. Like the only alternative to being saved by a prince is starting a business. Ladies, don't wait for a man to save you! Let capitalism do it!!!
Anyway, I can't wait to watch the shit out of this new Cinderella on September 3.