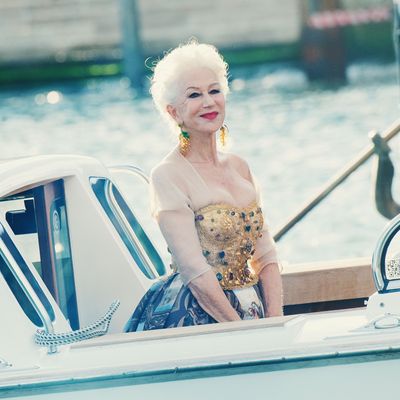 That's amore.
Photo: Jacopo Raule/Getty Images
Hello and good morning, particularly to the Dame Helen Mirren, who had a flirty weekend dancing with the stars in Venice. The atmosphere over there appears to have been pretty sexy in recent days — ahem — which is one natural consequence of hosting Helen Mirren in your city. She'll ride in on the shoulders of four strong men to do tequila shots on your red carpet and romance the locals, classic damely swagger. Mirren wasted no time at Dolce & Gabbana's Alta Moda fashion show, which drew a whole army of celebs to Italy: Jennifer Lopez, Doja Cat, Kris Jenner, Kourtney Kardashian, Travis Barker, and Vin Diesel. Guess who got swept off his feet?
"I danced in the rain with VIN DIESEL!" Mirren wrote of her Fast and Furious co-star — onscreen family member? Friend of the family? I don't understand this franchise — on Instagram. Look at that, amore.
Mirren wasn't finished with her fellow famous people, however. At what I am assuming was some kind of after-party, she and Megan Thee Stallion were seen dancing to a song that unfortunately was not "WAP," then having a little hug.
Hot girls doing hot girl shit.