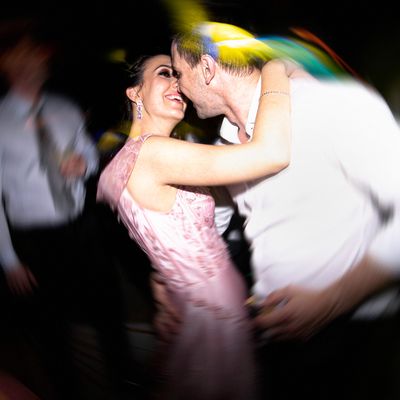 Photo: FG Trade/Getty Images
A wedding, one could argue, is the ultimate romantic evening. It's summer, probably, and the air is soft and warm. Fairy lights twinkle, music plays, and revelers clink their glasses in toast after toast. A besotted couple stand together in front of their loved ones and several tier-two acquaintances to make a lifelong commitment to each other. It's lovely. But … could weddings do with a slight structural tweak or two? Absolutely. I don't mean the wedding industrial complex as a whole. And I don't mean a quirky change, like when a bride switches it up by wearing a pair of sparkly white (or pink!) Converse under her wedding dress. No. I'm talking about overhauling a specific and deeply stressful — perhaps the most stressful, actually — element of weddings.
I'm talking about the cursed plus-one.
According to the Knot and this demonic post, "The 5 Plus-One Wedding Etiquette Rules Couples MUST Follow," the general rule of thumb is that if a guest is "married, engaged, or cohabitating" with their partner, they are to receive a plus-one. Why MUST they do this? MUSTN'T they do whatever they want? In the spirit of understanding, let's do our best to try to understand the logic behind this rule: It cuts down on guests. It ensures that the couple will know, at least vaguely, everyone at their wedding. So that when they look down from their wildly flailing chairs during the hora, they are not startled to realize they don't recognize the drunk people propelling them into the air. That's fair. That's safe. Did you know that Pippa Middleton instituted the "no ring, no bring" rule at her wedding? The second-most-talked-about Middleton wedding. Huh! That MUST be hard.
You know who should actually get plus-ones? Single guests and guests in brand-new relationships.
Single people don't get a plus-one for a myriad of reasons, one of them being the fantasy that they will meet other single people at the wedding. This is largely a myth, perpetuated by rom-coms and my camp friends. Okay, yes, there is the occasional one-night-stand. I once went to a wedding after which two guests fucked outside my motel room in a ditch. That's a best-case scenario, and it's rare. You really want to know why single people don't fuck each other more often at weddings? Because everyone in attendance is either married, engaged, or cohabitating with the person they brought to the wedding.
This is the second reason why single people should get to bring a date: numbers. Maybe they've brought a friend or someone they're trying to feel out but then decide they're not into it. Great. One person's trash is another person's plus-one they're now fucking in a ditch. Like in that Sex and the City episode when Charlotte hosts a party, and everyone is asked to bring someone they're not interested in. And just like that … your wedding is sexy.
And then there's the newly dating. Jesus, give these people a plus-one. It's been a month, maybe two, and they are so happy. They are ecstatic. They want to put on a party dress and scream "Woo!" on a dance floor filled with strangers in gem-toned blouses in either Mexico or upstate. They want to know if they are wasting their time in this new relationshipish, and nothing offers up that information quicker than a weekend away together. There is no energy like the energy of the newly smitten. Don't you want to infuse your perverted little wedding with some of that? Grandma Sheila only has a handful of precious moments left, and science shows that creating new memories makes time slow down. Extend your grandmother's life by blowing her mind with the memory of your cousin Frenching a kind-of stranger they've had dinner with twice.
You know who doesn't need a plus-one? The married, engaged, or cohabitating. They live together. They see each other constantly. There could be no greater gift than allowing the coupled up a chance to flirt with strangers, watch bad hotel TV and order weird room service, and wake up blissfully alone in a king-size hotel bed. Oh God, and the person who's left at home? They get the bigger gift (assuming there are no children, of course), which is that they are alone at home. They are standing in the kitchen topless eating a rotisserie chicken with their bare hands. For 48 hours, the person at home is feral. Talk about a goddamn gift. And think of the joyous reunion! They now have so much to talk about, each excited to share their own separate experiences from the past few days apart. They realize they've missed each other. Look at that. You've saved their marriage.
If you are currently planning your wedding for next summer, consider this: You're spending insane quantities of money to create the perfect romantic evening. You will have it, you are having it, you're doing it, this is l'amour. And now two strangers making out in the bathroom are having it too. Isn't that romantic?