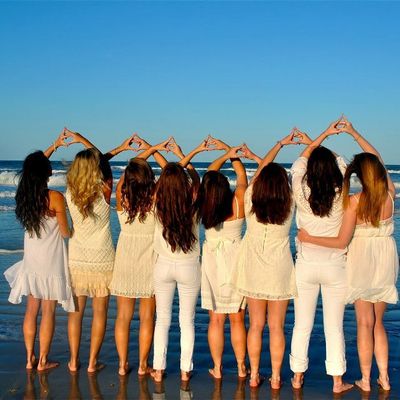 Emily and her sorority sisters on spring break.
Photo: Courtesy of the Subject
If you've been anywhere near the internet lately, it's been hard to avoid Bama Rush. Sorority recruitment at the University of Alabama has been all over TikTok — videos upon videos of sorority hopefuls showing off their rush-week outfits, telling us which items are from Shein, which are Michael Kors. And the rest of us, regardless of our connection to university or Greek life, haven't been able to look away.
This isn't the first time Bama Rush has made national news. In 2013, the University of Alabama made headlines after a Black freshman was reportedly denied membership by sorority alumni on the basis of race — prompting the school to pledge to desegregate its historically white sororities. Emily, who is white, was a student and Alpha Gamma Delta (AGD) member at the time. She spoke with the Cut about her experience during Bama Rush, what it's like to be on the sorority side of rush week, and the more insidious side of Greek life.
Thousands of people take part in rush week at Alabama. I had a pretty positive experience, but a lot of people don't. There are multiple rounds to the rush process and a pamphlet that tells you what to wear to each round. It's not prescriptive, but if you don't look like you're supposed to (e.g., you show up in a T-shirt instead of a dress), people will be like, "She's weird." At the end of each day, there's a ranking. As a potential new member (PNM), you vote on which sororities you want to go back to the next day, and sororities also rank the people rushing, deciding who they most want to join. Both sides are whittling down their lists, and you're hoping you get invited back.
Behind the scenes, it's an incredibly organized system. Before rush starts, active members of the sorority identify incoming freshmen who they want to join. They look at the résumés submitted and see who has the best GPA, who's the most involved, who's in sports, who's president of their high school, all that kind of stuff. Then, the week before rush, girls who are already in the sorority come and do a workshop where they memorize the names of the girls they want and practice those infamous "door songs" and chants.
In addition to their résumé, PNMs also have to submit a letter of recommendation from a current sorority member or alumnus. These recommendation forms take into account several other factors aside from high-school involvement, like reputation and character. You have to submit a reference for every sorority you want to rush or you almost always automatically get dropped. Usually, it'll be someone like your aunt who was in a sorority who will write you a letter of recommendation. Some people fudge it a bit and have their mom's third cousin write their letter, or they'll ask someone in a Greek life Facebook group if they'll meet and recommend them. In some cases, someone comes through during rush that isn't on anyone's radar, but everyone's like, "She's awesome." If that happens, members of the sorority find someone to write her a letter of recommendation. Later, when sororities vote on PNMs, that letter of recommendation goes into your score. A recommendation from a family member would give the PNM a higher ranking, since she'd be a legacy. Résumés, leadership experience, community service, and conversations had with current members during rush are also some of the things factored into a PNM's score.
When I was in school, it was rare to meet a woman of color participating in rush, and until 2013, I never met a Black woman during rush week. At the time, I didn't think much about that. The sororities and fraternities at Alabama are mostly Panhellenic, which are historically white organizations. There are historically Black Greek organizations at the school, too, which were primarily made up of people of color. But, in my experience, people of color rarely rushed the Panhellenic sororities and fraternities. When I was there, they were pretty much all white and extremely exclusive. Everyone was from the same background and had similar experiences growing up.
In 2013, during my junior year at Alabama, a person rushing came to our ice-water-tea round, which is like a meet and greet with rushees and current members, that everyone loved. She was super-popular, had incredible grades, and was really involved. She was also one of the few Black women who had gone through rush and actually had a chance to get a bid. It was a big deal, and people were really excited.
But then, when it came to voting at night, the alumni — who were also involved in voting for PNMs — said it was canceled. They said things like, "All the scores were submitted" and that we didn't need to vote. We were all confused and, frankly, suspicious. Eventually, one current member stood up and said, "Are we not going to talk about the Black girl?" The alumni said that there was an error in her letter of recommendation and she was getting dropped.
It started a war. Eventually, the alumni started saying things like, "We've worked so hard to make this one of the top houses on campus. If we're the first people to invite a Black woman in, we're never going to get invited to the fraternity parties. All the stuff we've worked for is going to be gone."
Then, member after member started standing up, saying, "This is not okay. We know there was not a problem with her letter of recommendation. We know what you're doing. It's racist, and this is fucking insane." There were girls in the sorority who were in line with the alumni, saying, "It's really important to us that we stay a top house." But the overwhelming majority was like, "You've got to be kidding me." But the alumni put their feet down. She ended up getting dropped from every sorority.
Some members took the incident to nationals, the headquarters of the sorority that oversees all chapters nationwide, and eventually, the story went to the press. Because of that, the president reopened rush for a week. The Black woman we initially dropped got a bid for a different sorority and joined, though a different Black woman ended up joining AGD. To my knowledge, we experienced none of the social repercussions that our alumni were afraid of. That was when Alabama started working to desegregate its sororities. Certain alumni were banned. Representatives from the sorority's national organization started coming to rush. At the time, it felt like a huge step. Now, looking back, it was really a very small step. We had dropped a person because she was Black, and the damage was done.
That wasn't the only problem. As a PNM, you don't interact with the frats much during rush week. But once you get a bid and become a pledge, you start going to swaps — parties where a sorority pairs up with a fraternity. Usually, there are themes, and sometimes those themes are highly problematic. At one swap, the theme was "CMT versus BET," where you either came dressed as a cowboy or a rapper.
During these parties, there was a practice called "bumping." All the pledges from the frat and the sorority would line up facing away from each other. One by one, you'd back up until you bumped into each other. Then, you'd both turn around and the guy would do something that was usually sexual. He'd be cheered on by his frat brothers, like, "Motorboat her!" Then, he'd do it. There was one house that was notorious for swinging from the rafters of the basement and wrapping their legs around girls' necks. Though pledges could technically opt out of bumping, no one wanted to be "that girl." It was like sanctioned, organized harassment.
If someone had asked me at the time if I was hazed, I would have said, "No. They treated me like a princess. They got me sorority hats, T-shirts, and gifts every week." It was just so normalized — people chanting while guys were putting their hands on your body.
Even still, my experience in a sorority holds a very special place in my heart. I wish that I had taken a more active stance on a lot of issues. I wish I would have stopped things from happening at parties. I wish I'd realized just how insular sorority life could be, and I wish I'd worked harder to seek more diversity in my college experience. But there were opportunities I got because I was in the sorority. Some of my best memories from school are from formals and cocktail parties and costume parties. It's how I met some of my very best friends. There are things I'd do differently, but if I could go back, I'd do it a hundred times over.
This interview has been edited for length and clarity.