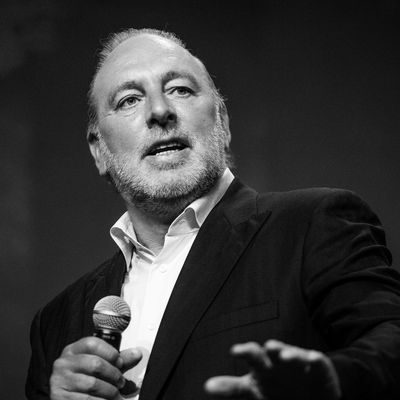 Brian Houston
Photo: Marcus Ingram/Getty Images
It has been a rocky 12 months for Hillsong megachurch, thanks in large part to the calamity of "moral failings" that unfolded around flashy former minister Carl Lenz last fall. But now, Hillsong's founder Brian Houston faces criminal charges in Australia as police allege he knew about, and covered up, his late father's molestation of minors.
"Police will allege in court the man knew information relating to the sexual abuse of a young male in the 1970s and failed to bring that information to the attention of police," reads a statement from police in New South Wales, who charged Houston on Thursday. For his part, the pastor told the Washington Post: "I vehemently profess my innocence … and I welcome the opportunity to set the record straight."
The substance of the charges is not news: In 2013, Australia's Royal Commission into Institutional Responses to Child Sexual Abuse heard allegations that Frank Houston had repeatedly sexually assaulted a 7-year-old boy in 1969 and 1970. The preacher, who died in 2004, would go on to form the Sydney Christian Life Centre in 1977, a predecessor to Hillsong. During a 2014 inquest, Brian Houston admitted that he found out about the alleged abuse in 1999 and that he confronted his father, who confessed. Houston then found out about eight of his father's other victims but, according to commissioners, deliberately kept it quiet, forcing his dad into retirement rather than making the matter public and going to the police. Houston told the commission that, "rightly or wrongly, I genuinely believed that I would be preempting the victim, if I were to just call the police at that point." But commissioners concluded that, although Houston "had no doubt that his father's conduct was criminal, he made no attempt to report his father to the police."
In 2019, police in New South Wales began looking into reports that Houston had "knowingly concealed information relating to child sexual offenses," per their statement. Though Hillsong — now a sprawling global entity with churches in 30 countries — had not responded to the Cut's request for comment at time of publication, it has addressed the matter before, saying in a previous statement: "The abuse by Frank Houston occurred many years before Hillsong church existed. It is an indisputable fact that Pastor Brian is not a perpetrator of abuse, has never been accused of abuse, and took immediate action to expose and stop a child abuser."
The charges are just the latest in a series of scandals Hillsong has dealt with this year. Last November, "hypepriest" and pastor to the stars Carl Lentz — best known as Justin Bieber's former spiritual advisor — lost his job after it emerged that he had been "unfaithful in [his] marriage." Lentz's affairs catalyzed his firing, but then came the allegations of exploitation and assault — against Lentz, and against another staffer, Jason Mays. In May, a Boston pastor named Leona Kimes accused Lentz of bullying her during the seven years she worked as his nanny and housekeeper and said that he "physically violated" her through "unwanted and repeated sexual touching of [her] intimate areas." Vanity Fair also reported that Lentz had made a volunteer "extremely uncomfortable" with his flirtatious behavior in 2017, while Mays allegedly assaulted a Hillsong College student in 2016.
Houston subsequently said Kimes' experience came to his attention during an investigation he launched into Hillsong East Coast following Lentz's termination, writing that "abuse of any kind, in any circumstance, is always deplorable," and "as a church, we are committed to learning more about how to identify such trauma and bring meaningful support to anyone who has experienced it."
For his alleged concealment of his father's serial abuse, Houston will appear in court in Sydney on October 5.