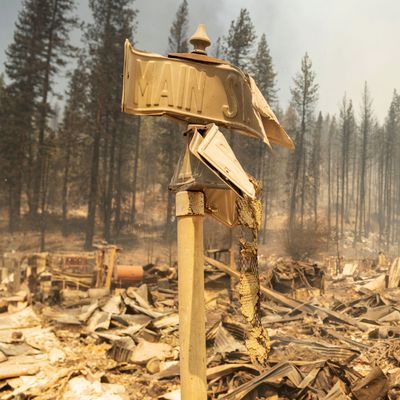 Photo: Josh Edelson/AFP via Getty Images
Massive forest fires are once again burning through the West Coast. On Friday, the Dixie Fire in California, which has been actively burning since July 14, became the largest in the country and the second largest in California history. The fire has burned through over 463,000 acres of land, destroying homes and businesses in multiple counties and leaving thousands of people displaced. The Dixie is just one of 11 wildfires burning in California right now, and over 2.6 million acres of land have been burned by wildfires across the country this year already. In other western states, like Colorado, Oregon, Washington, and Montana, 108 categorically large active fires are currently burning.
In addition to the fires' incredible damage, poor air quality is also a growing concern. Over the weekend, Colorado residents were warned about heavy smoke blowing over from powerful fires in Oregon and California, leaving heavy particulate matter in the air that can be dangerous for those with underlying health conditions. On Friday, Salt Lake City had the worst air quality of any city in the country as well as decreased visibility due to smoke from surrounding fires. Emissions are traveling as far as the East Coast, producing enough smoke to affect the air quality across various cities across the United States, including New York, which is experiencing its worst air quality in 15 years. For those living in cities affected by the poor air quality caused by the fires, government officials recommend staying inside, keeping windows closed, and using HEPA filters, especially for young children.
Wildfires are becoming a larger, more frequent concern as the West Coast grows hotter because of climate change: The top ten largest fires in California have all occurred within the past five years. Fire risk is only increasing — and it may be irreversible if climate change continues to accelerate. Just today, a climate-assessment report released by the Intergovernmental Panel on Climate Change warned that we are reaching a point of no return with regard to the consequences of the warming climate.
If you're able to donate, here are some ways you can help those affected by the fires and contribute to their prevention:
.

The Red Cross
The Red Cross is working across the region to provide shelter, meals, medical support, and relief supplies to those affected by the fires. You can donate to support its disaster relief efforts here and find a list of open shelters in the region here.
.

The California Fire Foundation's Supplying Aid to Victims of Emergency (SAVE) program
The California Fire Foundation's SAVE program is accepting donations to provide $250 gift cards to victims of the fires in order to purchase clothes, food, medicine, or other necessities, and it offers scholarships to the children of fallen firefighters.
.

Fire Adapted Communities Learning Network
The FAC network helps educate, support, and connect people working toward fire resilience across the United States. It accepts donations to help fund forums, workshops, and on-the-ground projects to give people tools to live in communities experiencing wildfires.
.

The United Way
The United Way of Northern California is accepting donations to help provide relief and recovery to those affected by the "busiest wildfire season to date." The donations will help fund its 211 support line, which gives updated information on disasters, provides evacuation routes, shelters, food assistance and more.
The United Way in Whitman County, Washington, is also accepting donations for its Whitman County Wildfire Community Relief Fund. It notes that "funding will be prioritized to the families and individuals displaced by the fires," and the organization will "manage this fund and disbursements with zero administrative fees."
.

Feeding America
Feeding America runs a network of food banks across the country and provides food and other emergency supplies to people displaced from their homes. You can donate to its disaster-relief fund here or use its food-bank locator to provide specific items, make donations, or volunteer for food banks in areas most affected, such as California, Oregon, and Washington.
.

The Center for Disaster Philanthropy
The Center for Disaster Philanthropy focuses on medium- and long-term recovery after a disaster. The organization has established funds to help provide Tyvek suits, diapers, N95 masks, food, and water to those affected by the devastation of wildfires in California and Colorado. Its Disaster Recovery Fund donates to those affected by wildfires across the United States. You can find more information and make a donation here.
.

Forests Forever
This advocacy group fights to protect California's forests through political advocacy. Its most notable campaigns include preventing salvage logging — a process sawmills use to remove fallen trees that often takes place after wildfires and further damages forest ecosystems — and its "30 by 30" campaign, which seeks to preserve 30 percent of California's forests, wildlands, and coastal waters by 2030. You can donate to help its cause here.
.

Climeworks
The devastation of wildfires is compounded by the fact that they contribute to climate change by emitting greenhouse gases into the air. Climeworks is a company that works to remove carbon dioxide from the atmosphere, but the process is expensive. You can sponsor the organization by purchasing a subscription here.
.

The Climate Emergency Fund
The Climate Emergency Fund works to protect climate activists and provide grants to climate-action groups as they demand change. You can learn more about the groups it supports and make a donation here.