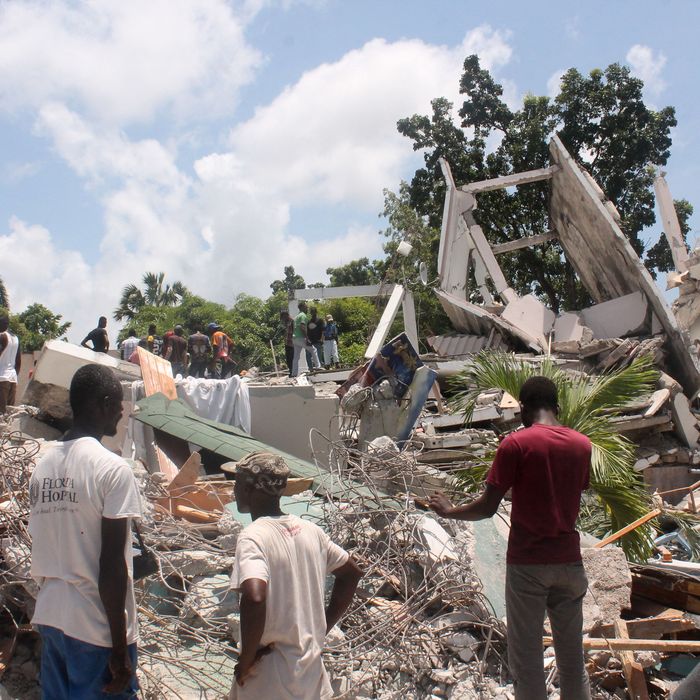 Photo: Stanley Louis/AFP via Getty Images
Over the weekend, Haiti was hit by a devastating earthquake that left more than 1,200 people dead. The 7.2-magnitude quake was even more powerful than the one that hit Port-au-Prince in 2010, a 7.0-magnitude earthquake which the country was still in the process of recovering from. Now, Haiti is bracing for Tropical Depression Grace, which is expected to hit on Monday, bringing flash floods, mudslides, and winds up to 35 mph into Tuesday.
In the aftermath of the earthquake, Haiti's civil protection agency has reported at least 1,297 people dead and more than 5,700 injured, with search-and-rescue efforts still under way. The agency estimates the earthquake destroyed or damaged over 27,000 homes. As the New York Times reports, the destruction has made it increasingly difficult for people to access medical care and other vital supplies. Additionally, hospitals in Les Cayes are overwhelmed with only a few dozen doctors available to tend to the thousands injured in the area.
These natural disasters combined with the recent assassination of Haitian president Jovenel Moïse have left the country in a state of dire need. Below, some places you can donate to help those impacted.
.

CARE
CARE's Rapid Response Team is deploying experts who will provide food, temporary shelter, and vital supplies to Haitians affected by the earthquake.Donate to CARE here.
.

CNN's Impact Your World
CNN's Impact Your World has created a relief fund comprised of 17 different agencies sending support to Haiti. Your donation can be divided between these organizations or you can choose one specific charity to support. Donate to the relief fund here.
.

Convoy of Hope
Convoy of Hope is distributing meals, sheltering supplies, and hygiene kits to those who survived Saturday's earthquake. They've also expressed their intent to support Haiti's relief efforts in the long term.
Donate to Convoy of Hope here.
.

Doctors Without Borders
Doctors Without Borders has already sent much-needed medical experts and supplies to the Haitian communities most heavily impacted by the earthquake. Donate to Doctors Without Borders here.
.

Fonkoze
Fonkoze supports long-term efforts to combat poverty in Haiti, providing financial aid and other resources to women in particular. Donate to Fonkoze here.
.

Hope for Haiti
Hope for Haiti supports the people of Haiti through education, health care, and infrastructural efforts. They've released their short- and long-term plans to respond to the most recent earthquake, including distributing medical supplies, setting up an infirmary, and, eventually, providing grants as the country rebuilds. Donate to their earthquake relief fund here.
.

The Smile Trust
Nonprofit organization The Smile Trust is working on the ground with Haitian-led organizations in South Florida to send resources to Haiti. Donate to their relief fund here.
.

UNICEF
UNICEF and UNICEF Latin America are providing on-the-ground support, medical care, and food and water in Haiti. Donate to UNICEF here.