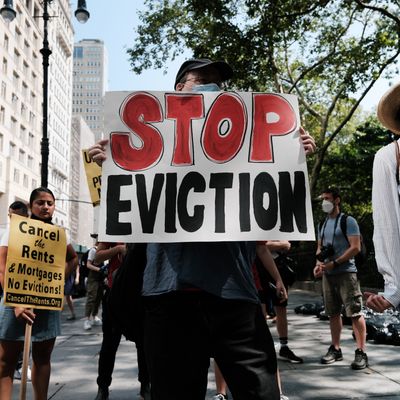 Photo: Spencer Platt/Getty Images
On Thursday, the Supreme Court rejected the Biden administration's latest eviction moratorium. Since Congress's initial eviction ban lapsed in 2020, the CDC has issued a series of moratoriums and recently recommended another extension due to the Delta variant. However, the Supreme Court ruled that without congressional approval, an extension of the eviction ban past July 31 would exceed the agency's authority, a ruling that puts hundreds of thousands of people at risk of losing their homes.
While Congress has provided $46.5 billion in emergency rental assistance, the disbursement of funds has been exceptionally slow, with only $5.1 billion distributed at the end of July. If you are financially able, here are some ways you can help those now at risk for eviction and potential homelessness:
.

Support Mutual Aid Networks
Mutual aid networks are one of the most direct ways to help those facing housing and food insecurity right now. Support Mutual Aid provides a list of organizations across several states in the U.S. that provide monetary assistance directly to those who need it. States with the fewest protections for tenants will be hardest hit by the moratorium rejection, including South Carolina, Tennessee, Georgia, and Ohio. You can find mutual aid networks accepting donations here.
.

The Resident Relief Foundation
This nonprofit organization seeks to help residents stay in their homes during economic emergencies such as natural disasters, sickness, or job loss. You can learn more about the organization and donate here.
.

Homeless No More
Located in South Carolina, Homeless No More provides assistance to those facing homelessness or housing insecurity through its programs — including long-term housing and shelters, wish lists with items needed by families, and other emergency services. You can learn more and donate here.
.

Hope Atlanta
Hope Atlanta's programs aim to help those currently facing homelessness, as well as provide resources and financial assistance to those at risk of eviction. You can learn more and donate here.
.

Coalition on Homelessness and Housing in Ohio (COHHIO)
This coalition works to maintain affordable housing in Ohio. It also provides a comprehensive list of local networks to provide housing assistance and emergency rental payments in Ohio. You can learn more and donate to COHHIO, or the emergency networks it endorses, here.
.

Tennessee Valley Coalition for the Homeless
This nonprofit organization seeks to make homelessness a rarity in East Tennessee by providing housing and assistance. It also provides education, employment, and health services to those facing homelessness. You can donate here.
.

Family Promise
This program serves people in 43 states, and seeks to provide shelter, financial assistance and literacy, and rental payments — focusing on children and families facing homelessness. You can learn more and donate here.
.

Home Start
Based in Boston, this nonprofit provides permanent housing to those facing homelessness and works to provide housing stability, offering rent to those facing eviction. You can learn more and donate here.
.

Pay Someone's Rent
If you are financially able, offer to cover someone's rent in an area particularly vulnerable to evictions. You can find rent-relief campaigns locally, or through GoFundMe.