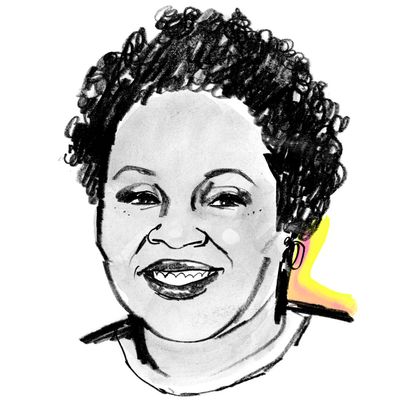 Illustration: Lauren Tamaki
Yamiche Alcindor recently became the host of Washington Week, the high-profile PBS series that dissects the news with a panel of reporters. But it's not the first time the 34-year-old journalist has been in the spotlight. While covering the Trump administration for PBS, her name was splashed across headlines after the former president called her questions "nasty" and "racist" and told Alcindor: "Be nice. Don't be threatening." But somehow she always stayed calm amid these attacks, earning herself a reputation as the embodiment of professionalism and spawning the hashtag #WeLoveYamiche (Susan Rice, the former ambassador to the U.N., tweeted, "You go, girl. Pathetic when insecure men can't stomach strong black women."). Alcindor used to cover national politics at the New York Times, and the dogged reporter has been on the frontlines of major news events involving earthquakes, school shootings, police brutality, and, most recently, the COVID-19 pandemic. The daughter of Haitian immigrants is writing a memoir titled Don't Forget about covering Trump's presidency and documenting civil-rights abuses. Her job requires staying on top of a constantly evolving, 24/7 news cycle and then making those stories digestible for viewers. She lives in Washington with her husband, fellow journalist Nathaniel Cline. Here's how she gets it done.
On a typical work week: 
During the Trump administration I just felt so exhausted. The news cycle was so much about personalities, and I had run myself ragged. But now, I often find myself waking up early with a mix of excited anticipation and unsettled anxiety about the state of the world. I check the news around 6 a.m., read my email, and try to figure out what the president is doing that day. Then I start making a list of sources I want to connect with and the stories I want to work on. If there's a particular event going on, I start crafting my questions for whoever's going to be in the briefing room and make a schedule for the day. Getting ready for the show each week really involves putting together a puzzle with 1,000 pieces. I could be listening to an Alabama doctor on the radio talk about someone unvaccinated who died and say, "I want to put that in the show." By Wednesday or Thursday we've decided on the stories, and on Friday [when the show airs at 8:00 p.m.] we're asking, "Are we blowing the whole thing up?" If the news changes at 6 p.m., we have to do a whole new show. As a reporter you have to thrive off of adrenaline. I don't ever want people watching Washington Week and feeling like we're irrelevant.
On staying centered:
I don't drink coffee — I rely on ice water for energy. I usually drink a lot of really, really cold ice water. I'm also really interested in smells. I love having a candle burning or a diffuser going in my office. For me, getting through the day has to do with finding my inner calm and some stillness. Most days, if I'm on my game, I'm able to do a 10- or 15-minute meditation to center myself and be thankful. I'm Catholic, and I thank God for all sorts of things, including my family, my job, and the ability to wake up, especially in the middle of a pandemic. I'm here because my family of Haitian immigrants fled a dictator in the '70s. When I walk into the White House, I kind of chuckle to myself, thinking, What would my grandparents say? Sometimes I look around and think, How did I even get here? I don't feel burnt out. If I'm tired, I go to sleep. If I need to take a vacation, I take one.
On being emotional:
I got into journalism after learning about Emmett Till, the 14-year-old boy who was murdered in Mississippi. That story is on my mind a lot, especially as I'm thinking about starting a family and what my own son might look like. I want to cover all the different ways racism plagues Black people. I report with my heart. The things that make me cry are also the things that end up on the front page of newspapers or on our show. In 2016 I was covering Bernie Sanders for the New York Times when Philando Castile was killed. I watched the video and cried the entire train ride from Brooklyn to my office, watching his little daughter try and calm her mother down. I came into the office and said, "Look, I can't write about Bernie Sanders today. I want to find out how the next generation is impacted by police violence." I lean into emotions for story ideas, but then I create boundaries to execute them and do hard-core reporting. I'm not going to cry during interviews or be unprofessional. I don't sit at my desk in tears saying, "I just want to write a personal essay and tell people how I feel." I fuel my emotions into real storytelling.
On being attacked by Donald Trump:
I never thought I would be on a world stage getting yelled at in such a personal way by the president of the United States. It was surreal to go from people not being able to pronounce my name to everyone knowing how to spell it. But I never lost my cool. I processed those feelings in the privacy of my home. At work my job was to ask things like, "Are we going to have enough ventilators?" In those moments I felt grounded by the reporting I was doing on how the coronavirus was ravaging Black and brown communities. While the president was calling me "nasty," I was thinking about those interviews and the Americans who are really scared and need answers. They didn't want banter. They wanted to know, "Are we going to be okay?," which was essentially the question I was asking over and over again. When politicians scream at you, it's because they're deflecting. My questions about Trump emboldening white nationalists or botching COVID-19 testing will be some of the defining ones of his presidency.
On nerves:
Before my first Washington Week show I almost fainted. I was shaking a bit, thinking, Can I actually do this? while re-reading the script over and over again to make sure every single word was perfect. I went through 18 different dresses. Now I'm feeling more comfortable at the desk — I finally feel really smooth at reading off the teleprompter, which I had high anxiety about. I've never tried to sound like a "broadcaster." It feels really good to laugh and be myself on TV, saying things like "shade" because I'm a millennial. But I still sometimes get terribly nervous. I don't know if that will ever go away. I have this really great mentor who told me, "If you're nervous, you understand the responsibility." This is Gwen Ifill's show. This is Robert Costa's show. People have been watching Washington Week for 54 years, so I better be really good and know my stuff.
On dressing for TV: 
I would say 80 percent of what I wear on TV is inspired by my mom. She was a social worker but looked like she was the editor of Vogue. My mom wears dresses, five-inch heels, and puts lipstick on just to check the mail. It's amazing. We're the same height, and I steal her clothes all the time. I was naturally a tomboy into my late 20s. So for the most part, including when I was working at the New York Times, I would regularly show up to work in a hoodie. As much as I like wearing nice outfits, I only put them on at the very last minute and stay in a comfortable outfit before that. When my makeup, hair and clothes are done, it feels like I'm putting on a sort of cape. I'm going into the studio to be the superhero version of myself.
On the unbearable whiteness of journalism:
The last time I checked, the media was still overwhelmingly white. I've definitely seen more journalists of color be promoted in the wake of George Floyd's murder. But we have to figure out whether or not that's a lasting thing. Are we going to see a new generation of women like Abby Phillip, Jemele Hill, and Nikole Hannah-Jones be elevated? I don't think we can know if the media is serious about having a racial reckoning for another ten, 15 years, when we see who is being given opportunities long-term. When Gwen Ifill was doing Washington Week, I remember how important it was for me to look up and see a Black woman at her desk, talking about politics. In some ways I'm writing this book, hoping that the next generation of Gwen Ifills can take a little bit out of my story.