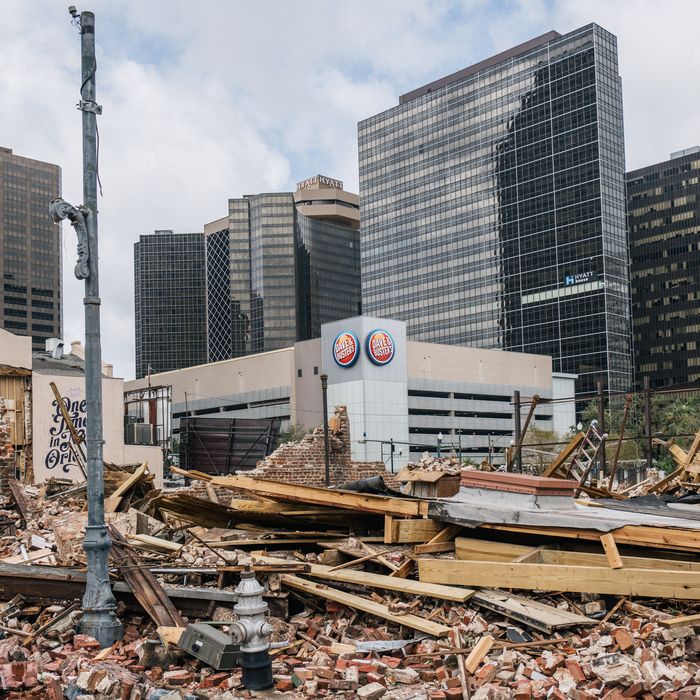 Photo: Brandon Bell/Getty Images
This weekend, New Orleans was battered by the brunt of Category 4 Hurricane Ida, which hit Louisiana 16 years to the day after Hurricane Katrina. The storm wiped out power throughout the entire city and blocked access to essential pumps that had been installed to drain storm water after Katrina. Prior to Louisiana, the storm first hit Cuba and the Cayman Islands before moving into the Gulf of Mexico, where it intensified due to climate-change-induced overheating. By the time it arrived on land in the U.S., the storm was so strong it temporarily reversed the direction of the Mississippi River.
As of Monday afternoon, New Orleans is still without power, and it could be weeks before it's all back up and running. Meanwhile, rescuers are trying to reach an estimated hundreds of people trapped in the attics or on the roofs of their flooded homes. While the extent of the damage isn't clear yet, residents who evacuated are being told not to return anytime soon. One casualty has been reported so far.
On top of all this, Louisiana was already in the depths of its worst coronavirus surge, and damaged hospitals are scrambling to relocate patients. While the storm has now been downgraded to Category 3, other parts of Louisiana, as well as Tennessee, Florida, Texas, Ohio, and Alabama are steeling themselves for more damage.
On Monday, President Biden announced that National Guard troops are being dispatched to Louisiana, Mississippi, Alabama, and Texas to help with rescue efforts, while FEMA has resources prepared, including generators, for the coming days. If you are able, here are a few ways you can help with the relief and recovery efforts.
.

Another Gulf Is Possible Collaborative
Another Gulf Is Possible Collaborative has a page set up that will funnel resources directly to Indigenous, Black, and brown victims of Hurricane Ida. Its site is also full of online resources about hurricane preparedness and other mutual aid groups in the New Orleans area. Donate here.
.

Crowdsource Rescue
Crowdsource Rescue connects volunteer rescue workers with people who need urgent help. You can sign up to train and help remotely, volunteer if you're in any of the areas affected by the storm, or donate to support their work here.
.

The Mutual Aid Response Network
A group of Louisiana residents led by a local conservation group called Imagine Water Works, the Mutual Aid Response Network activates for emergencies to assist relief and recovery efforts. Donate here.
.

The Partnership for Inclusive Disaster Strategies
The Partnership for Inclusive Disaster Strategies runs a hotline for people with disabilities during natural disasters and works around the year to provide disabled people with resources before, during, and after emergencies. Donate to their efforts here.
.

UNICEF
UNICEF USA is working with local partners to provide emergency relief for families whose homes have been destroyed. You can donate to the organization as a whole, or designate your contribution for Hurricane Ida. Donate to their efforts here.
.

United Way of Southeast Louisiana
United Way of Southeast Louisiana is accepting donations for long-term hurricane relief that will help rebuild homes, schools, and businesses. Donate here.
.

SBP
SBP's goal is basically to speed up recovery from natural disasters and, when they can, fortify communities ahead of the destruction. Their donation page for Ida, which says they're mobilizing from their New Orleans and Houston sites, lays out what exactly your funds will provide, which includes equipment for volunteers and rebuilding supplies for flooded homes. Donate here.
.

AmeriCares
AmeriCares is working with MathWorx to match donations for their medical aid and disaster relief efforts up to $10,000. Donate to their team here.
.

Mutual Aid Disaster Relief
Mutual Aid Disaster Relief is a grassroots organization that provides disaster relief throughout the U.S. They're currently taking on-the-ground and remote volunteers, and accepting specific supplies at locations throughout the U.S. Sign up to volunteer here, drop off items they need at one of their national branches here, or send funds to support their work.
.

Baby2Baby
Baby2Baby provides basic childcare essentials to families in need throughout the U.S. They've activated their disaster relief program to send diapers, wipes, clothing, cribs, and other items to victims of Hurricane Ida. Donate to their efforts here.