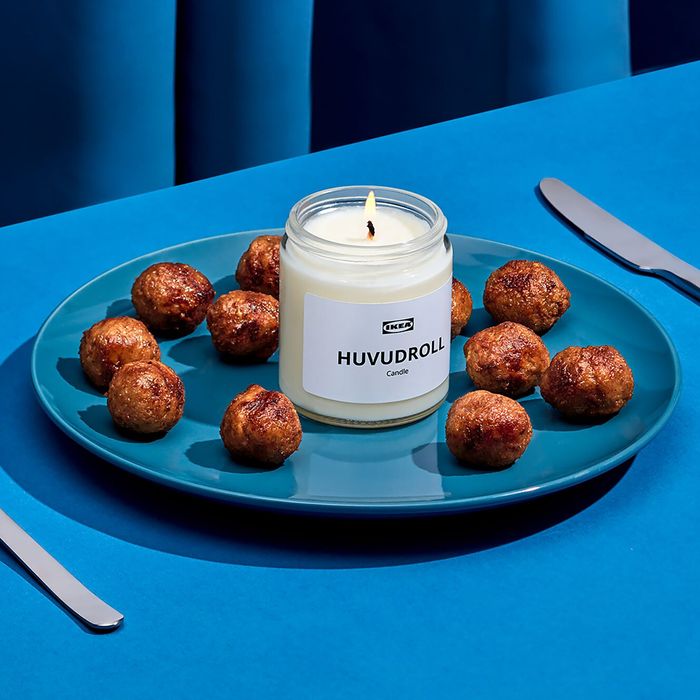 Exclusive meat smells!
Photo: Ikea
When I was maybe 13 years old, a boy my age told me that while whatever fruity body splash I was wearing was nice, a perfume that smelled like meat — burgers, or bacon, even — would be nicer. For obvious reasons I think of him often, though I do not remember his name. Wherever he is now, I hope it's somewhere news of Ikea's latest product launch can reach him. The Swedish home-goods empire just released a hot new candle, and no, it's not Byredo. This one is meatball-scented, which (assuming his tastes have not changed since middle school) sounds like something he would love. He may be the only one, though.
On Wednesday, Ikea announced the rollout of a special-edition Huvudroll candle, exclusively for loyalty-program members who wish to fill their homes with meat smells. Between August 6 and 22, Ikea Family cardholders can enter to win a "Store in a Box" gift package honoring the tenth anniversary of the program's existence. The company is keeping all the other merch under wraps and using the meatball candle as a lure. Without getting specific about the bounty, it promises "a surprise and delight item that takes the best, more recognizable pieces of an Ikea store," as a spokesperson put it to People. A lucky 986 winners will get a mystery box, while 1,925 runners-up will walk away with a beefy candle. Wall-to-wall meat smells, baby.
But maybe you are not convinced that ground pork and onion is the ideal scentscape for your home and all the belongings in it. Speaking from personal experience, I can confirm that the stench of a meat house is greasy and stifling. Still, if we are limiting ourselves to the realm of attention-grabbing novelty candles, would you rather smell like hamburger or a celebrity's vagina? Meat perfume it is!