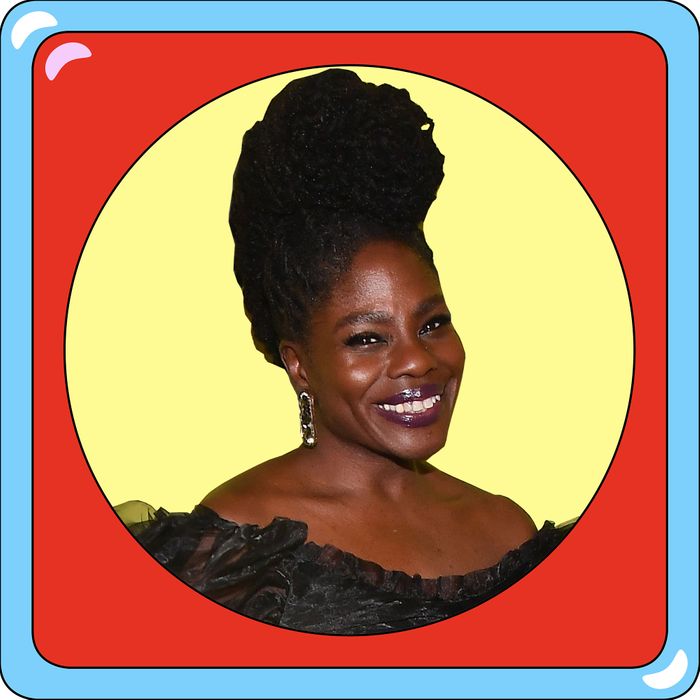 Photo-Illustration: The Cut; Photo: Getty Images
Danessa Myricks was given 30 days to change the course of her life. A single mom with two kids, she was working in marketing for a publishing company in the hair-care industry when her boss decided to shut down the business. The 30 days' notice became a turning point.
At the time, her job wasn't aspirational or creative — everything she envied of the makeup artists and hairstylists whom she occasionally crossed paths with during shoots.
"I was also compelled by the response from the people they worked on. They would get up and see themselves in the mirror, and the combination of the emotion and how they lit up was amazing. I thought, If only I could impact someone else in that way, while living my truest, freest life creatively. I need to be part of that. That's what I need, that's what I have been missing."
Myricks began studying makeup, reading books by Sam Fine and Kevyn Aucoin. Starting as a self-taught makeup artist, she's also worked in product development for KISS and Benefit, and is the founder of her eponymous makeup line. Danessa Myricks Beauty is known for its extra-vibrant colors and its waterproof and long-wear abilities, which she personally tests out in dunk tests, underwater shoots, and sleeping in her makeup for days. Myricks is now carried at Sephora, and is one of the newest brands in its 15 Percent Pledge. The Cut talked to Myricks about how makeup is really about possibility, how to learn to say no to the right things, and the secret to learning on the job.
What was your first big break? 
I wasn't a makeup artist and no one knew me. I was a joke, to be honest. I had to work for free a lot, begging people to give me a chance. I cold-reached out, calling, texting, and pleading. I honestly was not good, because I had no experience.
A photographer named Eric von Lockhart allowed me to come in and do headshots. There was another photographer named Franz who lived five hours away [from me] in Virginia. He said, "When I do hair shoots, you can come, if you need to sleep on my couch before you get back on the road, okay." Those two knew me from the [publishing company], but not as an artist. They knew I was going to show up on time and be professional, but the question mark was, "Can she do makeup?" Luckily, they gave me the opportunity and those two allowed me to build my skill set.
How did you start getting into product development?
The trajectory really evolved unfolded in front of me. I was working a bit, shooting for Hype Magazine, and people started seeing my name in the credits. People were amazed. You were sitting in the corner with a typewriter and now you're doing makeup.  A lot of hairstylists would reach out and I would teach them makeup. I started doing small workshops, and then I started making and selling three-hour training DVDs.
I also started getting asked to present at trade shows. At the time, I was the only makeup person presenting in the hair space, so it gave me a huge platform. The audience would be like 300–400 people. There were other brands there, like Korean hair brands, who saw what I was doing and asked, "We are working on makeup and are not successful, can you help me?" I said, "Yes." I had never done it before but in my mind, I said, I'll figure it out. So I started doing all the foundations, powders, and a lash line with KISS.
Then Benefit wanted a color consultant, to reach a broad audience. After one day, they asked me to come and work full-time. It wasn't something I would have considered. They waited for almost a year for me to come. I did product innovation, and not only their complexion line but their brow line from beginning to end. It was one of my proudest moments in development. There have been others in prestige and drugstore and masstige since. It was the best education I ever had. I traveled all over the world to different labs, learned what it takes to sell millions of units, and meet the needs of consumers all around the world.
When I started teaching, I also started creating my own products. I was always mixing and matching, creating things that didn't exist, and people at the end of class would ask, "Where do I get that?" So I started selling it at the end of class. I didn't really brand my company 'til 2013. That's when I felt confident that everything was safe, and would work for everyone. But my entire career was learning on the job.
What are your secrets to effectively learning on the job? 
I mentor a lot of people. I tell them to get in the habit of knowing when to say yes and no. There can be a lot of fear with saying yes, but if you know your work ethic and have an idea of where you're trying to go, you can always figure it out. Say no to those things which don't feed you or will move you forward.
We can get stuck doing low-level things out of fear. We say yes to those things, because we feel comfortable. I don't know where this wisdom came from, but maybe it's from seeing my parents and how hard they worked. Everything is possible. I'm fortunate that opportunities presented themselves, and I didn't let the fear stop me.
How do you move through the fear?
It is really a matter of doing it anyway. Sometimes it is easy. But other times, it's something that has nothing to do with the thing you're being asked that holds you back.
Growing up, I had tons of insecurities. I was bullied at school for most of my life. There was so much racial tension in my corporate life. I never saw myself as this beautiful face, because I never saw myself in beauty. These all made me feel insecure about making those forward movements.
There are lots of things I didn't do. For example, it was easy for me to film my DVDs because all you ever saw were my fingertips. That was comfortable for me. And I remember someone said to me, "There's this thing called Instagram, you should start doing makeup on yourself." I was so fearful that I never started. I could have been building Instagram from the day it started, but I was so afraid to show myself. It hasn't even been until recently that I show up on my page. These were hurdles and internal insecurities I had to overcome. One of the reasons I work so hard in how I develop products is that I want everyone to feel that confidence that they can show up, because that was a challenge for myself. It's about asking ourselves the right questions, and surrounding ourselves with people who believe in us, more than we believe in ourselves.
You're known for the vibrancy and longevity of your colors and products. What's the secret?
Growing up as a dark-skinned Black woman, I would see colors rarely represented true on my skin tone. An eyeliner would be so beautiful but forget it, it would never translate on me. As a makeup artist whose clients were often women of color, I saw the work that it took — layering a cream, a powder, and many other products — to make colors look and feel vibrant. When I started to create, I wanted it to be easy for everyone. This yellow will be the same, no matter if you're the darkest or fairest. It was a priority for me to have fun colors, but also high performance — for things to be waterproof, long-wear, and layer beautifully. My collection has to work for everyone. I am the most obsessive tester. I test for every age group, every skin tone, to make sure it really resonates.
I tell everybody who assists or shadows me, I'm not disgusting, but yes, this is the same eye shadow you saw Friday, and it's now Monday. I wanted to test it. I do that all the time. I want to make sure my words are true. I have oily lids, oily skin, porous cheeks, all of the things, so I know if it works on me, it's going to work on the world.
What's the secret to making sure that colors work on everyone?
I always make sure pigment load is as high as possible, but also reinforce it with the lab, even if means I have to get on a plane and be there for testing. When everyone making the product in the lab is fair and they're evaluating, it looks great and amazing. But if you haven't tested it on a deeper skin tone, you'll never know.
If you're developing it in a different part of the world, they may not have the skin tone there that can represent who you're creating for. I always make sure to insert myself in the testing process. I don't rely on the lab to do the work. I live in the U.S., the biggest melting pot in the world. I have the opportunity to test it on everyone. Nothing goes forward until it goes into that cycle. It's more back-and-forth, but it's worth it so that anybody can walk up to our collection and will get home and feel the same surprise and delight that they anticipated.
What is a fan experience that really stood out to you? 
Those conversations push me and the brand forward. It's always an emotional conversation. It has very little to do with makeup, and more how the experience of me or the brand has changed their ideas or how their daughters and sons feel about themselves and feel seen in the world.
Those are the things that drive me to keep creating. Makeup has nothing to do with makeup. It's all about emotions and how we show up for people and how they make people feel. It's not about a powder, a cream, or silicone. It's about the person on the other end of it. We are here to touch the hearts and lives of people.
What was the biggest "no" you heard in your career?
I was often told that I was not the face or picture of what people see as aspirational — that was told to me throughout my whole career, whether it was because of the color of my skin, or the texture of my hair. People have said no to me for raises, I've been picked over to do the presentation or manage the team or take the trip. I hear all the time that because I'm a single mom, a Black woman, self-taught in all areas of business, that I couldn't be successful without someone else vouching for me.
I've been able to demonstrate over and over again that it is possible. I think that's why my audience resonates with me, because they see the potential for themselves. I'm not special — I've had to really work for everything. There are a lot of people, whether it be because of their looks or societal standards, who are pushed forward faster. It leaves the rest of us feeling like that potential is not there.
I love to show up in every way I possibly can, so other people can see it is possible. If you look at my career or anything I've done, it's not been an overnight success by any means. It's been holding onto a dream, aspiring for something more, and building it brick and brick. It's been very small and steady wins the race. It's important for me to show up and not take my foot off the gas, so that other people can see it's possible for them. I heard a quote once that, "Sometimes you have to see it in order to be it." Sometimes your children need to see it in order to see it's possible. That's what really drives me to get out of bed. There are more people who need to see it, experience the life they dreamed of, and know that it's possible for them.