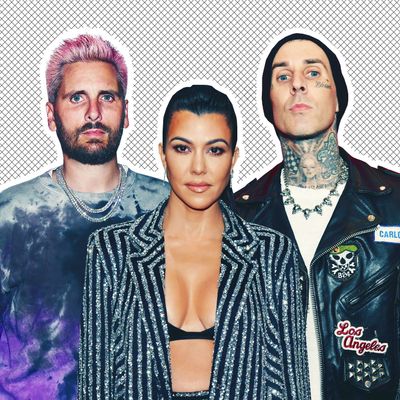 Photo-Illustration: The Cut; Photos: Getty Images
Kourtney Kardashian and Travis Barker have been living their best, horniest life — wearing matching outfits, giving each other haircuts, making out in Italy. Unsurprisingly, not everyone is too happy about it. Namely, Scott Disick, Kardashian's ex with whom she shares three children. So Disick did what any jealous ex would do: try to find camaraderie with another one of your ex's exes.
On Monday night, Younes Bendjima, a model who dated Kardashian between 2017 and 2018, after she and Disick broke up, posted a screenshot to his Instagram Story of an alleged DM that Disick sent him complaining about Kardashian and her new boyfriend. "Yo is this chick ok!????" Disick appeared to write alongside a paparazzi photo of Kardashian atop Barker on a boat in Italy. He continued, "Broooo like what is this. In the middle of Italy." Hmm. Are we a bit … jealous, Scott?
Disick likely thought he had an ally in Bendjima, since the model appeared to complain about the couple back in April. (Shortly after Kardashian posted a photo of her and Barker kissing, Bendjima wrote on his Instagram Story, "Shamelessness has become so normal in today's society that modesty has become strange." He deleted it soon after.) However, Bendjima chose to take the high road — at least publicly — responding to Disick, "Doesn't matter to me as long as she's happy. PS: i aint your bro." Well, then!
On his Instagram Story, Bendjima wrote over the photo, "keep the same energy you had about me publicly, privately," adding, "couldn't miss this one. He been playing around for too long, [tried] to stay quiet and be the nice guy." Disick hasn't yet responded to the alleged screenshots.
This isn't the first time an ex has entered the chat that is Kourtney and Travis's relationship. Back in May, things got very messy when Barker's ex-wife Shanna Moakler alleged that her ex cheated on her with Kim Kardashian, who is, of course, Kourtney's sister. Though Moakler has stuck by her story, Kim has denied the allegations.
So, who will come out of the woodwork next to talk shit about Kourtney and Travis? Barker's ex-wife Melissa Kennedy? Kardashian's alleged rebound fling Justin Bieber? Only time and leaked DMs will tell.