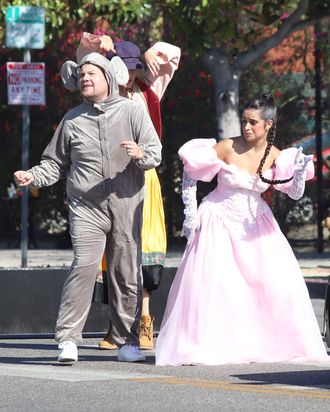 Aaaaahhhhhh!!!
Photo: APEX/MEGA/GC Images
I admit: I never had any intention of watching the forthcoming Girlboss Cinderella movie. Unlike other Cinderellas, this iteration stars neither Brandy nor Whitney Houston, and then, the She-EO overtones are very strong. Aggressive, even; this Cinderella is an empowered businesswoman, just look at her pantsuit. Combine this with the decision to make it a "jukebox musical" (The songs are just random pop hits, conceived independently of one another and also a story line? Why??) and the fact that, as a childless adult, I am not the target audience, and this one just isn't for me. I don't want to see it! And presumably whoever is in charge of marketing this film doesn't want me to, either.
Over the weekend, the cast of Cinderella gathered in a Los Angeles intersection to stop traffic with a promotional flash mob. Dressing as low-budget versions of their onscreen characters, Camila Cabello, Billy Porter, Idina Menzel, and James Corden sang and danced to J.Lo's "Let's Get Loud," for some reason? The Hollywood Reporter suggests that Corden, who famously refused to watch Cats despite starring in it, may use the footage for the recurring "Crosswalk the Musical" segment on his late-night show. The only thing I can say for sure is that Corden took the bit way too far, locking eyes with one driver and thrusting his hips at their open window. Also, he was dressed as a mouse at the time.
Aaaahhhh!!!! Is right. I really don't understand why a person would do such a thing; it's almost as if someone wanted to discourage me, specifically, from giving money to this film franchise. As an advertising scheme it feels counterintuitive, but … thanks, I guess?