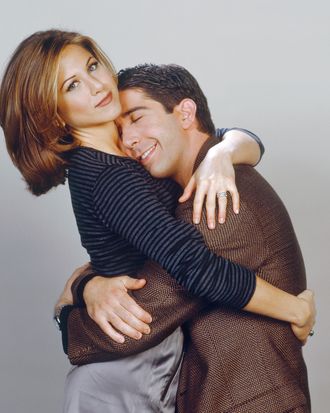 No!
Photo: NBCUniversal via Getty Images
In recent days, we have weathered a harrowing news blitz: Humans are thisclose to having fucked the planet beyond repair. New York's governor resigned but not before forcing us to sit through 20-plus minutes of performative martyrdom. Ad an agonizingly fickle on-again, off-again TV couple allegedly got together in real life nearly two decades after their show went off the air, dooming us to talk about their old sitcom forever. Maybe that last one seems good by comparison, but … no! No. Ross Geller and Rachel Green legitimately dating? I simply won't have it, and mercifully, neither will they.
On Wednesday, a rep for David Schwimmer (Ross) swatted down rumors that had begun circulating over the weekend about how Schwimmer and Jennifer Aniston (Rachel) were "growing close" after filming HBO's Friends reunion special — you know, the one where they admitted to "crushing hard on each other" during the show's run. (Please recall: 1994 to 2004. Why are we still talking about this program?) A source told the British tabloid Closer, "After the reunion, it became clear that reminiscing over the past had stirred up feelings for both [Aniston and Schwimmer] and that chemistry they'd always had to bury was still there." This person further alleged that they "began texting immediately," prompting Schwimmer to fly to Los Angeles for an ongoing (?) visit, during which "she's cooked dinners in the evenings, and [they] have enjoyed quality time together, chatting and laughing. They were also spotted drinking wine, deep in conversation, as they walked around one of Jen's favourite vineyards in Santa Barbara, where it was clear there was lots of chemistry between them."
That is … highly specific, but Schwimmer's rep told the U.K. Sun there is "no truth" to the rumors. While people may say all kinds of things true and false and fabricated to tabloids all the damn time, I am choosing to believe the rep on this one. For ten seasons, Friends dangled Ross and Rachel's will-they-won't-they relationship as a driving subplot — arguably way too long to have litigated this union in the first place. These two actors are not their TV characters, and I have no reason not to wish them well in their personal lives. (So proud of Jen for overcoming her bread phobia!) However, to revive the "we were on a break" jokes now? In 2021? Offensive, unacceptable, certainly not, etc. The dream of the aughts is alive in Bennifer 2.0. No more reboots, please.