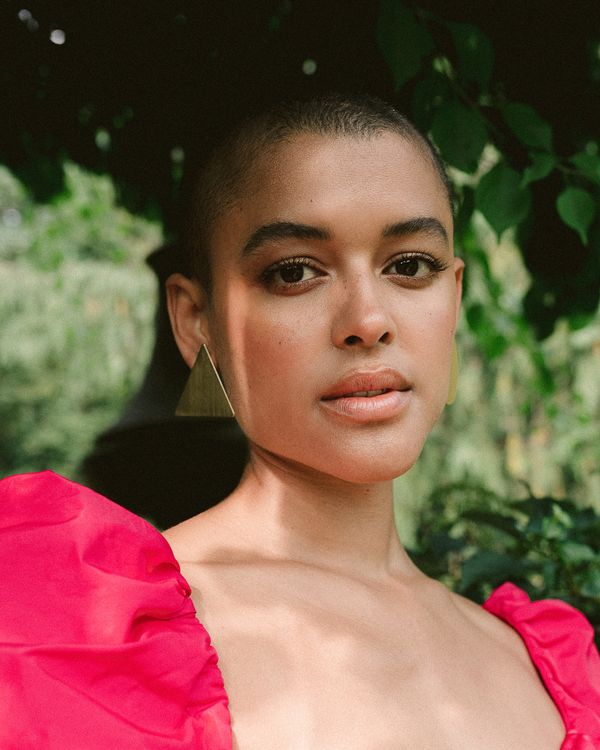 In photographs, Jordan Alexander exudes the elegance and magnetism of an NYC model–slash–"It" girl — which is why her casting on HBO Max's Gossip Girl revival as Constance Billard's new queen bee, Julien Calloway, makes total sense. But Alexander, 28, says she's nothing like the character she plays; in fact, the distance between her character's reality and her own is part of what drew her to the role.
Much like her character, Alexander has huge aspirations — and not just for her acting career, though she has plenty of upcoming projects to be excited about in that realm. Alexander's first creative love is actually music — she released her debut album, The Lonely Hearts Club, in 2018, and has been experimenting with her sound this year. What her songs do have in common is that she loves listening to them; she has the country song she recently wrote (and dreams of collaborating with Lil Nas X on) playing on repeat, which is very Julien of her.
But unlike Julien, she has no interest in projecting an aspirational image, and her goals are centered on creative expression and making the world a better place. Alexander spoke with the Cut about what it's like to revive Gossip Girl, becoming a meme, and the power of manifestation.
Gossip Girl was such a huge cultural phenomenon at the time it was on. I feel like my early years were very influenced by the show, whether that's a good or bad thing. Do you feel any pressure about being a part of the new Gossip Girl?
The only pressure I really feel in terms of Gossip Girl is, obviously, you're making a very high-drama show with a lot of spectacle situations, so I always want to pair that with good advice to guide the teens, because like you said, this can be formative for a lot of people. It's nice to have fun with it but also know what's real. It's not necessarily how you're supposed to behave or what you're supposed to live up to in any way.
We definitely see that sort of confusion with your character, Julien. The season so far has been such a roller coaster for her. Can you give me an idea of what we can expect from her in the second half?
She doesn't really level out. It's always this seesaw experience where she's got the two sides; what she wants for her life and her "goal life," where she's powerful and on top and living her "best life," and then she has personal goals that are a little more nuanced. But at the end of the day, she's just looking for love and security and connection, like anybody else.
I thought the party scene in episode four was really interesting, because it started with the type of cruel stunt that was textbook Gossip Girl, and twisted it when, halfway through, Julien is like, "Wait, this is fucked up." What kind of dialogue do you see the new Gossip Girl having with the original? It seems to speak to the real world more.
In one episode, Zoya wears a Policy Proposal shirt, in support of the movement to defund the police. All the proceeds of that shirt go to the bail organizations for the cities where each shirt was bought. Her thing is perspective, and she brings that element — she's wearing that shirt, she's letting people know where she stands, and I think that that's so important. There's this sense of accountability and showing that it's never really too late to do the right thing, you know? I felt that a lot in that scene that you're talking about. At that point, first of all, it's so public. There's everyone there. You could've just been like, It's too late. I'll dig my heels in, I'll commit to this, I'll just go all the way through. 
But it's really never too late to change your mind, and if you have an opinion about something and then you're presented with new information, or you start to feel different, it's okay to change your mind. In an internet age where you say one thing and then it's held over your head forever, people think they're not allowed to change their minds. But you are, and all you have to do is say, "I was wrong. That was wrong. Here's what I think now."
When you were cast for the role, did you have a strong sense of, "Yes, I am Julien?"
[Laughs.] For me, that's kind of an affirmation that I do for each of the roles that I go for, like, "I am this character," just to create that energy flow. She's really in a world that I don't know, so I felt like it would be an exciting role to portray someone that I feel like is so different from me.
I was going to ask you about that too, whether you feel much similarity to her. 
I would say that in the way that people may find Zoya to be different from Julien, that's how different I would say I would be from Julien. If I had a platform like Julien, it would definitely all be about activism and showing people that you don't need to live in excess and luxury. I totally identify with Zoya. Like, I cannot keep my mouth shut when I hear something that's not right.
I keep seeing this photo of you where you're wearing these huge shoes. Context, please. 
My friend Eric, who's a fantastic stylist who styled the Vogue Portugal shoot, wanted to do something absurd and campy and wacky, and that's me to a T. I feel like when I'm doing entertainment, or when I'm doing stuff like this, I want to be bizarre. I want to be a spectacle, and strange, like this Schiaparelli dress with a leather muscle top with a massive bow and gown below. It was very much intentional to have it be really absurd and strange. But seeing how the girls are eating on Twitter with it, it's just like, I'm gagged. I'm absolutely gagged, and honestly, flattered, because I feel like the caliber of comedy on Twitter is quite high, and to have caught their eye is quite an honor.
I wasn't sure if the shoes were Photoshopped or not, and I'm honestly so glad that they're not. 
They're not! So, one thing that I saw was that somebody put the Riddler on, and that's not real. But the shoes were big like that, the suit was green and oversize.
I'm sure it's not the last time you'll be memed. How does it feel to experience widespread recognition for your work?
I believe that I manifested Gossip Girl, because all through 2019, I was doing this practice in the mornings where I would just go out on my balcony, and I was on the 32nd floor, so I felt like I was really connected to the air and the earth and the wind and the powers that be. And I just was inviting, basically, abundance. I was inviting the universe to align with me and lead me in the right direction. I definitely didn't think that this was gonna be it, so I'm glad that I was open to receiving these gifts, and damn, did they come.