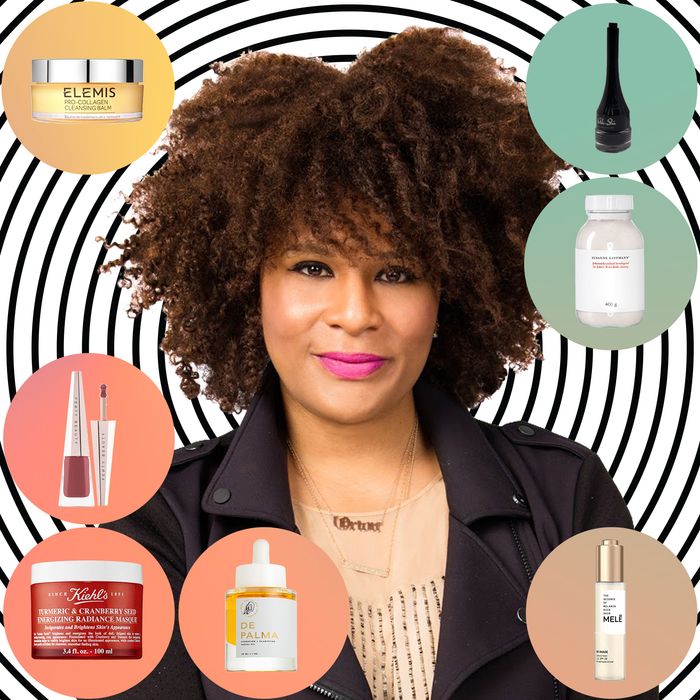 Photo-Illustration: by The Cut; Photos: Courtesy of Julee Wilson, Retailers
On the Beauty Group, a Facebook community co-founded by the Cut and the Strategist, people chat all day long about the products they love — the ones so good they'll make you hit that little "auto-refill" box at checkout. Below, we asked one of our favorite beauty pros to share her own selections.
In a game of "Fuck, Marry, Kill" between makeup, hair care, and skin care, Julee Wilson kills makeup. "If I was skilled at putting on my makeup, maybe I would care more about it, but I'm no Sir John," says Cosmopolitan's beauty director. As for her lover, that's all skin care "because it's sexy," but also because "your skin's always fucking with you, too," she reasons. "Like, it'll be good one day and then it'll be bad the next. It's kind of like makeup sex after a breakup. You hate the person one day, and then two days later you're fine, and you're like, 'I love you.'" Plus, there are all kinds of skin-care gadgets and tools — some of which look more like sex toys than actual sex toys.
Wilson's hair, meanwhile, is worthy of being her partner. "My hair is my crown," she says. "It is a complete extension of my light and a part of my Black-girl magic. Black hair is just so magical; we can do so much with it and we can tell so many stories through it."
Wilson is happy to see more retailers and investors are aligning with her philosophy and supporting Black-owned brands. The changing beauty landscape is in part due to 2020's wave of protests against police brutality following George Floyd's murder. At the time, publication after publication came out with listicles of Black-owned beauty brands to shop. And while Wilson was glad to see the brands getting more recognition, she couldn't help but look at some of the lists and think, "Twenty? Thirty? That's cute, but … there's way more than that." Brands that many seemingly discovered overnight, Wilson has been championing for much of her career. "I did a list of 125 Black-owned brands (which has since grown to 160) for Cosmo because I knew these founders and companies that people were all of a sudden like, 'Oh, look at this Black-owned brand,'" she remembers. "I was like, 'This Black-owned brand has been around, and they've been trying to get your attention, and they've been out here doing the work and being really thoughtful about their formulations.'"
As initiatives like Aurora James's 15 Percent Pledge and Sharon Chuter's Pull Up or Shut Up campaign continue to highlight Black-owned brands, Wilson has a question for investment firms and retailers: "Why weren't you getting that money [before]?" She elaborates, "Not only is it just a good thing to be thoughtful about people other than yourself, but it makes good business. When I'm talking to [retailers] I'm like, 'You don't like making money because you are ignoring a whole community of people.' My white girlfriends, they're like, 'This is a shampoo, I use this as a conditioner, [and] I use this as a styling product — those are my three holy grails.' Meanwhile, I'm like, 'I'm going to tell you my three holy grails when I'm doing a twist-out; I'm going to tell you my three holy grails when I blow out my hair; I'm gonna tell you my three holy grails when my hair is in braids.' Our arsenals, because we can do so much with our hair, are huge." Another missed opportunity that Wilson notes: hair bonnets. "How do all these hair companies not have a hair-protecting something, like a bonnet or a slap cap? That's a whole market and a whole beauty ritual that women of color do every single night." The last bit of advice she's willing to dole out for free is that supporting Black brands and creating products for Black consumers needs to be a thoughtful, sustained effort. "What are you doing to make sure that this isn't performative?" is a question that should stay top of mind.
Below, Wilson shares 11 products from her own beauty stash, including the sunscreen that was specifically formulated for women of color, the lipstick with a ten-hour wear time, and the satin-lined slap cap she wears to bed.
The Sunscreen
"This is a newer sunscreen that I'm obsessed with. Obviously, as a beauty girl, you have to wear sunscreen every single day. Even when I put on a foundation that has SPF in it already, I always put on more. I'm obsessed with oils, so the fact that this is actually a clear oil, comes out of a dropper, and has sun protection is amazing; I don't see many SPF oils out there. It absorbs really well, makes you look dewy, and doesn't leave a cast so you don't look gray or like Casper the Friendly Ghost. This company was specifically created for melanated skin, so I know that it's for me and that I was thought of when it was being formulated. That also makes me feel good."
The Cleansing Balm
"This is a holy-grail product — it's one of those items that I actually spend my money on as a beauty editor. I love any type of balm, and this one feels luxurious, so I always use it when I double cleanse. Elemis has a few different variations, but I like their original because it's like aromatherapy. It smells like eucalyptus and rosemary, and it takes me to a place that calms me down. I put it on, and I actually don't wash it off immediately. I'll brush my teeth, and I'll do some other things so that it can really break down the dirt or whatever's on my face and I can just smell it. It puts me in this relaxed state of mind."
The Face Mask
"This face mask really wakes up my skin, which can feel really dull sometimes. I've got two kids, so there's not much time for masking, but I try to use it at least two or three times a week. Not only does it brighten up my face, but as a woman of color, I suffer from hyperpigmentation, and I find that when I use it consistently a lot of my hyperpigmentation clears up. It's a double whammy. The scent might have a hint of cranberry, but it's not like I'm putting cranberry jam on my face."
The Vaginal Wash
"People don't focus enough on their vaginal health, and vaginas need to be pampered, too. Like, hello, I had two babies; I pushed two human beings out of my vagina so I'll be damned if she doesn't get loved on. Our vagina's pH is different than our body's pH so we shouldn't be using our body wash on our vagina. (And when I say vagina, I mean vulva, not internally.)
I love this wash to death. I know the owner, Beatrice Dixon, and she has such an amazing story about how she cleared up a bacterial infection through this recipe that she got from her ancestors in a dream. I know it sounds really magical and hokey pokey, but basically, this wash comes from a variation of what she got from her ancestors and other ingredients."
The Bath Powder
"I use this for my son and myself. I love everything from Susanne Kaufmann, and I actually traveled to Austria and visited her spa and talked to her about her products. When I was there, I was telling her how my son was dealing with really dry skin. It's almost like baby eczema so it's not something that he'll have to deal with forever. She sent me this powder, and it cleared up his skin. When I saw how much it helped him, I started using it when my skin feels itchy, irritated, or super dry. It's one of those products that we always have in the house."
The Face Oil
"This is a product that I discovered on Instagram. I'm always looking for new, exciting brands, and as a beauty fan, not just someone who works in beauty, I will spend my own money. It's not like I have all this money, but I do like to invest in not only products that I really love but also small businesses that might not have the money to seed gifts. It's also a Black-owned company and it's important that I pour my money into a Black-owned business.
I really fell in love with this face oil. There's rose-hip oil in there, which is my holy-grail oil. It doesn't clog your pores, it has clarifying benefits, and it's really good at locking in all of the other stuff that we put on our faces, like serums. I've been using it for a couple of months now, and I'll do three drops each time."
The Lipstick
"I have one in my purse; I have one by my bed; I have one everywhere. I love a good, bright, bold lipstick, but this is my everyday go-to lip. It's a nude, but it also looks like you have something going on. People always ask me what I have on my lips because they see it's a color, but it's just a neutral, really pretty pale pink that doesn't compete with my outfit. I can eat a meal, and it'll still be on, too. I can honestly wear it for ten hours without it coming off."
The Eye Liner
"Ah-Shí is another company I discovered on Instagram. All of the formulations come from a Black and Indigenous woman who uses a lot of philosophies from her background for the products; that's what caught me at first. All of the products are really good, but I fell in love with the eyeliner. You can use it for your brows too, but I can't deal with my brows — they are sparse and upsetting. It doesn't move and it goes on really smoothly. It's highly pigmented so you get a lot of payoff. The Elemis balm [above] actually does a good job of taking it off, but I usually use an eye makeup remover like Mary Kay Oil-Free Eye Makeup Remover."
The Hair Cap
"This is the slap cap that I wear at night to protect my curls. It's satin-lined. It's basically a very sleek bonnet, and it looks like a beanie. I have different hair protection things for when my hair is in different states. This one I use when I have my hair twisted. So I'll do my two-strand twist, and then I'll put this on."
The Foundation
"I love this foundation because it's super fluid but it dries down to a powder, so I can skip that powder step at the end. When it comes to makeup, skipping steps is clutch because you don't want to feel like you have a lot on your face. This foundation can be medium coverage or I can build it to full coverage, and it's got a great blurring effect."
The Hair Cleansing Cream
"When I wash my hair, I do a lot of co-washing because I don't want to strip my hair of its oils. When I do want a deep cleanse, this is awesome, and it's special too because it's a product created by my hairstylist Anthony Dickey. He has his salon, Hair Rules, in New York City. Dickey's my hair whisperer so I'll put anything in my hair that he tells me to.
His products come in basically little vats. I put a lot of it in my hair and it cleans it really, really well. I can see the dirt come out without me having to scrub or mess up the integrity of my curls. It's also really easy to detangle with it. Shampoos or cleansing products are usually so drying that it's hard for you to get your fingers through your hair."