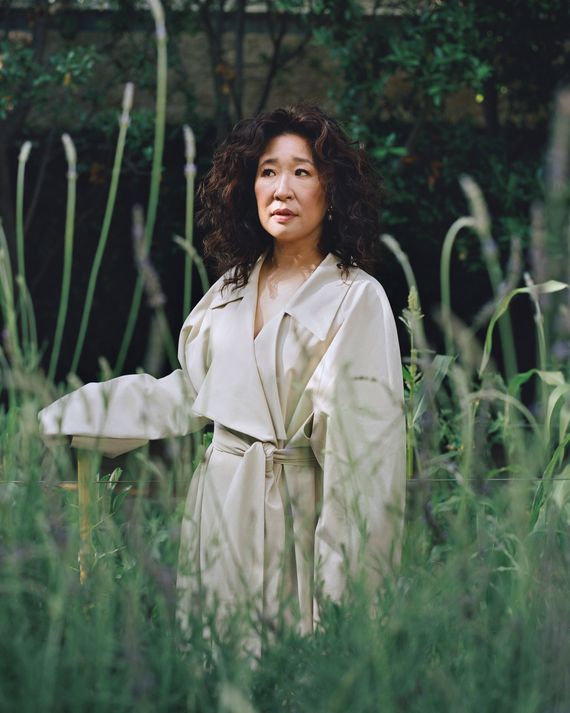 The Row
trench coat,
Lady Grey
earrings, and
Aurélie Bidermann
ring.
Photo: James Wright
I have to confess that when I first started as editor-in-chief, Sandra Oh was on my list of dream cover stars because she is someone who knows who she is and what she believes in. To put it simply, her body of work is unmatched — from a decade of playing Dr. Cristina Yang on Grey's Anatomy to her award-winning turn as Killing Eve's Eve Polastri — and she's nowhere near done. By the time you are reading this cover, Sandra will be close to wrapping up the final season of Killing Eve and gearing up for her role in Netflix's The Chair, a dramedy series where she plays Ji-Yoon, the first female and woman of color chair of the English department at a small university and mom to an adopted daughter, juggling the responsibilities of trying to find a semblance of success both at work and at home.
Fellow actress Amanda Peet is the series's showrunner, and it's thrilling to watch the collaboration/conversation between two women so committed to telling stories that challenge the tired, status-quo depictions of what it means to be a woman. Oh has achieved many accolades, including Golden Globe Awards, Screen Actors Guild Awards, and Emmy nominations, and she's also been the first person of Asian descent to host the Golden Globe Awards and the first Asian Canadian woman to host Saturday Night Live.
While so many people have felt the desire to quit or start a new way of life in the past year, Oh, the ever-unapologetic force, is even more invested in doubling down on her commitment to expansive, challenging work and inspiring others. For the Cut's July/August cover, Oh and Peet sat down to talk about the nuances of great storytelling, Hollywood's frustrations, and the power of womanhood.
Sandra Oh: I think we should start this conversation about vaginas and perimenopause! One of the things I love about you the most is that the way you direct; it's always straight from your vagina.
Amanda Peet: Sandra, you act from your vagina, and I direct from my vagina. It's where creativity is rooted!
Sandra: I have had such a long week and a long day, so I'm a bit goofy, but honestly, when I think about where I get my power and creativity from to do all of this, that's where my mind goes.
Amanda: So how did this last year — it was a brutal one — impact the projects you decided to take and your creativity?
Sandra: I think that the decision to do Umma and The Chair came pre-pandemic. But I shot them both during the pandemic, and I feel like I redoubled my commitment to my choices. The pandemic shifted so many things for everyone, and I definitely opened and deepened and questioned my points of view and belief systems. The Chair is more comedy, and my character, Ji-Yoon, is handling the ups and downs and demands of her life and the expectations people have for her.
Umma is a classic psychological horror about a mother and daughter who live alone in the woods. And this urn comes from Korea, which holds the ashes of the book of my mother, and then basically haunts us. So to be able to explore the dynamic between mothers and daughters was very intriguing. And to physically and also psychologically to go into those areas of generational trauma or to question how mothering is challenging.
Amanda: When we met, something that we clicked over was the idea of showing a character whose relationship with her daughter is not entirely aspirational. I can't relate to most of the mothers I see in movies and TV. And I think that we shared that desire to strike a different chord.
Sandra: Correct. I am moving into the mother stage of my career, and I know classically, a lot of actresses my age are upset and say, "Oh, I have to play the mother or the wife," but there is tremendous richness in all of these experiences and relationships.
Amanda: You've also played such strong roles with female friendship; thinking of your past roles in Grey's Anatomy, Killing Eve, and The Chair, how do you feel about those dynamics and their strengths and weaknesses?
Sandra: When Me Too was happening, and many A-list actresses were getting together, and they realized that their experience was so isolated because many times in films, there's only really one part for a woman. That has not been my experience. I have played rich, supporting parts and played rich, full, leading characters. A lot of the dimensionality comes from their relationship with other female characters.
And clearly, ten years playing Cristina Yang, who's friends with Meredith Grey, is one of them. Cristina Yang changed in real time, she developed in real time, and it was believable. And when Grey's started, it was ye olden days of television where you would watch weekly, create a character over time, and bond with your audience. So just the time spent with a character like that, it's so rich. The extremely complicated relationship that Eve Polastri has with Villanelle is another one.
And then, as I mentioned, not only in The Chair but also in a lot of the other projects that I'm coming up with, is the profound relationship of moving into the mother role.
Amanda: It's still also quite taboo. I think there's still very binary thinking about and representation around motherhood in Hollywood. You're either this saintly mother who's exquisitely attuned to your child's needs, or you're a clinical narcissist whose career means more to you than your kids' well-being. And I always think about it; my mom was a shrink and used to constantly remind me about this British psychoanalyst, D.W. Winnicott, who coined the phrase "the good enough mother." And I guess the "good enough mother" is the idea that children need their mothers to fail because they will never learn how to be frustrated if they don't. So the aspirational-mother trope is incredibly destructive!
Sandra: Honestly, one of my very favorite moments, not to give too much away, was when you told me in that scene in the car with Everly [Carganilla, Oh's onscreen daughter], you said, "Swear at her." And I feel we were all moving from the vagina place of instinct.
I felt terrible for saying that to my young co-star. But I could also feel the moment after; I could feel everyone who was on set, who was a parent … even nonparents, just the way that everyone burst out laughing was, that was real. So if you say that you've never sworn, or it's the presentation that parents don't swear or get angry at their children, or don't fuck up in that way, it's not real.
Amanda: I feel like it was the culmination of the long conversations we'd had about motherhood and how liberating it is to talk about the ways in which it's deeply unfulfilling and isn't so linear. And Ji-Yoon struggles to form a motherly bond with Ju Ju and feels like she can't connect with her and has an incredible longing. Even Ji-Yoon's father (Ju Ju's adoptive grandfather) also feels that he can't take care of Ju Ju or connect with her because he only speaks Korean, and Ju Ju can't understand him.
And in real life, there's a not-often-discussed added guilt for many adoptive single moms because you think you're starting at a deficit in terms of providing intimacy. And I found that to be very moving, and I think it was necessary to both of us that the story conveys our respect and admiration for those adoptive single moms struggling with transracial adoption.
Sandra: I wanted to delve into the relationship that you think that you're supposed to have. And then if the child is adopted and is of a different ethnicity than you, all these things kind of get thrown up in the air of seeing a character doubt herself.
Amanda: Even in the experience of raising children, the way you think it's supposed to happen and the way it's portrayed in the film isn't realistic. I remember when I had my first kid, the only breastfeeding I'd ever seen on film was Brooke Shields in The Blue Lagoon when I was 8. She looks stunning beyond comprehension. She's, first of all, completely skinny and has lost all of her baby weight, miraculously. And then the baby just kind of slides down her clavicles and chest and just starts sucking. And she just looks up at her gorgeous boyfriend and is like, "Oh, how sweet?"
And I remember thinking how evil that is. Because first of all, it's like a piranha is gnawing on the most sensitive part of your body. And the idea that breastfeeding is uniformly natural …
Sandra: … and that you're a size zero!
Amanda: It's ludicrous. So it was very moving to me that Brooke Shields then wrote a book about postpartum depression because she sort of debunked all the myths she had held up in that film.
Sandra: We're also talking about the beauty standards that are still clinging on — I wish you could see me doing my gross face. I've never gotten jobs because of it [my looks], and it has definitely frustrated me in my career.
Amanda:  But I also feel like you've gotten the roles that aren't surface-level and require a particular creative expansion like Killing Eve.
Sandra: True; right now, we're at the halfway point of shooting [this season of] Killing Eve, and it is an exciting challenge, to sum up, an impossible relationship. And that has brought a shit-ton of growth and also a great opportunity.
Amanda: Is there something you feel like you're better at, acting-wise, because of Killing Eve than you were before Killing Eve?
Sandra: I can say that I feel like my creative chops are all at the surface; I don't have to reach too far. It's hard because it's not one thing; a career is built on every other moment before, you know what I mean? It's trying to find our way truthfully and authentically through. Phoebe Waller-Bridge set up a very delicious relationship, but it's become harder and more impossible to figure out how it ends or how it continues as time has gone on. So that's the challenge of trying to give Eve and Villanelle a beautiful finish to their story.
I feel super emotionally toned because Killing Eve is like diving down into the ocean, and The Chair was just like flying and became instinctive. And personally, I feel in great creative shape and grateful to work on projects that are challenging the unbelievable pressure of being a modern woman.
Amanda: That pressure combined with the last year has caused people to be in the mood to quit many things. Has anything changed about your way of life, your job, that made you want to quit?
Sandra: I haven't quit a specific thing, but I have felt that the things I have already deemed important are more critical. And I think ultimately, when you see people quitting, that's what they're doing too.
Amanda: Do you think our industry has quit anything or started doing anything better to represent women of all ages and races?
Sandra: I feel like I get this question a lot regarding, let's say, the Asian American experience and also as a woman. And I think I am finding this question in some ways trickier and trickier to answer. So I want to get more and more truthful in the answer. And also, I'm wondering what the expectation behind the question is. Is it just to make people feel good? Because it's a tremendous struggle.
Amanda: Can we talk about your powerful, impassioned speech at the protest following the Atlanta spa shootings and anti-Asian hate crimes? What was going through your mind?
Sandra: I remember waking up in bed and feeling, "There's got to be a rally." I just didn't want to be alone. So it's like, "There's got to be a group of Asian people somewhere, hanging out on a corner … I want to be with them." And then, I also realized that my thinking was too small. So at first, I reached out to a couple of the fellow Asian crew members, and I was like, "Why am I only inviting a few people?"
And so then I opened it up, and it was also tricky because of COVID. To invite the crew, I felt very conscious of that, but I did it. It's like, "Hey, you guys, I'm going to be here. There's something going on here. If you want to come, a group of us are going." And that just meant so much to me that so many crew members came out. I felt like there's a lot of fear, and the only thing I felt at that moment to offer was to be strong. Reach out in the face of fear; practice reaching out to others.
Amanda: That's lovely.
Sandra: I've thought about this, like if I feel weird on the subway, on the tube, I've thought, "I'm just going to say something out loud. Hey, can anyone sit beside me?" When you start thinking about how you can disrupt the usual way of being, for folks in the Asian community, speaking out is a big deal.
I don't remember what I said or what I yelled, but it's like, "Let's just practice yelling together. Let's just practice shouting in unison together. Let's just try it. Just try it." That's kind of what I wanted to offer, just space just to speak out together.