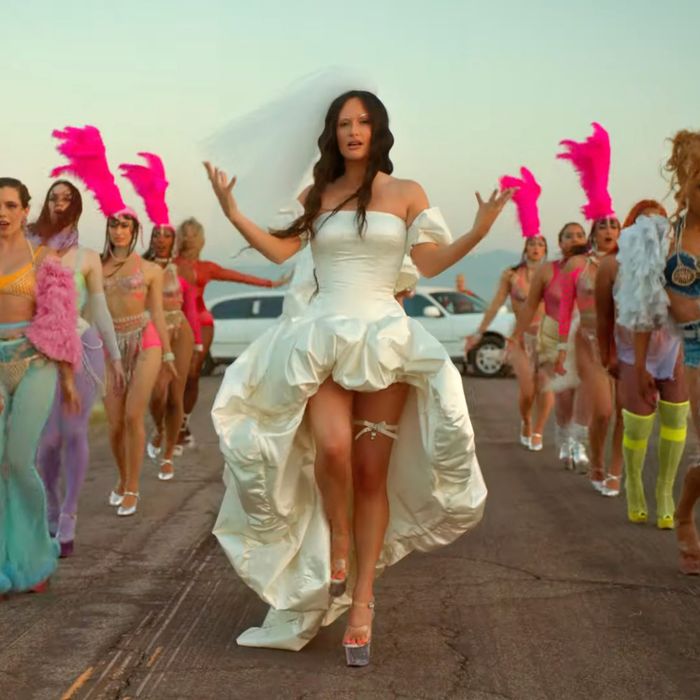 Were three months of horny vaccinated summer fun plenty for you? Do you find yourself wistful for the days when we were marinating in the sparkly ennui of Folklore? Well, fret not: Kacey Musgraves has your back. She's released a video announcing her long-awaited fourth album, star-crossed, which promises to be absolutely devastating — but, like, in a glittery way. A sampling of the sneak peek includes: bejeweled eyebrows, what appears to be a classic tweed Chanel wedding suit, a lot of hospital imagery, a shiny black horse, and Musgraves crying in her car in the rain.
The main takeaway, as I have mentioned, is that this will be a gut-wrenching journey through Musgraves's heartbreak, gussied up in sparkly makeup and extremely chic hospital uniforms. Let me break down a few initial pieces of evidence:
Musgraves has already said the album is inspired by her recent divorce from fellow country musician Ruston Kelly. She's also said the classic three-act arc of the album is inspired by Greek tragedies. The trailer opens with the words "A MODERN TRAGEDY," while Musgraves walks around in a wedding dress and some very Euphoria bejeweled eyebrows. Glamorous? Check. Hauntingly sad? Check.

There is a great deal of hospital imagery, including an MRI of Musgraves's chest showing a broken heart. Literal? Yes. Nonetheless effective? Yup. I cannot wait to watch Musgraves and her symbolic-made-physical broken heart being rushed into a waiting room full of surgeons dressed like Jackie O.

The album title and entire track list is in lowercase letters, the exclusive language of cool sad pop girls everywhere. (See: Taylor Swift, Ariana Grande, Olivia Rodrigo.)
Of course, because this is a Kacey Musgraves album, the project is also studded with flashy names, including Symone, Princess Nokia, Victoria Pedretti, Meg Stalter, and, most puzzling (and promising) of all, Eugene Levy, who appears in the trailer dressed in a nurse's uniform. Will he be performing surgery on the hearts of sad girls the world over? Where can I buy a metal chestpiece?
The video warns us to "fall apart September 10th," the release date for the album and its video counterpart. Consider our calendars marked.