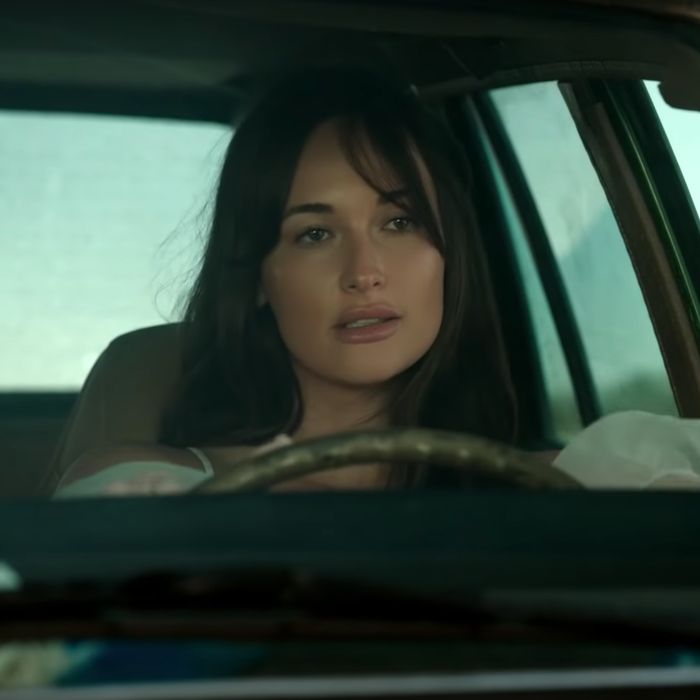 Photo: Kacey Musgraves/YouTube
Kacey Musgraves promised to devastate, and, well, she is delivering. Today, she introduced her "tragedy in three acts" with her new single "justified" and its corresponding video, wherein she journeys through three different biomes while wearing a wedding dress in order to process a breakup. Behold:
She does other heartbreak-y things, like angrily ripping up a piece of paper (hopefully not a Post-it note?) and smoking a joint while weeping. But Musgraves is a practical woman, even in heartbreak, which means that she adds various accessories to said wedding dress to properly prepare herself for being inside her car in a series of radically different climates.
The first to appear is a shearling-lined denim jacket, which she slips on for the snowy portion of her journey. It's a little bit country, a little bit ski chalet, and it certainly looks cozy enough to get her through this tundra while inside her car.
Next comes a flannel, which she sort of drapes around herself like a healing fall blanket. The flannel corresponds with the rainy segment of the video, which also features Musgraves crying in a way that I personally believe was inspired by Olivia Colman's performance in The Crown.
And finally, we have some chunky sunglasses, which pop up toward the end while Musgraves drives at night. This one, admittedly, seems much less practical, but there do seem to be a lot of bright lights behind her, and maybe she forgot about them when she was in a sunny desert earlier? Maybe she realized she had written an unrivaled breakup anthem and all regard for the climate went out the door. Can't say I mind!