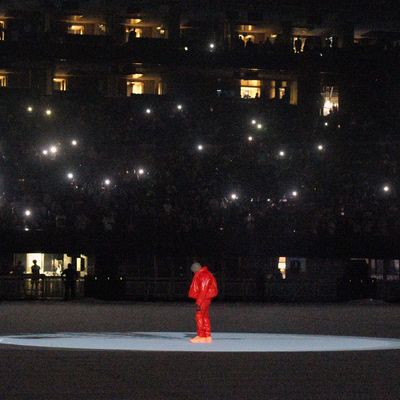 Photo: Kevin Mazur/Getty Images for Universal Music
After an undisclosed amount of time spent holed up in a stadium locker room, Kanye West's latest album has finally surfaced: Donda, named for West's late mother, dropped on Sunday morning. At this point, it feels like every step of this album's rollout has been mired in some form of headache-inducing controversy, confusion, beef, or just all-out havoc, and it doesn't appear that the chaos will be ending anytime soon. Let's dive in.
First, there were the listening parties.
While Donda was first announced all the way back in 2020, the rollout and ensuing drama really picked up last month, when West hosted a listening party at the Mercedes-Benz Stadium in Atlanta. Afterward, West allegedly moved into a "private room" in the stadium, which looked like this. Days later, he emerged from the room to attend a soccer game. By August 5, he had emerged for a second listening party, where the twin-size mattress he'd slept on while completing the album became a prop.
For the third and final listening party in Chicago, Kanye really leaned into the chaos, bringing out a few choice guests. Kim Kardashian, who filed for divorce earlier this year, walked out in the same white Balenciaga gown and veil she wore to marry Kanye in 2014 for what appeared to be a staged wedding re-creation. DaBaby, who spent most of July making and then doubling down on homophobic comments, showed up to lurk behind West as the album played. As did Marilyn Manson, who's currently facing numerous lawsuits alleging sexual assault. (Both artists are credited on the album.) Kanye ended the night by lighting himself on fire in front of a replica of his childhood home.
On an entirely separate and no less chaotic note, someone listed a bag of air from the first listening event on eBay for $3,333.33. This, unfortunately, checks out.
Then there was beef with Drake?
At some point throughout all this, Drake entered the chat. After he tossed a few Kanye-targeted lines into a song by an artist named Trippie Redd, Kanye posted a screenshot of a group text to which he had just added Pusha T (apparently, a rival of Drake's). The messages? An image of Joaquin Phoenix as the Joker, and a text promising that Drake "will never recover." The next day, Kanye attempted to dox Drake, posting a screenshot of the location of Drake's haunted bachelor pad in Toronto. Drake, apparently, did not care. Perhaps he and his Birkin collection have since vacated?
And this morning, fresh on the heels of Donda's release, Drake enlisted a gaggle of pregnant-woman emojis to announce that his newest album, humbly titled Certified Lover Boy, will come out this Friday. Meanwhile, a bunch of his fans left some rude signs outside Kanye's childhood home.
Now, the album is finally here.
How are you doing? Do you need some water? An Advil, perhaps? The chaos doesn't end there. Donda came out on Sunday, though shortly before the album dropped, Kanye alleged that the release delay was due to DaBaby's label refusing to clear his verse on "Jail Part 2," the track that includes him and Manson. This would make sense, considering the verse addresses last month's backlash to DaBaby's homophobic comments. The president of DaBaby's label, though, says that's not true. He took to Instagram to say that he didn't receive a request to clear the verse until the day the album came out, at which point he immediately agreed to release it.
Once the album did emerge, Kanye wrote on Instagram that Universal released the entire project without his permission, and that it tried to leave "Jail Part 2" off the album. The second part, at the very least, is true: "Jail Part 2" was not included in the initial release, though it became available later in the day.
Apparently, though, there are some artists Kanye's less willing to go to bat for. Chris Brown, another notably problematic musician whose vocals can be heard on one of the album's tracks, complained on his Instagram that his verse had been cut, calling Kanye "a whole hoe." Also feeling burnt? Soulja Boy, who tweeted about his own verse being cut from a different track.
Further confusion involved Ariana Grande, who was briefly credited on Genius for the title track, "Donda," but who it turns out was just misidentified. She was kind enough to tag the actual provider of the vocals, an artist named Stalone.
Meanwhile, Kardashian posted screenshots of the album's songs to her Instagram Story in apparent support of her consciously uncoupled co-parent. Unfortunately, she appeared to be listening to the album on mute.
All this, and Donda has barely been in the world for 24 hours. What's next? Will Kanye have an orgy on that same stadium cot for the "Jail Part 2" music video? When will Irina Shayk enter the discourse? Only time will tell.