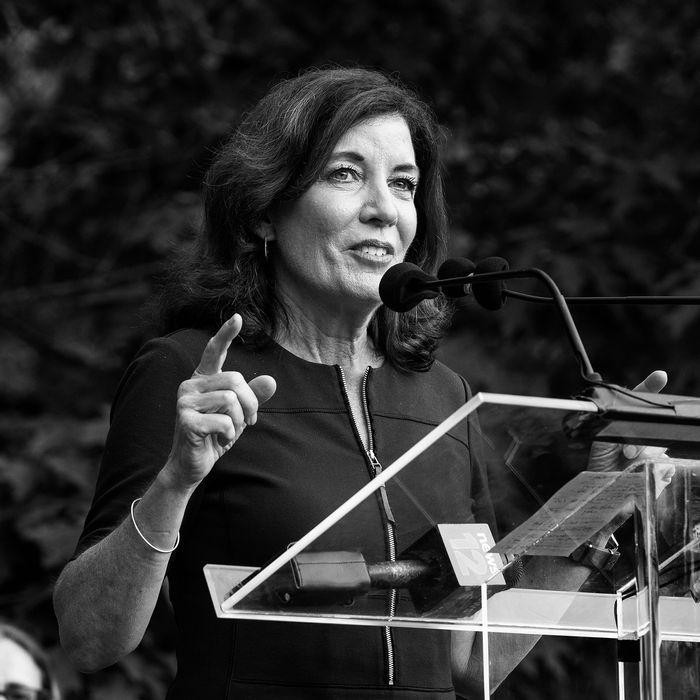 New York lieutenant governor Kathy Hochul.
Photo: Lev Radin/Pacific Press/LightRocket via Getty Images
Two weeks after Andrew Cuomo finally resigned as New York's governor — a surprising twist even in light of the circumstances — he makes his official exit at midnight tonight. Earlier this month, a report by the New York State attorney general's office accused Cuomo of sexually harassing at least 11 women, allegations he has consistently denied. Though many people — local legislators, members of Congress, the president of the United States, you, maybe — called on the governor to step down, it seemed unlikely that he actually would. But with the possibility of impeachment looming, and with four district attorneys probing his reported misconduct, Cuomo gave his two weeks' notice on August 10. Now, Lieutenant Governor Kathy Hochul takes over. Despite keeping a low profile in the Cuomosphere, she has reportedly been preparing for this moment. So: Maybe you have some questions about her?
Kathy Hochul? Who is she?
Well, as stated, Kathy Hochul is Cuomo's lieutenant governor, though she has maintained a healthy measure of distance from her boss through this and other scandals. According to the New York Times, Cuomo selected her as his running mate in large part because of her ties to Buffalo, and the fact that she flipped a Republican-held seat in a conservative county in a 2011 congressional race. These credentials helped him rally support upstate, but now the Times describes their relationship as "largely transactional." They don't appear in public together very often, which has its advantages for Hochul, given how many members of Cuomo's inner circle have been implicated in his alleged misconduct. Per the Times, she is now "familiarizing herself with the minutiae of the transition process."
Has Kathy Hochul said anything about the harassment allegations swirling around her boss?
Has she ever. Immediately after the report published, Hochul issued a statement saying "no one is above the law," and then some.
"Sexual harassment is unacceptable in any workplace, and certainly not in public service," she said. "The attorney general's investigation has documented repulsive and unlawful behavior by the governor towards multiple women. I believe these brave women and admire their courage coming forward."
Has she made any notable appointments?
After pledging, pretty much immediately, to clean house of Cuomo's inner circle — "no one who is named as doing anything unethical in the attorney general's report will remain in my administration," she said on August 11 — Hochul has appointed two women as her top aides. Karen Persichilli Keogh, or K.P.K., will be her secretary, and Elizabeth Fine will be her counsel. Keogh was most recently the head of global philanthropy at JPMorgan Chase & Co, and worked for Hillary Clinton as a senator. Meanwhile, Fine is the executive vice-president and general counsel of Empire State Development, having previously served as general counsel for the New York City Council. According to the New York Times, she will decide within the next 45 days which members of the Cuomo administration will stay and which will be replaced.
What are her politics? What is Kathy Hochul about?
A centrist Democrat, Hochul has worked as an aide for former U.S. representative John J. LaFalce and for U.S. senator Daniel Patrick Moynihan. She apparently visits all 62 New York counties on at least an annual basis, with Politico previously calling her "a presence at every ribbon-cutting, baby-kissing, axe-throwing event the state has to offer." Apparently, if you invite Kathy Hochul to make an appearance at your event, you should count on her showing up. Politico briefly catalogues a handful of her pit stops:
A group of physicists working on synchrotron radiation instrumentation? Sure. 




The AppleUmpkin Festival in Wyoming County, where there are famously more cows than people? Of course. 




A new brewery? A coworking space in a beleaguered downtown corridor? Anything — literally anything — aimed at advancing women in the workplace? Absolutely.
It's that last one that's probably most important here. Hochul spearheaded the administration's campaign against campus sexual violence, and notes on her website that she "prioritizes being a voice for all women." She has purportedly shifted away from some of her earlier, right-leaning positions: As Erie County clerk, for example, she worked with local law enforcement in architecting a plan to have undocumented immigrants arrested if they applied for driver's licenses, but in 2018, said she had changed her mind. Now, she will be the first woman ever to run New York State.
How do you pronounce Hochul?
"HOH-kuhl," per the New York Times' phonetic breakdown.
Anything else I should know?
Just that she "agree[s] with Governor Cuomo's decision to step down," thinks "it is the right thing to do and in the best interest of New Yorkers," and is "prepared to lead as New York State's 57th Governor," per a Twitter statement posted Tuesday.
This article has been updated.