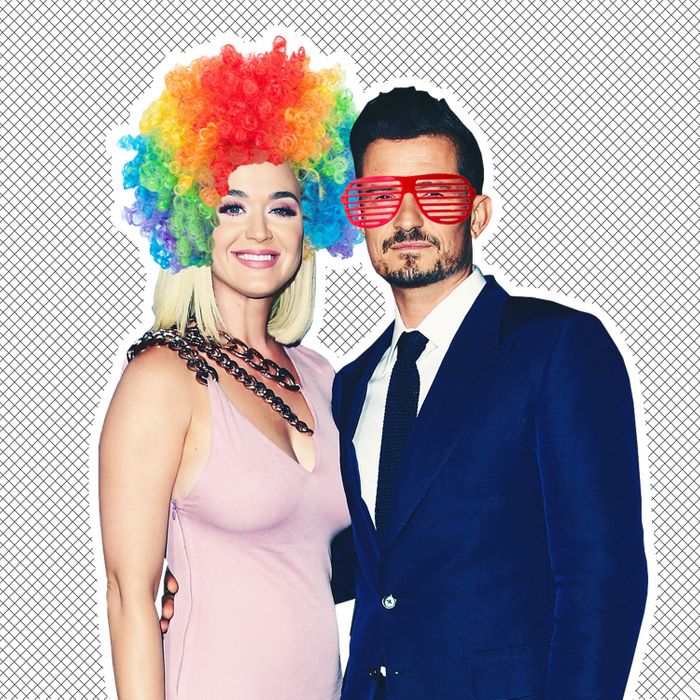 They're not like other couples, they're a qUiRkY couple.
Photo-Illustration: The Cut; Photos: Getty Images
What makes a relationship work? Some people would say compromise, communication, shared values, chemistry, etc., etc. Other people might say nonstop corniness. Take Katy Perry and Orlando Bloom, for example. While I cannot be sure because I have not asked them (and also I don't know them), I bet they would agree that any successful partnership requires an unflagging commitment to The Bit. Exhibit A: Snapshots of their recent night out in Capri, Italy.
On first glance at these photos — obtained and published by "Page Six" — I assumed Perry and Bloom were spotted at a wedding or some similar type of private event. How else to explain all the props, the wigs and the giant glasses and the oversized bow ties, if not a novelty photo booth? Where would they have gotten that Champagne bottle with their faces on the label if their host had not rented some kind of machine to print them as party favors?? Why would Bloom be wearing one of those optical-illusion ab shirts to make a speech if he were not roasting some newlyweds??? All signs point to wedding reception, but no.
According to "Page Six," this was just a wild Tuesday at Taverna Anema e Core nightclub, and someone — personally, I am guessing it was the guest with a wardrobe full of giant hand sanitizer and burger costumes, but this is just a hunch I have — supplied a shit-ton of accessories. Which, good for them: As the tabloid notes, Bloom and Perry are new parents, and new parents deserve opportunities to blow off steam. And then, these two are not like other couples; they're a qUiRkY couple. Their love language is high camp. We are talking about a woman who, in 2021, serenaded Joe Biden with an impassioned rendition of 2010's "Firework" under some actual fireworks. And we are talking about a man who proposed marriage to her on Valentine's Day, using a helicopter full of Champagne and a giant diamond flower ring. (Bloom, get it??) Just two clowns in love, bless them.