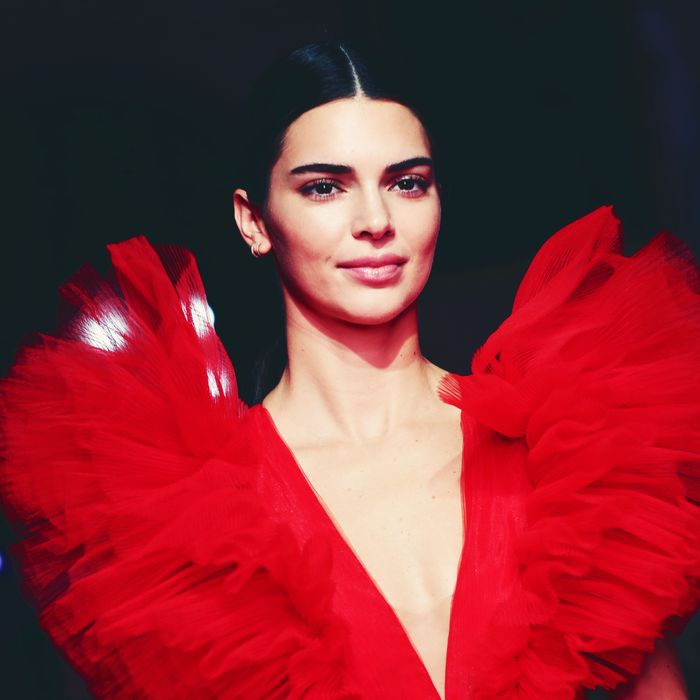 Photo: Vittorio Zunino Celotto/2019 Getty Images
Imagine, if you will, being offered $1.5 million to have your picture taken. And now, imagine blowing it off. Well, that is precisely what a new lawsuit alleges Kendall Jenner, who has been named the highest-paid model in the world, did last year. Stars — they're (allegedly!!) just like us!
On Monday, Italian fashion house Liu Jo filed a legal complaint against the model, suing her for $1.8 million in damages. Per the suit, the company alleges they struck a deal with Jenner in early 2019, agreeing that she would appear in two photoshoots: one for Liu Jo's Spring/Summer 2020 campaign and a second originally intended to be used for the brand's Fall/Winter 2020 campaign. The deal was for a total of $1.5 million plus an additional 20 percent service fee.
Lui Jo claims Jenner took part in the first photoshoot in July 2019 — the results of which appear to be on their Instagram page — and paid her a total of $1.35 million by February 2020. The second shoot was scheduled to take place in London in March 2020 but was postponed because of the pandemic. (The pandemic didn't appear to prevent Jenner from big maskless birthday parties, but I digress.)
Court papers allege the company tried unsuccessfully to reschedule, but Jenner "ultimately turned down all of Liu Jo's good-faith offers of compromise." The complaint continues, "Due to Ms. Jenner's refusal to negotiate in good faith, Liu Jo was forced to find replacement models and restructure its entire Spring/Summer 2021 photoshoot [sic] — at great expense to Liu Jo, due to Ms. Jenner's refusal to uphold her end of the bargain." Lui Jo claims they filed the suit after "having no success in obtaining a refund" Jenner allegedly owed.
However, Jenner's camp says, "The suit is without merit." A spokesperson for Jenner's model management company, The Society Management, told E! News, "The Society Management, on behalf of Ms. Kendall Jenner, has continually offered Liu Jo alternative dates and locations to fulfill an agreement that was forced to be delayed due to the coronavirus pandemic." The statement alleges, "Jenner has willingly offered to complete services honoring her commitments."
It wouldn't be the first time she's had to repay money from a job. In 2020, Jenner had to pay a reported $90,000 for promoting the failed Fyre Fest. Of course the $1.8 million Liu Jo is suing her for is a significantly steeper amount. Jenner herself has not spoken publicly about the lawsuit.