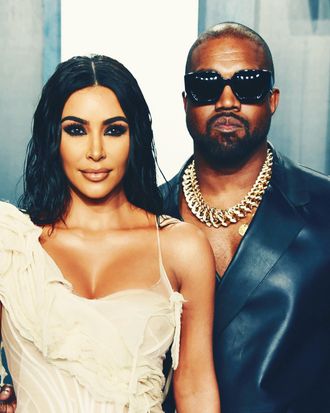 Photo: John Shearer/Getty Images
If there's one thing Kanye West knows how to do, it's make everyone in the room uncomfortable. And, uh, he definitely did that at last night's third listening party for Donda, the forthcoming album he's now been teasing for well over a year. During the final song of the evening, as E! News reports, Kanye appeared to be set on fire while a woman walked out in a full Balenciaga Couture wedding gown with a veil covering her face. Who was this mystery bride? Why, Kim Kardashian West, of course, who filed for divorce from Kanye at the beginning of this year. Sure! Why not!
While Kim's face was never unveiled, E! News was able to confirm that she, indeed, was the bride. To further quell any speculation, Kylie Jenner shared a few pictures from the listening party's faux wedding on her Instagram Story, and Khloé Kardashian tweeted, "insanely beautiful!!!" Which, yes, Kim Kardashian looks very good in a wedding dress.
Kim walked out to "Wedding March"–esque organ music, eventually stopping in front of Kanye. The two stood there for a few seconds, appeared to talk a bit, and then the lights went out. Just like a real wedding!
Their fake nuptials weren't the only eyebrow-raising part of Thursday night's event. Kanye also brought out accused rapist Marilyn Manson and DaBaby, who made multiple homophobic comments at Miami's Rolling Loud Festival in July and has been vehemently unapologetic ever since. While DaBaby can be heard on "Hurricane," a song on Donda that also features the Weeknd, Manson doesn't appear to be on any of the music Kanye has played from the album. So, I guess he just … wanted to bring out an accused rapist as part of his album promo?
Prior to the event, Kanye's manager said the rapper would "absolutely" release Donda after the Chicago listening party. It has yet to be released, but Apple Music now lists the release date as September 23, 2021. So, yeah, technically that is after the Chicago listening party. The event concluded with Kim and Kanye walking out of Chicago's Soldier Field hand in hand. What does it all mean? That remains unclear, as does when Kanye will actually be releasing this album.