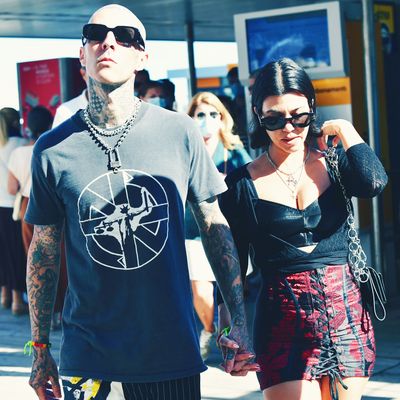 Drummer BF and goth GF.
Photo: Photopix/GC Images
Sometimes, when you spend a lot of time with a specific person, you unwittingly adopt their mannerisms and speech quirks and little gestures. The mimicry is just a natural thing that happens, nothing to be ashamed of, mostly it seems to be a sign of admiration. Or maybe you just take your new role as goth GF very seriously! And what is so wrong with that?
Kourtney Kardashian, for example: In the months since acquiring a drummer BF — Blink 182's Travis Barker, a man of distinct personal style that has not changed much since his 20s — Kardashian's aesthetic has trended edgier and edgier. See as evidence: paparazzi pics from the couple's trip to Italy, where they attended Dolce & Gabbana's Alta Moda show on Sunday. You can check out the full gallery on E!, or you can allow me to describe its contents to you. In one shot, we see Kourtney and Travis holding hands in all-black outfits, Kourtney wearing what I think is Travis's metal-studded hoodie with spiky black sandals to match. The hoodie in question, if you please:
In another, they are laughing and eating gelato, Travis in his typically distressed, skull-printed jeans and tee, and Kourtney in what I can only describe as a bra … vest. It's like a regular denim vest, only it stops just under the boob and has underwire, as well as a corset back. A puzzling garment with gentle steampunk undertones. Anyway, she paired that with black slacks and layered necklaces, including a skull-and-crossbones pendant. Elsewhere, we have a lace-up skirt in shades of blood-red and black, accented with a leather crop top and a black-tipped French manicure. And all over the place, we have the same hot and heavy PDA you have come to know and, if not love, then at least expect from these two.
Mrs. Poosh has denied allegations that she is morphing into a goth GF, mirroring Barker's style with increasing frequency. Still, sparkly fangs and skeleton chokers and "Get Off My Dick" tees were simply not part of the rotation before early 2021, when they became a confirmed item. Which, whatever! Can't wait for the Hot Topic wedding.