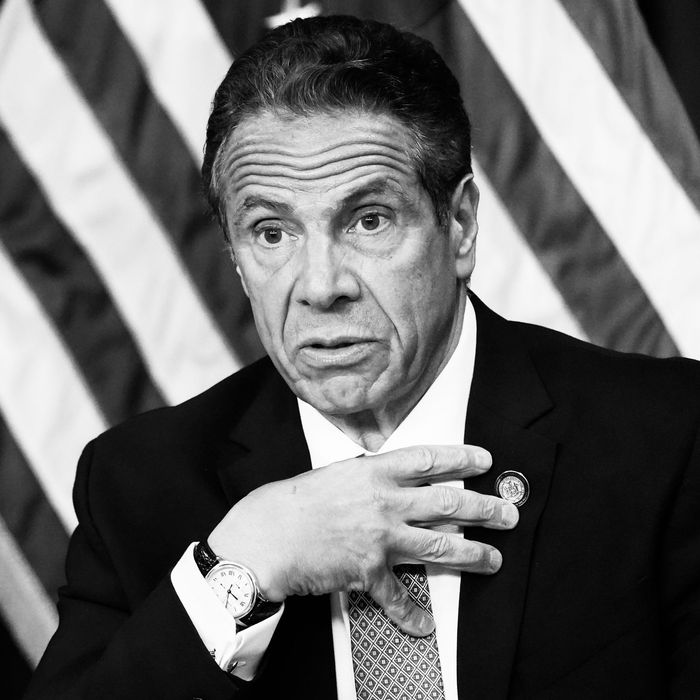 Andrew Cuomo
Photo: Mary Altaffer-Pool/Getty Images
Following a months-long investigation into misconduct allegations against Governor Andrew Cuomo, New York State attorney general Letitia James believes the governor "sexually harassed several women," many of them employees. On Tuesday, James's office confirmed, with the release of its findings, that Cuomo's behavior violated state and federal law. Investigators detailed allegations from 11 women, concluding:
The Executive Chamber's culture — one filled with fear and intimidation, while at the same time normalizing the Governor's frequent flirtations and gender-based comments — contributed to the conditions that allowed the sexual harassment to occur and persist.
According to investigators, Cuomo's transgressions include "unwelcome and nonconsensual touching," including butt-grabbing and out-of-the-blue kisses; making sexually "suggestive" comments; and generally creating a "hostile work environment for women." He allegedly targeted not only the people who worked in his office but also a state trooper assigned to his security detail and members of the general public. Investigators reportedly questioned 179 people — including Cuomo himself — and reviewed 74,000 pieces of evidence in compiling their 165-page report, ultimately coming to "a deeply disturbing yet clear picture" of Cuomo's practices, James said. For his part, the governor continues to deny any wrongdoing.
The allegations against Cuomo started to snowball in February, when former adviser Lindsey Boylan posted an essay to Medium detailing a professional culture in which "sexual harassment and bullying is so pervasive that it is not only condoned but expected." Boylan had alluded to harassment before, this time writing that Cuomo used to touch her on her lower back and legs, make comments about female staffers' looks, and once kissed her against her will. The governor's press secretary called Boylan's statements "untrue," but more and more women came forward: Multiple aides recalled their boss repeatedly hitting on them, using terms of endearment like "honey" and "sweetheart," and touching them inappropriately; a woman he met at a wedding said the governor grabbed her face and tried to kiss her on the mouth; another staffer said he reached under her shirt and grabbed her breast. Cuomo denied all of it but apologized for doing anything that could have been misconstrued as inappropriate. He also called for "an outside, independent review that looks at these allegations."
In March, James appointed Joon H. Kim, formerly an acting U.S. Attorney for New York's Southern District in Manhattan, and employment discrimination attorney Anne L. Clark to lead her office's investigation. James did not charge Cuomo, leaving legal action up to individual complainants and police departments. "We have issued a report and all throughout the process we put our heads down, we've done our job," she
said. "And at this point … we're going to allow the chips to fall where they may."
In a 14-minute response, Cuomo denied any and all misconduct, saying: "I never touched anyone inappropriately or made inappropriate sexual advances." He addressed one set of allegations specifically, naming Charlotte Bennett as a survivor of sexual assault and explaining that he "thought [he] could help her work through a difficult time." Though he apologized to Bennett, he also said she and her attorney "read into" his statements, and "heard things that [he] just didn't say." The governor also acknowledged his habit of grabbing people's faces to kiss them. "I've been making the same gesture in public all my life," he said, as a slideshow of photo evidence played in the background. "It is meant to convey warmth, and nothing more. Indeed there are hundreds, if not thousands, of photos of me using the exact same gesture. I do it with everyone, Black and white, young and old, straight and LGBTQ, powerful people, friends, strangers, people who I meet on the street." He directed anyone who's "interested" to read his attorney's response to each allegation, posted on his website.
Now, a growing chorus of state and federal lawmakers is calling on Cuomo to resign. In her statement, House Speaker Nancy Pelosi said she "commend[s] the women who came forward to speak her truth." Senate Majority Leader Chuck Schumer and Senator Kirsten Gillibrand, both from New York, called the allegations in the report "profoundly disturbing, inappropriate … completely unacceptable," and also credible in a joint statement. New York City mayor Bill de Blasio described the report's contents as "disqualifying," saying "it is beyond clear that Andrew Cuomo is not fit to hold office and can no longer serve as Governor." State Senator Brad Hoylman reiterated his previous request that Cuomo step down, noting that his "pre-produced response … seemed to mock these serious and disturbing charges and shamefully called into question the truthfulness of survivors." If Cuomo did not resign, Hoylman said, then he hopes "the State Assembly will take the appropriate steps to begin his removal from office." Even President Joe Biden — whom Cuomo featured in his slideshow and who has also faced allegations of inappropriate touching and misconduct — has weighed in, telling reporters on Tuesday afternoon, "I think he should resign."
"I'm sure there were some embraces that were totally innocent," Biden said, "but apparently the attorney general decided there were things that weren't."
Four separate district attorneys — in Manhattan, Nassau County, Westchester County, and Albany — are now investigating the report's allegations, raising the possibility of criminal charges. A spokesperson for Manhattan D.A. Cy Vance told Politico their office contacted James's office yesterday, "requesting investigative materials in their possession pertaining to" local incidents that could constitute "potential sex crimes." Nassau D.A. Joyce Smith did the same, as did Mimi Rocah in Westchester and David Soares in Albany. "We are conducting our own, separate investigation," Soares said Tuesday. "It's pretty clear that we have an obligation here."
Meanwhile, the New York State Assembly reportedly warned Cuomo's lawyers on Thursday that the judiciary committee had nearly completed its investigation into the allegations. Lawmakers announced their probe in March and asked the governor's attorney to turn over any additional evidence as "the Assembly will soon consider potential articles of impeachment."
This article has been updated.