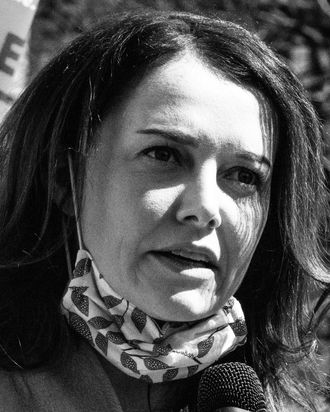 Lindsey Boylan
Photo: David Dee Delgado/Getty Images
Lindsey Boylan was the first former employee of Andrew Cuomo's to publicly accuse him of sexual misconduct, and now it looks like she may be the first one to sue him for it.
"There is no question that Lindsey was harassed, that she was subjected to a hostile work environment, and that she was assaulted," her attorney, Jill Basinger, said Thursday on Good Morning America, announcing her plan to file a harassment lawsuit against Cuomo. "But most problematically, she was retaliated against, not just by the governor but by his inner circle, both inside the government and out." As such, Basinger said she also plans to sue those who participated in the alleged "conspiracy to diminish [Boylan] and to hurt her credibility."
Boylan — a former staffer and special adviser in Cuomo's administration — first came forward in December 2020, tweeting that the governor "sexually harassed [her] for years," an assertion his camp denied. She did not elaborate until February of this year, when she published a post on Medium, alleging "Cuomo has created a culture within his administration where sexual harassment and bullying is so pervasive that it is not only condoned but expected." Boylan said that he routinely touched her on the lower back and legs and that he frequently commented on his female employees' looks. Boylan also recalled Cuomo trying to get her to play strip poker with him during a flight and said her boss once told her Cuomo had a "crush" on her. She also described an encounter she says took place in his Third Avenue office in 2018: "As I got up to leave and walk toward an open door, he stepped in front of me and kissed me on the lips. I was in shock, but I kept walking."
At the time, Cuomo's then–press secretary, Caitlin Girouard, called Boylan's account "untrue" and refuted the strip-poker allegation in particular, saying four other staffers on that flight had no memory of the incident. Still, Boylan's statement triggered a cascade of complaints from other women, many of whom had worked for the governor and many of whom cited similar behavior: how the governor's ingratiating language often sounded like he was coming on to them; how he allegedly kissed them out of the blue, without consent; how invested he seemed in the way they dressed and presented themselves. One staffer said Cuomo had reached inside her shirt and grabbed her breast.
Though the governor denied all the allegations, the New York State Assembly and New York State Attorney General Letitia James nonetheless launched investigations. The former is reportedly wrapping up, but on Tuesday, James announced the results of her office's inquiry. In a 165-page report, investigators detailed allegations from 11 women. Their conclusion: that Cuomo had violated state and federal law and that "the Executive Chamber's culture — one filled with fear and intimidation, while at the same time normalizing the Governor's frequent flirtations and gender-based comments — contributed to the conditions that allowed the sexual harassment to occur and persist." With respect to Boylan's allegations, the report names senior officials (including spokesperson Rich Azzopardi and secretary Melissa DeRosa) who allegedly orchestrated retaliatory measures, like sending Boylan's confidential personnel files to journalists in an apparent attempt to discredit her claims.
The governor himself has already denied the allegations outlined in the report, insisting on Tuesday that he "never touched anyone inappropriately or made inappropriate sexual advances." Reached for comment on Thursday, a spokesperson for Cuomo offered the following statement to the Cut:
One of the report's many errors is its conclusion that the Executive Chamber impermissibly retaliated when it responded to Lindsey Boylan's allegations. On July 18, we provided the Attorney General's office with a 13-page, detailed analysis explaining why such a finding would be legally and factually wrong. The report irresponsibly mischaracterizes and dismisses that analysis in a footnote.
Still, a chorus of politicians — from New York City mayor Bill de Blasio to President Joe Biden — have called on Cuomo to resign, while state lawmakers say they will "soon consider potential articles of impeachment." As for James, she did not bring charges against the governor, leaving legal action up to local district attorneys and individual complainants. Four different DAs have since announced investigations into the report's allegations, which could potentially result in criminal charges for the governor.