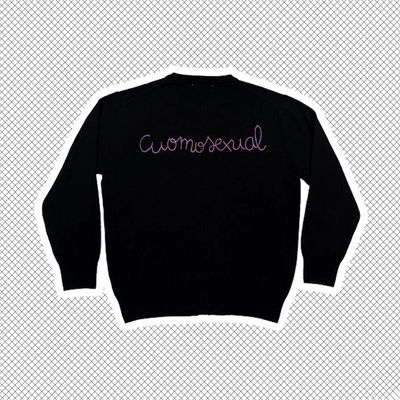 This hasn't aged well …
Photo-Illustration: by The Cut; Photo: Lingua Franca
Hypothetically, let's say you — a New York resident, in the grips of clammy pandemic-driven anxiety, thirsting for a leader who would take the coronavirus seriously, and with money to burn — made a questionable purchase last spring. Let's say you found yourself suddenly in thrall to a three-term governor who, despite the history of controversy and alleged corruption, showed up to daily briefings with detailed PowerPoints and an air of resolute confidence. Let's say you also felt a little chilly, succumbed to a Zeitgeist, and dropped a few hundred dollars on a piece of cashmere celebrating Andrew Cuomo, a man who has now been credibly accused of sexually harassing nearly a dozen women. What would you, in this hypothetical situation, do with that regrettable little luxury item?
Well! If we are, again hypothetically, talking about Lingua Franca's "Cuomosexual" sweater, then … you can send it back! Free of charge! And in acknowledgment of the fact that this cheeky label has aged badly, the brand will embroider it with another slogan. In an Instagram post on Wednesday, the resistance knitwear line informed its "community" of the exchange offer: "In light of recent news, we feel is our duty to update the stitching on any 'Cuomosexual' or 'cuomo for president' sweaters that were purchased last year, to a new phrase of your choice." The post features a "believe survivors" crewneck slung over a woman's shoulders, echoing one of the hashtags that caps off the post. The other is #BelieveWomen.
On that score, it maybe bears noting that women started coming forward with detailed allegations against New York's newly resigned governor in February of this year. The accusations — of inappropriate touching, sexually suggestive language, possible grooming, unwanted kissing, and in one case, of aggressive, under-the-shirt groping — snowballed from there, prompting investigations by both the State Legislature and Attorney General Letitia James's office in March. Last week, James announced her team's findings: that Cuomo had violated state and federal law in harassing 11 women, some of whom also faced retaliation from his top aides, a report said. With four district attorneys weighing criminal cases, and with the strong possibility of impeachment looming, Cuomo stepped down on Tuesday.
Though the fallout from the sexual-harassment allegations has dominated headlines this past week, it is not the only scandal Cuomo has confronted this year. The FBI, for instance, continues to probe his administration's alleged cover-up of underreported nursing-home deaths early in the pandemic. And if you look back a little further, there's Cuomo's decision to roll back the state's recently secured cash-bail reform and, in fact, expand the number of misdemeanors and felonies for which people could be jailed without conviction. We could keep going, but suffice it so say, the idea that Cuomo rules by force and intimidation is not a new one. All things considered, the offer to restitch the problematic knits feels somewhat overdue, but … better late than never, I suppose.