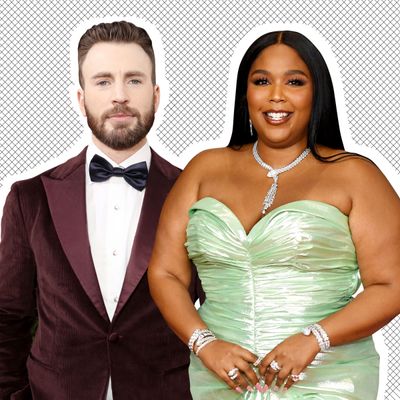 Chris Evans and Lizzo
Photo-Illustration: The Cut. Photos: Getty Images
Okay, I am not an expert, but I'm pretty sure that "a couple of days" is the correct period of time to engage in flirty texting before going on a little date. Maybe a week at the upper limit; any longer than that and, well, what is the point? Chatting with a relative stranger indefinitely? Nothing but aimless banter from now until one of you dies? Respectfully, no, though I know many people won't agree. Lizzo and Chris Evans, for example, are apparently content to exchange cheeky DMs for nearly four months. It is well past time to just go out already.
Maybe you remember mid-April, when Lizzo — a little tipsy — shot her shot with Evans in an Instagram message. Maybe you remember how her disappointment about drunk texting (and about not being "able to marry him") flipped when he responded, "no shame in a drunk DM" and "god knows I've done worse on this app lol," with a kiss-face emoji to boot. Here, he is likely referring to the time he accidentally posted one of his own dick pics in his stories, but … was that bad? It certainly doesn't play that way in my memory. Anyway, cut to August, and these two are still winking at each other across the internet.
Last week on TikTok, Lizzo addressed a fan's request that she confirm or deny the rumors (?) that she is pregnant with Captain America's baby. A little out of left field, yes, but Lizzo replied: "This is something that I've been really trying to keep personal and private between me and the father of my child, but since we're airing out all the rumors today, I've been sucking in. We're gonna have a little America."
Haha, yes, jokes all around, but then Evans got in on it. On Sunday, the renowned flautist shared a screenshot of his reaction: "Hi! Just heard about our little bundle of joy my mother will be so happy lol." I'm sure she will! Here she was just hoping her son would take this woman on a date, and now she's getting a grandchild. But whatever, all kidding aside, once again: Just go out already!! It is time.