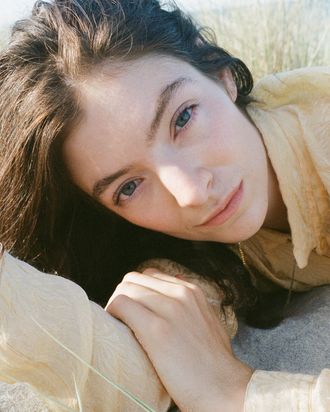 Photo: Ophelia Mikkelson Jones
For Lorde, following up her 2017 sophomore album, Melodrama, was always going to be an impossible task. While entitled fans begged for more Lorde now, Lorde went offline for so long that her Twitter account was briefly deactivated because of inactivity. At one point, she even disappeared to Antarctica to learn about the climate crisis. This isn't a surprise, of course — it's a pattern. After she released her debut, Pure Heroine, when she was just 17 years old, she descended into the shadows, returning only to drop Melodrama.
Lorde's silence ended in May and June this year, when she announced festival appearances and tour dates and dropped a new single, "Solar Power." The dreamy, sun-glazed ode to chilling on the beach feels like the polar opposite to Melodrama, and as such, it was divisive. Fans had built an idea of what they wanted from Lorde — essentially, a repeat of her last album — that was impossible to reach, so she just didn't! Good for her! Instead of churning out Melodrama II and riding the inevitable wave of fame and success that could follow, Lorde retreated, focusing not on "Lorde" or the world's idea of her but instead on Ella Marija Lani Yelich-O'Connor.
The result is Solar Power, a weird, meandering album that is an exercise solely in fulfilling her own desires. Speaking to the New York Times last year, Lorde dismissed any idea that the album could be a smash, saying that she felt like she "could just chill out and flex a little bit." Solar Power opens with "The Path," which sees Lorde turning away from a life that's been thrust on her: "Teen millionaire having nightmares from the camera flash / now I'm alone on a windswept island." She seems to smile as she nods to her absence: "Won't take the call if it's the label or the radio." On "California," she sings a farewell to the life she almost said yes to, and confesses that she's content with her life in her hometown, which is the opposite of anything we've been taught to desire.
The most interesting thing Lorde did in the last four years was nothing, and getting to find out just what the nothing was is the biggest reward of waiting for Solar Power. She sings about disappearing into nature, going to deserted islands, sinking into the forest. Combined with her sometimes-spooky vocals, it makes Lorde feel more like a spiritual successor to Björk or Enya than any of her contemporaries — an artist, and a person, slightly out of step with the world she is expected to live in.
 
Sonically, the tracks on Solar Power feel as if they blend into one, but it doesn't feel same-y. It gives it a sweet, psychedelic, meandering feeling that lets you sink into the album rather than feel jerked into the next track — more than an album, it is a vibe. Solar Power marks the second time Lorde has worked with Jack Antonoff, which might inspire Taylor Swift or Lana Del Rey comparisons. But no, its influences feel a lot less "cool": Cat Stevens, Simon and Garfunkel, even the Mamas & the Papas. The album is stripped back, with plucked strings, an 808 drum machine, and vocals that feel as if she's breathing right in your ear.
Solar Power was instantly divisive: for the wait, for its natural deviations from Melodrama, for Lorde's decision to not release CDs at all for environmental reasons. But Lorde seems to know that whatever you do, people will be mad, so why not do exactly what you want? The answer to the question "Was it worth waiting four years for this?" might be no for people who wanted a carbon copy of an album they liked by a woman who was much younger then. But really, the answer is Yes, and. Yes, and it's full of a lot of growing up and learning and grieving that you can't rush.
Solar Power is a eulogy for Lorde as we once knew her: on "Oceanic Feeling," she sings "Now the cherry-black lipstick's gathering dust in a drawer / I don't need her anymore." On "Big Star": "I used to love the party, now I'm not all right drinking in the dark." We often watch our young stars grow up very publicly, but Lorde has made the smart choice to do so in private, letting us see the fruits of her absence, but only as much as she wants to share. The playful summer vibes of the lead single are there in some places — "Dominoes," for example, sounds like it should be played on a beach in Hawaii — but it's a witchier kind of sun that Lorde is worshipping, and her world now is one of sage, crystals, and drying-out bones.
Ultimately, what makes Solar Power so lovable is that it's deeply uncool.
 Anyone who was waiting four years for Melodrama 2.0 might be disappointed — Solar Power is Ella's album! It doesn't belong to you! But if you're willing, you can follow Lorde and let go of your worldly desires and expectations, slip off your clothes, and sink into the ocean or the forest, letting Solar Power lead you into a future less dictated by phones and schedules. It's clear throughout Solar Power that disappearing was, is, the right decision for Lorde as a person and as an artist. Solar Power is a lot of things, but more than anything, it sounds like true autonomy. Making the decision to opt out of a busy, overwhelming world isn't easy, but if you sit back and let Solar Power wash over you, maybe you'll find yourself wanting to do it too.