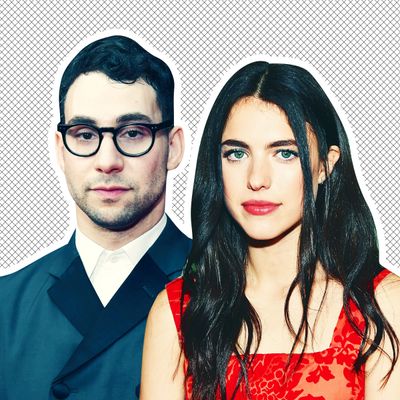 Margaret Qualley and a guy she may be dating?
Photo-Illustration: by The Cut; Photos: Getty Images
Attention, please: Margaret Qualley and Jack Antonoff (?) kissed at Milk Bar. According to "Page Six," the pair left "little doubt as to their couple-dom with various acts of PDA." Which acts, specifically? Well, there was the kissing (famously at Milk Bar, a New York City bakery, on August 14) and then there was the embracing. Based on the tabloid's photos, there was also a tender moment in which Qualley sort of cupped the sides of this man's head and pressed his under-ear region with her thumbs. There were arms around necks and arms around waists — very big news for the Qualleyheads out there, I'm sure. But Jack Antonoff, who is he?
Reader, it is a question I have put off answering for years, only now it seems the time has come. According to a 2017 article by the New York Times (aptly titled "You May Not Know Jack Antonoff. But You Probably Love His Music.") he is a founding member of the band Fun., though he now works mostly as a music producer, which may explain why I thought he was dating Lorde. Antonoff has helped write and produce both Solar Power and Melodrama, and the two are apparently very close.
"He's like a partner to me," Lorde recently told the Times. "We're in a relationship. It's not a romantic relationship, but we've been in it for seven years, and it's a really unique thing, so I don't begrudge people maybe not being able to understand it." Antonoff, for his part, has denied dating Lorde, tweeting (according to "Page Six," at least; he's since deleted the comment) that he "resent[s] having the most important friendships and working relationships in [his] life reduced to dumb hetero normative gossip."
Meanwhile, Antonoff has dated Scarlett Johansson (they were teen sweeties), Lena Dunham, and model Carlotta Kohl. Qualley has been linked to tall rogue Pete Davidson, as well as Shia LaBeouf, with whom she reportedly split over abuse allegations. This is her and Antonoff's first known kiss at Milk Bar, but is it a relationship, or is that "dumb heteronormative gossip"? Hm. Time will tell.