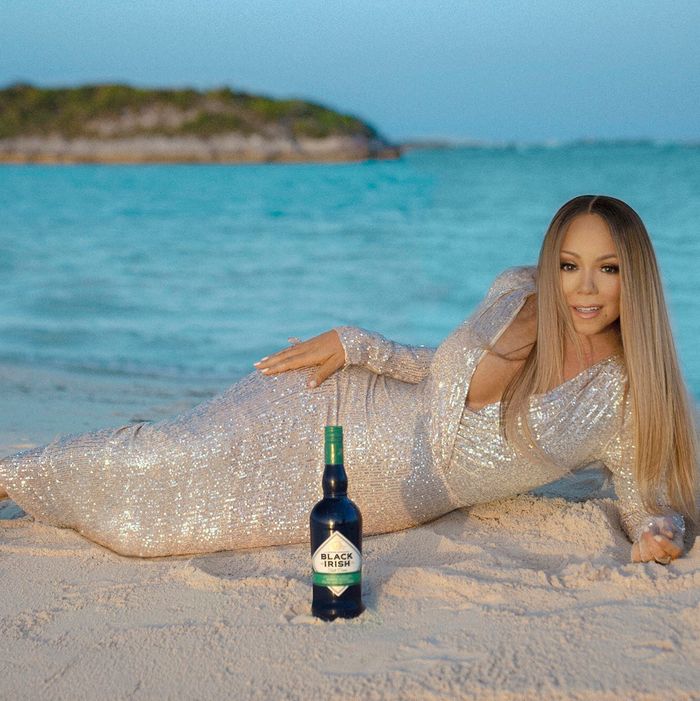 Sip, sip!
Photo: Courtesy of Black Irish
Famous 12-year-old singer Mariah Carey has announced her latest non-musical endeavor: a new line of alcohol. Despite her eternal youth, a celebrity launching an alcohol brand is unsurprising. (Does this make Mariah Carey the youngest person to launch a line of alcohol??) What is surprising is her liquor of choice. Rather than an "Always Be My Bordeaux" or a diamond-encrusted bottle of champagne, Carey has come out with a line of … Irish-cream liqueurs? A bewildering and unexpected choice! But cheers, I guess!
Dubbed Black Irish — an homage to her Black, Venezuelan, and Irish heritage — the brand has been two years in the making, as Carey wrote in an Instagram post. It comes in three flavors: Original, White Chocolate, and Salted Caramel. I will take one of each of what I am henceforth calling Mariah Carey's Better Baileys, please and thanks!
The liqueur is being sold in stores and online, but, as you may have expected, it appears to have already sold out in some places. So, you may have to hunt a little if you were hoping to Mariah Carey–ify your next cocktail.
I will say, the announcement leaves us with more questions than answers: will there be a holiday edition of the liqueur, flavored with nutmeg and best enjoyed while listening to "All I Want for Christmas Is You"? How does Black Irish pair with Mariah Carey's 2016 diet in which she only ate Norwegian salmon and capers? How am I supposed to think about anything else today other than Mariah Carey's Irish-cream liqueur?