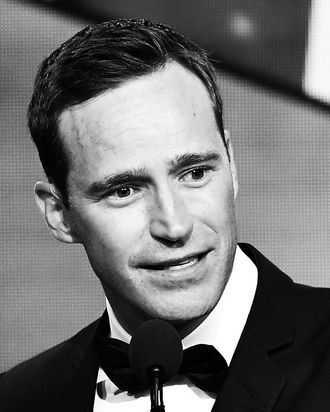 Photo: Earl Gibson III/Getty Images
Mike Richards's stunning downfall ended on Tuesday when Sony Pictures Television announced he is out as executive producer of Jeopardy! and Wheel of Fortune, effective immediately.
It's a fitting end to a saga that baffled us from the start. This is hard to believe, but it was just 27 days ago when we were all asking ourselves Who the fuck is Mike Richards? in response to the news that he was the front-runner to succeed the late Alex Trebek as the host of Jeopardy!, one of the most coveted roles in television.
When Richards was officially announced as the new host on August 11, it raised more than a few eyebrows — in part because of the several harassment and pregnancy discrimination lawsuits his team faced while he was the big boss at The Price is Right, and also because, as Jeopardy!'s executive producer, it felt a bit like Dick Cheney running the search for vice presidential candidate only to choose himself at the end.
Then, on August 18, The Ringer published a story that in part reviewed 41 episodes of The Randumb Show, a show Richards hosted between 2013 and 2014, and where he apparently had a habit of making casually sexist remarks After the celebrity iCloud photo hack of 2014, for example, Richards asked his much younger co-host whether she had ever taken nude selfies. He also said very original things, such as women "dress like a hooker" on Halloween and that one-piece swimsuits make women look "really frumpy and overweight."
Two days later, Richards was out as Jeopardy!'s host. "It pains me that these past incidents and comments have cast such a shadow on Jeopardy! as we look to start a new chapter," Richards said in a statement at the time. He went on to say that while he had been "deeply honored" to become host of the daily syndicated show, "it has become clear that moving forward as host would be too much of a distraction." In other words, his denial that he ran a toxic workplace and his apology for the inappropriate remarks he made in jest at the tender age of 39 were not enough to keep him in Trebek's shoes. 
He did stay on as executive producer, but that wouldn't last either.
"We had hoped that when Mike stepped down from the host position at 'Jeopardy!' it would have minimized the disruption and internal difficulties we have all experienced these last few weeks," Sony executive Suzanne Prete wrote in a memo to the staff on Tuesday. "That clearly has not happened."
And thus concludes the saga of Mike Richards, a name I hope I never have to write about again.
This post has been updated.