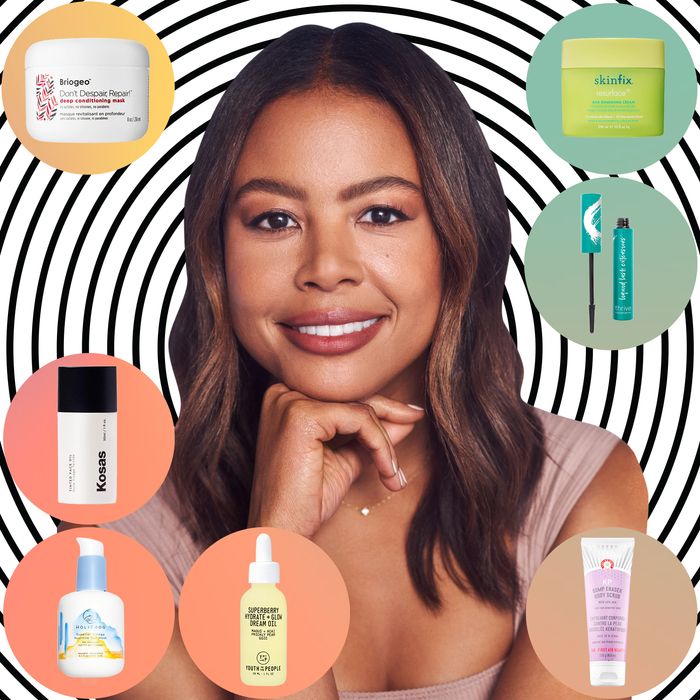 Photo-Illustration: by The Cut; Photos: Courtesy of Nancy Twine, Retailers
On the Beauty Group, a Facebook community co-founded by the Cut and the Strategist, people chat all day long about the products they love — the ones so good they'll make you hit that little "auto-refill" box at checkout. Below, we asked one of our favorite beauty pros to share her own selections.
Long before the "clean"-beauty movement took off, Nancy Twine and her mom would make homemade hair masks using natural ingredients from their local health-food store. "The products on the market were just not right for my hair texture," Twine says. "And I discovered firsthand that it was possible to take simple ingredients and create formulas that effectively transform hair, skin, and body." Years later, when she began to consider stepping away from her finance job at Goldman Sachs, Twine kept going back to her childhood memories of concocting beauty treatments in the kitchen. Enter: Briogeo, the hair-care line she founded in 2013 with every hair type, texture, and need in mind.
As clean becomes "an expectation and a standard rather than just a category," Twine says, she's excited to see a growing movement around the "'skinification' of hair." "I truly believe that healthy hair starts with taking care of your scalp, which is why you should think of caring for your scalp and hair as a continuation of your skin-care routine for your face," the founder explains. "For instance, we exfoliate our face to remove excess dry skin and debris, which allows our skin to better reap the benefits of other products. What many people don't realize is that we should also be doing this for our scalps." And she's willing to lead the charge.
Below, Twine shares the products she always repurchases, including the mascara that makes her eyes pop, the body scrub she uses before body lotion, and, of course, the "holy grail" hair mask she uses once a week.
The Hair Mask
"This hair mask was one of the first four products I ever created when I started Briogeo back in 2013. I conducted multiple focus groups with the community to perfect the formula using their real user feedback. Today, it's a four-time Allure award winner, and it's my holy grail. I use it once a week for ten minutes when my strands are feeling dry and damaged and need a dose of protein. It's formulated with rose-hip oil, algae extract, and B vitamins to strengthen and deeply nourish all hair types, and it's clinically proven to decrease hair breakage after two uses. I also love the fresh, clean scent."
The Foundation
"This product gives you the skin-care benefits of 15 clean and nourishing ingredients, plus light-to-medium coverage in one step. It's super-lightweight and smooth, leaving the perfect amount of tint for the days you want to let your face breathe without real foundation but still want to even out your skin tone. I use shade No. 7."
The Body Cream
"I met the founder of Skinfix, Amy Gordinier-Regan, at an event, and she kindly gifted me with several products. I instantly fell in love with this one, and now I always have a jar of this rich body cream on my bathroom counter. It's formulated with a natural AHA blend to gently exfoliate dead skin cells and feels so luxurious as it helps smooth and soften bumpy skin. It's fragrance free for sensitive skin, but you can still smell the beautifully clean natural fruit extracts."
The Shampoo
"Healthy hair is rooted in scalp care. I use our scalp scrub once a week; it's formulated with binchotan charcoal to remove product buildup and impurities, plus hydrating coconut oil. It's ideal for all scalp and hair types and smells like mint-chocolate-chip ice cream."
The Body Scrub
"I first discovered this product at Sephora when I was researching body scrubs; I love how soft and supple they make your skin feel. After a dry, harsh winter, your skin tends to be rougher due to lack of hydration, so using a body scrub to remove dead skin before adding an oil or lotion allows the moisturizer to sink in deeper. This scrub contains pumice beads and soothing vitamin E to buff away any flakiness while calming my skin."
The Face Oils
"I love to travel (in non-COVID times), which can sometimes dry out my skin. I don't leave home without a travel size of this intensely hydrating facial oil. I also use it in the morning and night for added moisture."
"When I ran out of my Superberry Hydrate + Glow Oil [above], I used this sample and equally fell in love with it. Now I rotate between the two. This face oil is rich with protective antioxidants and nourishing oils like noni extract plus rose-hip, pomegranate, and sea-buckthorn oils that give my skin that healthy 'glow from within' look. I use it in the morning and night by adding a few drops to my moisturizer. I love its natural, essential-oil scent."
The Mascara
"I met the founder of Thrive, Karissa Bodnar, and she gave me this product to try. With all of the video calls I'm on throughout the day, a few strokes of this mascara make my eyes pop and my lashes look extra-long without having to get too done up. I love that it lasts all day without smudging or clumping."
The Exfoliating Mask
"Since this product is formulated with an AHA blend of glycolic acid plus salicylic acid (BHA), I use it once a week to exfoliate dead cells. There's a slight tingling sensation, and it leaves my face looking radiant without any redness."
The Toothbrush
"I got this toothbrush as a gift from my dentist. A bright white smile gives me confidence, and this rechargeable toothbrush has five settings and is worth the splurge because it really makes my teeth feel squeaky-clean without having to harshly scrub them."
The Cleanser
"This foaming facial cleanser is a staple in my morning skin-care routine. I massage the cleanser into my face for at least one minute, which helps with circulation and collagen stimulation. Thanks to its natural antibacterial properties, it doubles as a toner and always leaves my skin feeling soft."
If you buy something through our links, New York may earn an affiliate commission.