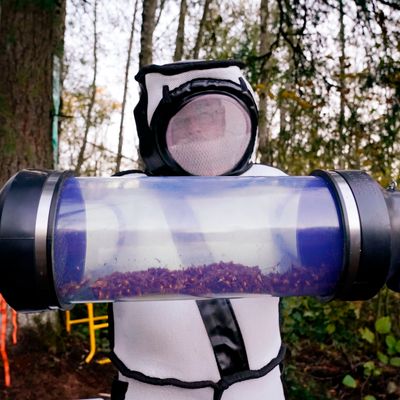 Here are your hornets!!
Photo: Elaine Thompson/POOL/AFP via Getty Images
Murder hornets, you remember them? Knife-y jaws for slicing the heads from poor unsuspecting bees; voracious appetites; unreasonable length? Asian giant hornets invaded the West Coast in 2019, and since then, they have only expanded their dominion. They crop up in late summer in British Columbia and Washington and wreak havoc on honeybees through the fall. Though murder hornets are not native to North America, it seems like they maybe just live here now, though officials work hard to run them out of the country. On Wednesday, for example, the Washington State Department of Agriculture obliterated a massive, 1,500-hornet nest in Whatcom County, about two miles away from the motherlode they eradicated last October.
"While we are glad to have found and eradicated this nest so early in the season, this detection proves how important public reporting continues to be," Sven Spichiger, WSDA managing entomologist, told NPR. "We expect there are more nests out there and, like this one, we hope to find them before they can produce new queens."
Queens, by the way, can grow to like two inches long, about the size of your thumb. Though they can kill people, human is not their preferred meat — they're in it for the bees; they can plow through about 40 bees in a minute when they really get going, feeding on the thoraxes and leaving behind the severed heads as a calling card. But should a murder hornet happen to sting you, it will reportedly feel something like "hot metal driving into [the] skin." Therefore, the evacuation of a nest becomes a real production, requiring futuristic safety suits and sometimes also spooky red light, for ambiance, I guess? Here is a scene from last season's big evac — what a production:
I don't know why they Saran Wrap the trees, but here they are, swaddling them like banana breads before the bake sale. Better safe than sorry, I guess:
Apparently, to construct this year's enormous nest, the murder hornets hollowed out a damn tree and installed nine layers of comb, a feat of engineering that plainly suggests these bugs have become way too powerful. The eradication team vacuumed 113 worker hornets from their hollow and netted 67 more. They're sending a chunk of the tree to Washington State University Extension in Bellingham, and not a moment too soon: The hornets enter their "slaughter phase" around late October, so, stay vigilant.