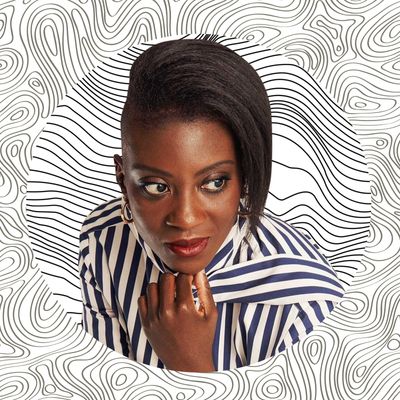 Photo-Illustration: The Cut. Photo: Paola Kudacki
In 2021, "the thing about wellness that gets really twisted is that there's so many things that you have to buy to participate sometimes," says Nikki Ogunnaike. "Like, crystals are so expensive." But when it comes down to it, the Harper's Bazaar digital director believes wellness can be as easy as "drinking water and going outside." She says, "My friend Joe Holder is very much of the school where he believes there are all sorts of products that people are buying and reaching and searching for to do their wellness practices, but there are things like stillness, meditation, religion, fresh air, and vitamin D. And I don't knock anyone — do whatever you need to do to center yourself. But in my own life, making sure that I do something for myself in the morning before I have to give myself over to my job, spending time with family, spending time with my boyfriend and friends, all of these very practical things make me feel my best." It can be that simple.
Below, Ogunnaike shares a comprehensive view of her wellness practices, including how she starts her mornings and her best advice if you want to get into running.
On her definition of wellness: In my early 20s, I would have told you wellness was eating well and drinking your green juices and making sure you're working out five days a week. Now, I think it's more holistic. Wellness means spending time with my friends, setting boundaries between work and my personal life, and making sure that I am in a good mental space as well as feeling good physically.
On how the COVID-19 pandemic affected her wellness: For many of us, myself included, the pandemic allowed us to take stock of what is important. I spent the early portion of my career going out a lot. I was at events and breakfasts and dinners and lunches, and I've been able to slow down for two reasons: one because I'm a little higher up in my career so I'm not going out as much, but two, I'm also really taking stock of what I feel is valuable to me and what is important to me. And sometimes it's having dinner with friends instead of going to that work dinner, or feeling like I don't have to be at three events in a night because I am sort of tired and just want to pause.
How she starts her mornings: I usually wake up between 6:30 and 7 a.m. When I started working in digital media, I became an early riser, mostly because I wanted to be able to carve out a portion of time for myself when it was quiet to do whatever I wanted, whether that was reading the news or going for a run or talking to my sister or my boyfriend. I like a slow morning; my close friends know I don't like to feel rushed. I putz around until I have to be alert at 9:30 or 10 a.m.
After I wake up, I sit on my couch for a little bit and have my first cup of coffee. Then I will do some sort of workout. My Monday-through-Friday movement is really important to me. I don't think I realized that I had anxiety — not necessarily with a capital A — but I had a lot to get out during the peak times of COVID-19 so I spent a lot of time walking and running. I've tried to keep that up because it's good for my mental-health space.
When I come back from my workout, I have a green drink that I or my boyfriend makes. It has fruits and veggies, and I like to have that in the morning because I feel like at least I'm starting the day off right. It may go downhill from there, but at least I had my coffee and my green smoothie and that's fine.
On how she eats: I don't abide by a strict eating plan or anything of the sort. I try to eat healthy, and I recently started doing low meat because I find my body responds to it better — I can actually digest my food and not feel lethargic after a huge meal. More than anything else, I try to offer myself grace. Obviously, many of us put on weight during the pandemic. In the beginning, I kind of spiraled and was like, I got to get back into my jeans. But now I'm trying to be kind to myself and just move my body naturally. New York is a walking city, so I've tried to adopt what I was doing pre-COVID.
On moving neighborhoods: I've lived in Manhattan since I moved to New York in 2007, then in 2020, during the pandemic, I wanted to move to Bed-Stuy because I wanted to be around my friends. Honestly, Manhattan got super-strange during COVID, but my move wasn't just because of the pandemic. I lived on a block that had a police precinct on it, and with everything that was going on with the racial reckoning last year, people were trying to storm the block to get to the precinct to protest. I was like, I can't live in this environment anymore. I don't feel safe. Manhattan as a whole also felt very apocalyptic, like a weird empty movie set. So much of what makes Manhattan worth living in is the infrastructure around you. You have your workout classes, you have your favorite restaurants, you have your gym, all that stuff, and when all of that is gone, you're like, Why am I here?
I ended up randomly moving down the block from one of my really good friends in Bed-Stuy, so I like to joke that during COVID I decided to re-create the college-campus experience and be within walking distance of all my friends. It's been really amazing being able to see friendly faces and have this security system built in during these wild and crazy times the last two years. It is one of the best decisions I could have made.
On how she moves: I love exercising because it's a moment for myself — it's a moment that is not related to work, and it's not related to outside goals.
When I was about to turn 30, I got really into running, and I'm still into it — it is my No. 1 form of sweating. When COVID hit, I had been training for a half-marathon; unfortunately, it was canceled, but I kept up running to clear my head. Since a lot of my friends live in my neighborhood, I started running with them a few times a week.
I also go to a studio called the Fit In in Bed-Stuy. It's a Black female–owned business. I go to their strength classes twice a week, and I can feel myself getting stronger, which is a nice boost. You hear these exercise bros talk about their "gains," and I'm very much like, Oh wow. I can actually lift heavier weights. [Laughs]
My sister just moved to Bed-Stuy, and we have been going on walks, which makes me feel very Golden Girls. Walking is a form of exercise that's not really considered to be exercise, but just moving your body is incredibly important. So if that's through walking every once in a while and doing a long walk with my sister, I'm very happy with that.
On how she embraced running: Running gets a really bad rap because it was used as a punishment when we were growing up. If you played a sport and you mouthed off, the coach got mad at you and made you run sprints. Or, you know, we had things like the Presidential Fitness Test, where you had to run a mile and all of that nonsense. Running can actually be really great if it's not used as a punishment, but a lot of people still view it that way.
Also, the thing about running is that everyone feels like they have to do it or they have to love it, and I'm like, "If you don't like running, stop! Why are you doing this?" Personally, I like the effect that running has on me mentally, and I like the way my body looks during a training season.
When I started running, I ran with a run club, and I think that is a good way to get into the consistency of it — that's my first tip to anyone looking to get into running. What's sort of cheesy and beautiful about run clubs is that there really is no person left behind. There are all sorts of speeds and types of bodies, but everyone, if you're a part of a really great one, is really there to cheer you on.
My run coach, Jes Woods, often tells runners that you should "meet yourself where you are." That means, on a run, don't compare yourself to yesterday's run, last year's run, how fast you were in the past or whatever — run your own race, and meet yourself where you are on that run in that exact moment. What ends up happening is that when people start running, they go out, they do one run, and if it's a bad run, they don't do it again for a week or two. But in addition to strength training and stretching and all of that stuff, it's really the consistency that makes you better.
On her beauty routine: I use certain Barbara Sturm products. She has an Enzyme Cleanser, but I have also been using Cetaphil face wash. There's this dermatologist, her name is Rose Ingleton, and she has a really great vitamin-C serum I've been using for a while that I really saw a difference with. There was a period where I was going out to a bunch of dinners and my skin looked really dull from a lack of sleep and drinking wine and that sort of thing, and the serum — and drinking a lot of water — helped with the brightness. But I'm not a ten-step sort of gal. Low-key. I'm not even great about washing my face when I go to bed.
At one point in my life, I was doing the full face of foundation and brows and contouring and all that stuff, then I was sort of like, I feel like I look like a clown. Also, it was really bad on my skin, so I pared back. Now, I just do brows, concealer, mascara, and eyeliner, and I try to keep my face open and able to breathe.
On taking breaks during the workday: Sometimes I'll take a midday shower. Just stepping away from my computer for 20-to-30 minutes because my life is so intertwined with my phone and with the news cycle — I find that really helpful.
I also love dancing, not a formal dance of any sort but just dancing in my living room and cranking out music. I've been doing a lot of that recently. My boyfriend calls it "silent karaoke" because I always have my headphones on, and it's like I'm in my own musical. It really brings me joy, and I try to do that whenever I feel super-anxious.
On social media: During last year's racial reckoning, I tried to spend less time on social media. I did a deep cleansing of my social feed. I muted a lot of people. It wasn't in a mean way, but when I was opening my feed, I felt bombarded; I didn't feel like I had ownership over my Twitter feed or my Instagram feed anymore, so I unfollowed a lot of people that frankly didn't bring me joy or made me anxious or made me feel bad about myself. With social media, a lot of people feel like they have to do it in one way or they have to follow this person, and it's like … you don't. Mute the person if you don't like them. Unfollow them if you don't like them. For what it's worth, Instagram has a lot of issues, but the one thing they did give us is this mute option so use that.
How she gets ready for bed: I'm a pretty good sleeper. I was not a great sleeper during peak COVID-19, and that's how I realized I was a good sleeper before then. I don't really have a huge nighttime routine, but I'm a big TV person so I usually watch a show — usually something from Bravo like Real Housewives, something very light. I can't watch violence or mob shows before bed, those sorts of things will give me actual nightmares. Then I try to be in bed by 10 p.m. or 9:30 p.m. if I'm on my square and really doing me. I'll do a final Instagram check-in and a Twitter check-in, and I'm asleep with the lights out by 10:30.