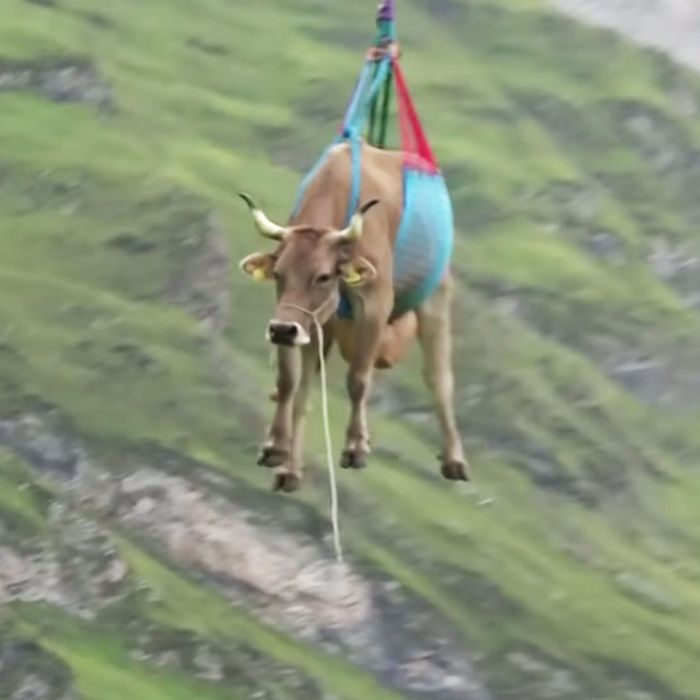 It's hard to see someone else living your dreams.
Photo: Global News/Youtube
The time for salmon flying through a tube is over; it's flying-cow season now. My desire to be launched into space via fish tube has been replaced. Now, I only wish to be airlifted like a gorgeous Swiss cow. Just look at these majestic beasts.
In Klausenpass, Switzerland, cows find their way to lower pastures for autumn. However, some cattle are unable to make the journey because of age or injury. Or perhaps they have simply outsmarted their bovine brethren and realize they can be flown via helicopter down the mountain. These cows wish to live deliberately, and who are we to tell them no?
As one farmer told Global News, some places in the Swiss Alps are difficult to access by car. Thus ten or so cows that can't make the voyage get to enjoy a little airlift as a treat. They're strapped into a mesh harness and suspended in the air by a cable that's attached to a helicopter. One by one, they're transferred down the mountain, and I can't help but wonder what these cows must be thinking during their flight.
Do they realize where they're going? Do they understand helicopters as a concept? Do the landbound cows gaze up at their airborne friends with jealousy? Pride? "I didn't ask a cow how it feels after such a flight as it couldn't answer," one farmer told Global News. Alas, we may never know.
If anything, the cows seem relatively unfazed. "I didn't notice any difference between the ones that flew and the ones that walked normally," the farmer continued. Regardless, let us appreciate these flying cows for what they are: poetry in motion.