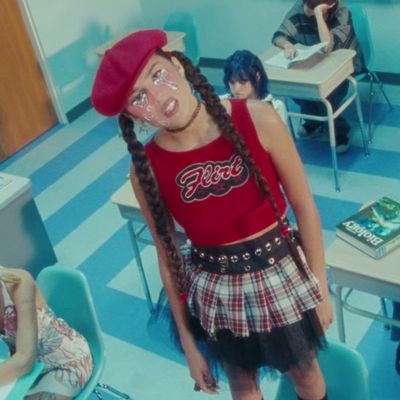 Photo: Olivia Rodrigo/Youtube
Olivia Rodrigo released the music video for "brutal" yesterday, and it is very angry and very glamorous (not to be confused with its cousin, sad and glamorous, of which there are also hints in this song).
Directed by Petra Collins, the video features two hot young men of Hollywood, a lot of extremely Gen Z Instagram filters, and upwards of seven different hair looks. Let me emphasize that last part: There is so much going on atop Olivia Rodrigo's head. There are sparkly barrettes. There's a full color spectrum's worth of hair dye. There is even — gasp — a newsboy cap. Let's dive in.
This first look is straightforward enough. Rodrigo and her tiny blue bangs look sort of like an emo extra from Frozen. I'm both perplexed and intrigued.
Hellooo, Lukas Gage! To symbolize Rodrigo's obsession with gossip, she poses as a news anchor with a blonde bob wig that she probably has never worn seriously in her entire life, God bless her.
If this look isn't pulled directly from a Josie and the Pussycats mood board, I'll eat my (newsboy) hat. The outfit! The hair color! The cultural commentary on consumerism and pop music! This also marks the second corner of the color spectrum Rodrigo's hair has hit so far.
NEWSBOY CAP ALERT!!! With our deepest condolences to Leonardo DiCaprio's son, Rodrigo is the only entity who might just be able to get away with this. And only because she's managed to work it into a goth-cheerleader outfit. Also: butt-length braids.
Cameo No. 2: pigtail buns. Just kidding, it's Nico Hiraga, but that paisley headband is really vying for my attention.
This wig that Rodrigo wears while playing an influencer having a meltdown on Instagram Live is a little Mean Girls, a little Bring It On, and 100 percent HBO-show ready. Absolutely no notes.
Rodrigo spends most of the rest of the video in longer, wavy pigtails with pink streaks and those clear bobbles you used to buy at Claire's. While I'm not entirely clear on how she can get bullied with hair this good, maybe it's because she's managed to have fewer hair accessories than her two fellow teens. Or maybe they can parallel park.