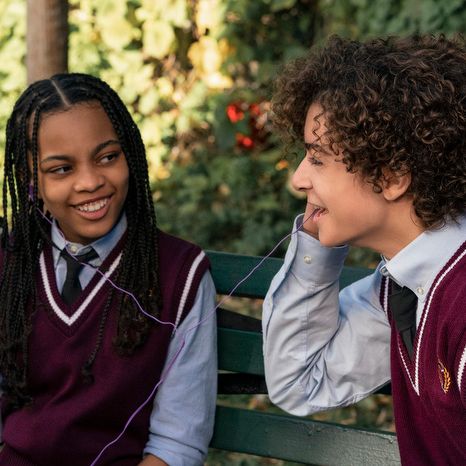 Photo: Christopher Saunders/Amazon Prime Video
You know that feeling when you watch something that seems so uncomfortably familiar, you're forced to reckon with yourself through the eyes of whatever character you relate to, no matter how excruciating? The second season of Amazon's Modern Love made me relive — and then process— a singularly painful life experience: my teenage heartbreak. I am, embarrassingly, being only slightly hyperbolic.
In the fourth episode of Modern Love, a girl named Lillian (Lil) Parker falls in unrequited love with her best friend, Vince. It's a relatively clichéd plot line, but I guess I lived a relatively clichéd existence in high school, because I took Lil's story a little too personally. Despite being a confident, driven, and smart girl with goals of becoming a famous comedian, Lil foolishly allows her "best friend" to mess with her life for years because of her feelings for him. I cringed for the entire episode, forced to witness a version of my own teenage stupidity as it played out in front of me. In one scene, Lil swoons after tasting a "sriracha surprise" sandwich that Vince got her — which prompted unwarranted flashbacks to all the times my Vince and I connected over Panera Bread's soup options at dinner or Starbucks before school, the truest forms of romance for a teenager in the suburbs. I didn't fall for my own Vince until my junior year of high school, in the ever-so-romantic location of a Taco Bell parking lot, but like Lil, I also spent every free moment with my Vince, hiding an obvious crush under the guise of us being best friends.
Beyond the innocuous nostalgia, the episode actually forced me to watch my own past mistakes play out onscreen. Vince's character grows up to be a bit of an arrogant and conveniently oblivious teenage boy, reminding me of all the times my Vince would cross the boundary of friendship then disappear for a few days, come back, and pretend nothing happened — refusing to acknowledge all of my unanswered texts or own up to any of it. I, like Lil, who laughs off a fight between her and Vince during a pick-up game of basketball, was always quick to forgive him. At the end of their high-school experience, when Lil gets too dressed up for a dinner with Vince at their secret roof spot in Brooklyn (with, might I add, a very unrealistic view of New York's skyline) and almost tells him how she feels, I was reminded of when my Vince took me out for pizza after our graduation and I anxiously considered telling him my true feelings when he made a joke about marrying me someday.
Later, when Lil and Vince get to college, they sleep together — which finally, officially ruins their friendship for good after Vince admits the next day that he regrets it, using the classic "I don't want to lose our friendship" line. As Lil storms out of his dorm room, dejected and betrayed, I felt sick to my stomach, transported back to a trip I took to my hometown during winter break my freshman year of college, when my Vince found out my true feelings and ghosted me for months, until he found out I had a boyfriend at school and began FaceTiming me every other day. In the end, like Lil, I cut off contact and focused on my own goals rather than how much I liked, and was simultaneously hurt by, my Vince. It was gratifying to see Lil become the comedian she aspired to be, but I was still frustrated with her, and with myself, for all the time she wasted on him. However, I also knew that she couldn't see it that way, just like I never could either.
At the end of the episode, Vince shows up at one of Lil's comedy shows and apologizes. I was half hoping for her to roast him in front of the audience, but I also wasn't surprised when they ended up back at their old spot in Brooklyn and decided to be friends again. I'll admit, despite all the pain he caused (he's who I pictured when I first listened to Olivia Rodrigo's "driver's license"), I am still thankful for the genuine friendship my Vince and I shared, and even though I found myself yelling at Lil from my couch when she was quick to forgive Vince during a heart to heart over cheap beer, I understood why.