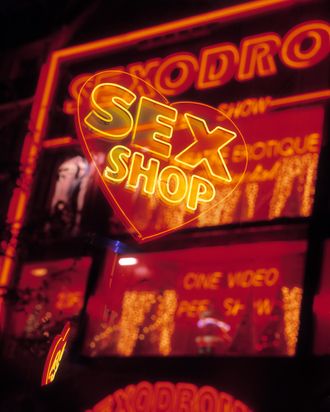 Photo: Dutchy/Getty Images
It should be criminal to say the words "porn" and "parents" in the same sentence but, well, here we are. As per a recent court ruling, a 43-year-old man in Michigan will receive $45,000 from his parents after they threw out his collection of porn and sex toys. I have no words except congrats to this man, I guess?
As if a porn lawsuit with your parents isn't humiliating enough, this suit has been going on for years. In 2017, David Werking lived with his parents for 10 months following a divorce. After moving out, Werking asked his parents to send him his belongings but, upon arrival, noticed that some, uh, property was missing. A dozen boxes of porn and two boxes of sex toys, to be exact.
Werking confronted his parents — how would that conversation even go? Hey Mom, do you happen to have my many dildos? Per court records, his dad responded via email. "I do not possess your pornography. It is gone," he wrote. "It has either been destroyed or disposed of. I may well have missed a few items that are now in your possession but, at this point, if you don't have it, it is gone. Ditto for your sex toys and smutty magazines." Per the lawsuit, his father said disposing of the porn and sex toys "took quite a while." Later, Werking's father said he did him "a big favor" by destroying the collection for the sake of Werking's mental and emotional health. In 2019, Werking filed a lawsuit against his parents over the disposed porn.
An expert in pornography valuation — an incredible job title — estimated Werking's collection to be worth $30,441.54. As is to be expected of a man who sues his parents over porn, Werking provided an itemized list of the destroyed property in his lawsuit, per USA Today. The list included at least 50 sex toys and "paraphernalia" as well as 1,605 DVDs and VHS tapes. We all have our hobbies, I suppose!
Werking and his attorney contended much of the collection could not be replaced. I mean, how does one calculate the emotional value of your favorite nipple clamps? With the judge ruling in Werking's favor, his parents will have to pay him the $30K in damages plus an additional $14,519.82 for Werking's attorney fees for a total of nearly $45,000. "There is no question that the destroyed property was David's property," the judge previously told the Associated Press. "Defendants repeatedly admitted that they destroyed the property."
So, what's the lesson here? Don't throw away other people's porn? Don't hide $30K in sex stuff at your parents' house? People are still forgoing internet porn for DVDs and VHS tapes? All of the above?