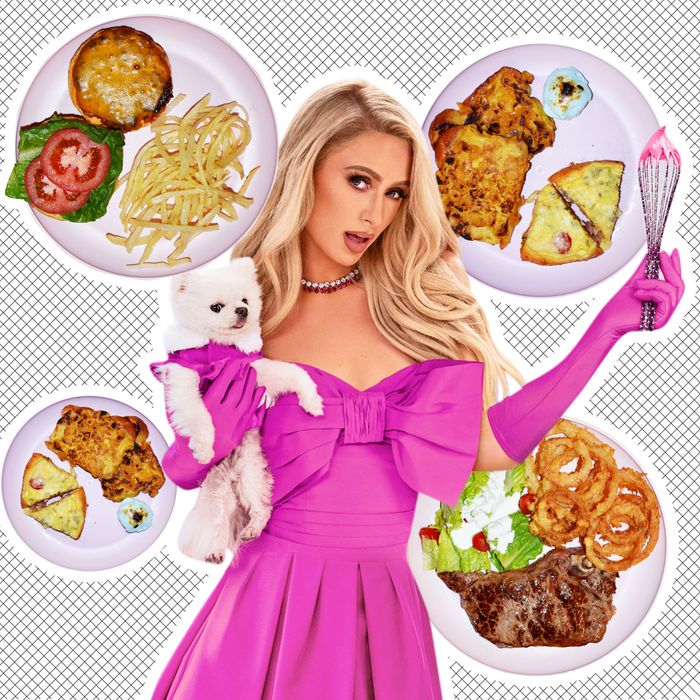 Photo-Illustration: by The Cut; Photos: Netflix, Tom Smyth
Every time I watch Nora Ephron's 2009 film, Julie & Julia, which is often, I'm inspired to embark on a culinary journey similar to that of the real-life Julie Powell, who famously cooked every recipe in Julia Child's 1961 cookbook, Mastering the Art of French Cooking, and blogged about it. Not because I want to actually learn to cook per se, or even blog, but more so because I want Amy Adams to play me in a movie. The problem is I have no intention of deboning a duck. So naturally, instead of cooking my way through Child's cookbook, I decided to cook my way through Paris Hilton's new Netflix cooking show, Cooking With Paris.
Like Child, Hilton is a culinary icon. And like Powell, who cooked in a small apartment kitchen above a pizzeria, I'll be cooking in an even smaller kitchen above a downstairs neighbor who graciously has yet to complain about the volume at which I play "Stars Are Blind." Both of us have bravely undertaken serious culinary missions: her, cooking 524 recipes from a world-renowned chef, and I, following instructions from a woman who once cooked bacon with an iron on The Simple Life.
Of course, Hilton has since added to her repertoire with last year's viral YouTube video in which she made lasagna. That lasagna earned her a series that joins the new wave of celebrities learning to cook by getting a cooking show. Cooking With Paris follows Hilton's misadventures in the kitchen alongside famous friends (and family) like Kim Kardashian West, Demi Lovato, and America's sweetheart Kathy Hilton. Paris admits that she's not a trained chef, but with fingerless "sliving gloves" on and bedazzled cookware at the ready, she is prepared to learn.
On the Menu: Breakfast With Kim Kardashian West
"Excuse me, sir, what do chives look like?" are the first words Hilton utters in the series as she navigates a Gelson's supermarket while wearing a hot-pink gown in search of ingredients to make breakfast with her former closet-organizer, Kardashian West. The menu is a fluffy frittata and Frosted Flakes French toast, topped with a blue glittery marshmallow.
The handwritten recipe book that she is cooking from actually includes a recipe for marshmallows from scratch — but Hilton ignores this and simply microwaves a bag of marshmallows, then stirs blue food coloring into the goo. I followed suit, and let me tell you: Do not mess with marshmallows, even when someone as trusted as Paris Hilton tells you it's okay. My kitchen will be sticky until the day I die. She toasts the garnish with a mini-blowtorch, while I do my best with the same BIC lighter I use for my Bath & Body Works candles.
After that tumultuous start, I'm tasked with a fairly simple brioche French toast, which Hilton breads in Frosted Flakes. The very moment I dip the battered bread into the cereal, I stop in my tracks, hit with the same dilemma that I see flash across Kardashian West's face. "I think you have to cook … no …" she tapers off, frozen in place. We're both stumped. The thing is, there is no end to that sentence. There are no right answers or logic when you're dipping French toast in Frosted Flakes. It's an anarchy that you simply have to embrace
With the frittata comes sense. I subbed out the suggested turkey bacon for regular bacon, because unlike Hilton, I didn't have a pet pig named Princess Piggelette. As I watched Kardashian West and Hilton incorrectly try to identify which counter appliance is a blender, I whisked the eggs and cream and poured them over the frying bacon and tomatoes. "What's a tong?" I hear Hilton say. I'm in safe hands.
Overall, my results were fair. While the frittata was a success, the primary problem with the French toast was that the cereal prevents the bread from toasting properly. While that throws off the texture, leaving the bread soggy under its Frosted Flakes shell, the taste still holds up. Hilton and Kardashian West are similarly pleased. "This is some of the best French toast I've ever had," Kardashian West says before pausing and adding, "Wait, I spoke too soon," after almost breaking her tooth on a hardened Frosted Flake. While she luckily avoided serious bodily harm, Kardashian West breaking a tooth on Hilton's Frosted Flakes French toast is camp.
On the Menu: Vegan Burgers With Nikki Glaser
I was excited to finally try Beyond Beef but found the bright-red goo, which Hilton described as "slimy balls," a bit haunting. I mixed the sticky concoction with chopped onion and seasoning before cooking them. As Hilton burned the rhinestones off her bedazzled spatula, I waited for my vegan meat to become less red as it cooked but to no avail. I'm sure it works in the right hands, but for me the bright-red patties made me think of something spooky. Like ground placenta.
She tops the burger with "pink sauce," which she says is "really just Thousand Island dressing," and when I heard that, I heard an invitation to not make the pink sauce and instead buy Thousand Island dressing
As a side, Hilton set out to re-create her beloved McDonald's fries, which she correctly crowns as the Best Fries of All. The primary difference between McDonald's fries and the fries that I made is that McDonald's fries are good. While Hilton had more luck, mine went horribly wrong. Things were going well as I cut, simmered, baked, and froze them. But when it came time to fry, they took a turn. I suspect the oil wasn't hot enough because they were floppy, pale, and tasted disgusting. But I learned an important lesson: Before frying, you have to be able to look at your oil and accurately say "That's hot."
Things got a little more advanced this time around; making fries from scratch and navigating vegan beef for the first time is no easy feat, and I failed my instructor on both counts. My solace was watching Hilton's nervous "chief of staff," Charlotte, frantically oversee the party planners decorating Hilton's dining room like an old-school diner to match the burger-and-fries motif.
On the Menu: Filet Mignon With Kathy Hilton and Nicky Hilton
I was not surprised to learn that "family steak night" for the Hiltons translates to filet mignon, edible gold leaf, and caviar. I was shocked, however, to discover that my local Super Foodtown does not carry any of these key ingredients. So unfortunately, we'll have to go without. In my biggest departure from Hilton's recipes, I replaced the filet with New York strip steak. I prepared it as told, rinsing the steak as decreed by Kathy despite her daughters' objections.
Our first side is a wedge salad (turned chopped salad when Hilton chops it) with homemade ranch. Normally, I would never even consider doing such a thing unless there had been some kind of explosion at the Hidden Valley factory. But alas, since I took the easy way out on the pink sauce, I made the ranch. I had to rewind several times to catch all the ingredients that the Hilton women were chaotically tossing in without warning, like witches making some kind of reality-TV potion.
Lastly, what I've decided is the pièce de résistance of this whole experiment: the onion rings, which Kathy, Nicky, and Paris wore sunglasses to cut. I dipped the rings in buttermilk, then the flour mixture, before frying. On the other hand, our instructors dumped the flour mixture into the buttermilk, resulting in Kathy rinsing the onions off to start over. (Much like a raccoon, Kathy seems intent on rinsing anything she eats.)
The fanciest meal of the series also proved to be the best. I course-corrected my frying skills after the French-fry mishap, resulting in phenomenal onion rings. It's hard to go wrong with steak, even if you douse it with water, and I was pleasantly surprised that the homemade ranch tasted like ranch. We ended this journey on an overwhelmingly positive note, not only because the meal was a success but because the episode featured Paris feeding her dog caviar and Kathy drinking a Diet Coke out of a Champagne glass.
As the series progressed and the recipes advanced, I think Hilton and I both held our own. And while the intent of the show might not be strictly instructional, sometimes seeing what not to do is more helpful than seeing what you're supposed to do. Even if you don't cook along, you're welcomed into Hilton's home like a member of the Bling Ring and have the privilege of watching her navigate the kitchen — a room seemingly brand-new to her — to great comedic effect.