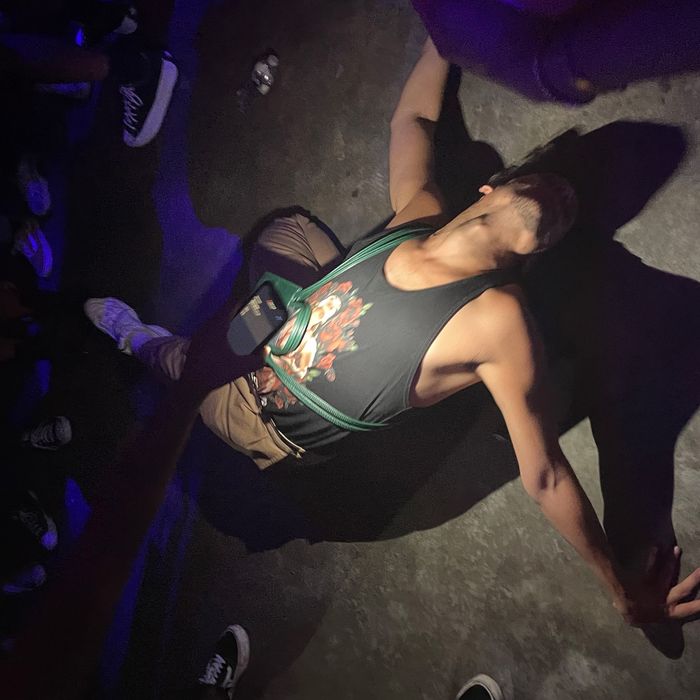 Jason, voguing on the floor.
Photo: Courtesy of Brock Colyar
Okay, this is not a surprise, but Jason Rodriguez, who played the voguing villain on the final season of Pose, is a better dancer than me. I've never thought I was a bad dancer, but in agreeing to go out with him for a night at Papi Juice, the queer- and POC-oriented collective that has been throwing parties in Brooklyn since 2013, standing anywhere near him made me feel clumsy. But I don't think he noticed.
Jason, 31 but "feeling 21," is Dominican American and grew up in Washington Heights and still lives there. He recently moved out of his parents' home for the first time, to an apartment with his boyfriend, so I take the train to 145th Street to meet for drinks at his place. He recalled that when he was actually 21, he partied at places like No Parking, a gay Black Dominican spot that has since become a Planet Fitness, and midtown's legendary Escuelita, now home to nothing but an ATM. There were also Porn Star and All Star, two lesbian music groups who used to rent apartments in the Bronx and charge young, queer kids like Jason five dollars to come drink and dance. He attended Papi Juice for the first time a few years ago as the guest of his Pose co-star Indya Moore, and it was a throwback to all the places he used to go. "Being Latinx, we're always around music. It's so beautiful when you can step into a space being queer and you hear that music but in a comfortable space with people you can relate to," he says. "Going to Papi Juice feels like that space exists again. I don't have that uptown anymore. But when I go to Papi Juice, when I travel all the way to Brooklyn, it feels like it comes back."
Jason studied dance at SUNY Purchase and joined a ballroom house, the House of Ninja, when he first discovered vogue. In 2018, he was cast as Lemar in Pose, who lives to serve the commanding house mother Elektra, played by Dominique Jackson, before leaving her house and taking a mean turn in the final season. In real life, Jason joined the House of Extravaganza. Now when he goes out, "people obviously recognize me, but it doesn't separate me from my happiness in nightlife," he says. "I'm there. I still show up." And he kicks everyone's ass on the dance floor.
10:57 p.m. | We agree to meet first for drinks at his new place. When I walk in, he's playing Diana Ross's "The Boss," which is being drowned out by the sound of many, many loud bird squawks. He introduces me to his pets, three parakeets that serve as his alarm clock and two larger ones that he tells me are "very mean" lesbian birds. He's dressed in a sleeveless black turtleneck and khaki pants, and his speedy movements around the apartment (not to mention his butt) are befitting of a dancer. His manager and friend joins us, and we pop open a bottle of Moët and follow it with shots of tequila.
12:08 a.m. | Jason tells me there are "Vogue beats" happening at 1 a.m., so we order an Uber to Elsewhere, a venue in East Williamsburg with a rooftop and an indoor dance floor. Sucking on Jolly Ranchers in the car, we talk about how much he enjoyed playing an antagonist in the last season of Pose. Now that the show is over, he's hoping to find more roles as the "queer Latinx villain." "I see myself between a villain and a vigilante," he says. "Every time he shows up on the screen, he has this nasty grin." In order to play Lemar, he says he channeled his own negative ballroom experiences. "We have all this positivity, but it's a competition. So at the end of the day, people can be very nasty. I channeled it into that character. In a sense, it kind of healed me." In fact, said toxicity is why he recently left Extravaganza. Now, he's "a 007." Shortly before we arrive, he proudly shows off a few Insta photos of two 20-somethings he "fathers." It's clear, as in the show, that this ballroom family is what means the most to him.
12:40 a.m. | In the car, Jason told me he appreciates his newfound ability to fast-track his way into parties, but he doesn't mind waiting in lines, either: "Sure, it feels fab to walk in through another space because of what I've done, but at the same time, I'll humbly wait in that line." It's not clear where the VIP entrance is at Elsewhere, however. We're joined by a few of his friends, one of whom struggles to climb over the velvet rope in his tight leather pants. Eventually, Jason manages to get only the two of us inside, but he goes back to fetch everyone else. "Stay right here, baby," he says sweetly, leaving me by the DJ stand, where the drag queen Chiquitita is beginning a performance to a Selena song. People cheer her on with calls of "Yassss, BITCH!!" and "THROW THAT ASS IN A CIRCLE!" Jason returns with his manager, VIP bands, and a few nasty words about the "butch queen" at the door once we're in the private back room. He's a gaymer geek and compares dealing with the bouncer to slaying a dragon on Game of Thrones. His manager seems nervous about the conversation, but Jason doesn't care: "Let them write that Jason didn't let anyone step on them."
12:55 a.m. | In the VIP back room, where plenty of hot "creatives" and club kids are lounging around, Jason chats with one of the hosts and pours a small shot of what tequila is left: "That's a shingle! Not a shot." A tall, red-haired, single-earringed person enters the room declaring, "We're the nonbinaries. Make space." I introduce myself, feeling like we've met before, only to discover I actually watched them on a queer reality-TV dating show in the middle of quarantine. They seem unhappy that I've recognized where they're from. Out on the dance floor, I hear Dido's "White Flag" transition too seamlessly into Nicki's "Anaconda." The emcee yells, "Who's in a complete and utter blissed-out state? Make some fucking noise, Papi Juice! After all we've been through this year, we're fucking together now."
1:50 a.m. | The dance floor is busy enough that you can't carry a drink across without it being elbowed and having it splashed into your face. "I want a vogue battle right now. I want to battle all those girls," Jason says, looking into the crowd of midriffs and great hair. "Toxic" comes on, and the dancers burst into song when the chorus hits. "I want her to be free and talk all the shit. Free Britney!" Jason says. He's standing in the corner of the dance floor, but slowly his moves start to come out: a wrist thrown in the air, his head dramatically cocked to the side, an angular, slow bend in the knees. He very subtly takes up a large circle of space, and it becomes clear it will be impossible for me to even try to dance anywhere near him tonight. I would simply look ridiculous in comparison.
2:38 a.m. | Back on the dance floor, the vibes are horny, and I spot an enviable threesome in a furious group make-out. Jason tells me he just ran into a boy who took his dance class once, someone who's exactly his type: "geeky but doesn't know they're sexy." Then a man with very broad shoulders starts dancing on him, bending him over the rail while Jason shakes his ass. When Jason steps away a few seconds later, he tells his manager and me, giggling, "His dick was so huge I think I got impregnated." I run into a florist I know who isn't scoring as he'd like to tonight. "My pussy is already wet and lubed up," he says dourly, blowing a puff of cigarette smoke. Jason's manager, shrooming too hard to be here, decides to leave.
3:00 a.m. | If I think this party is a relatively good time, others here discern that something, somehow, is off tonight. "It's a flop. They never throw a flop," two separate people tell me by the bar. In the backyard, I meet a well-dressed editor and an even better-dressed stylist. "I know I had a good time when I walk out and my makeup is fucked up," complains the stylist. "I didn't sweat at all tonight. It's these intricacies of realization." He says this particular event could use more hosts and bigger DJs. A party, he says, either makes you say, "Oh my God, you should have been there," or "Oh, babe, it's okay. You didn't miss anything." Later today, he says he'll be texting people the latter. Their collective big-picture insight: It takes a while to get up to speed in this "post-plague" "nouveau Renaissance."
3:56 a.m. | Indya Moore arrives looking like a New Age goddess fantasy with a bandanna around their mouth; a bald, henna-tattooed head; and pants and necklaces I can only describe as vegan music-festival garb. They're nearly unrecognizable. Jason and I join his friends for a shot, cheers-ing to "money, health, and prosperity," and then we return to the dance floor, where he and Indya lean against the DJ stand, shake their asses, and start a hump-heavy dance line six people deep. A girl next to me is staring at Jason's butt and tells me, forlornly, "It's not fair."
4:30 a.m. | Jason finally has the room to really show off his ballroom moves, dropping to the floor as the crowd gathers round and lights him up with their iPhones. For 15 minutes, he's the glorious center of attention. Everyone snaps and screams when he throws his white sneaker behind his head or does a particularly fast and furious move, his dark-olive mini Telfar bag flying around with his long limbs. A boy in a mesh bodysuit looks at me and says, "He's from Pose, right? He's like a show off!" and tries to engage Jason in a battle on the floor. It's not much of a match. Jason walks away with a faux-surprised hand over his big, charming grin. The DJ plays "Monster" and then "Love on Top," pulling back the sound so the crowd can sing in unison over Beyoncé.
5:08 a.m. | The dance floor doesn't have much more than a couple dozen people left, but the music keeps them going. Admittedly exhausted, and feeling as though Jason should spend some time dancing without me struggling to twirl next to him, I decide to head home. Outside, the sky has turned a hazy cotton-candy blue, and the birds have begun to chirp — a little more quietly than the ones at Jason's apartment. A cute trans guy asks to bum a cigarette, and when I ask how he and his friend are feeling at this point in the morning, they sigh and say, "Well, we're rolling." And at that, I roll on home.