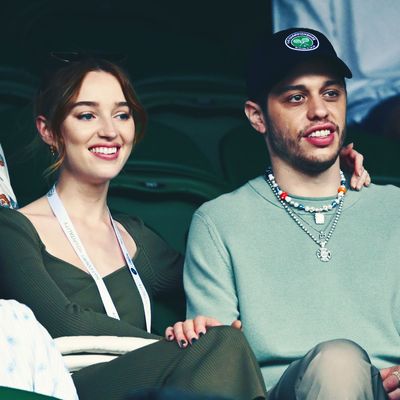 [
Weeps in British accent.
]
Photo: Karwai Tang/WireImage/Getty Images
Dear readers, I come bearing unfortunate news: It appears Phoebe Dynevor and Pete Davidson have broken up. Our diamond of the season and her tall suitor! Although they never officially confirmed they were together, they had been seen strolling around the Manchester countryside grocery shopping, and wearing matching necklaces. (So yeah, they were dating.) However, this modern-day courtship seems to have come to an end.
According to The Sun — admittedly, a less reliable source than Lady Whistledown — long distance is to blame. Davidson lives in New York and Dynevor resides in England. "As time has passed, it's become increasingly obvious it is going to be difficult to make this work," a source told the U.K. tabloid. "It was wild while it lasted, and they both really care for each other. But the distance has put a strain on them." And wild it was! There was hugging in public! There was Pete saying he was dating his celebrity crush! There were 57 photos of the couple laughing in the grass, courtesy of The Daily Mail! We shall hold these memories dear.
If there was any hope that the two might rekindle their romance, The Sun's source quickly squashed it, saying, "unless something drastic changes, their relationship won't recover." Well, there you have it. We can all stop holding our breath hoping that maybe Pete Davidson would replace the Hot Duke, giving us some mash-up of an old-timey Staten Island–British accent. I would have loved to see that tall boy in a fancy jacket and some uncomfortable-looking trousers.
Alas, there is always next social season.