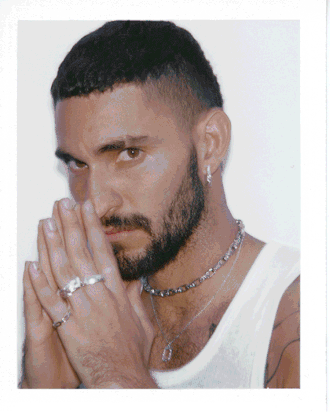 Jewelry is one of the most intimate pieces of fashion we wear; it can symbolize love, friendship, achievement, or loss. Whenever I see someone with rings stacked on their fingers, bangles up to their elbows, or gold chains layered perfectly over a pearl necklace, I'm intrigued. I want to know more about them and if there is a story behind each item. The point here is that the jewelry we wear pulls people in closer and shares a bit about who we are without having to say much, which is kind of beautiful.
Round two of Brooklyn-based jewelry designer Bernard James's annual portrait series, "Bernard James Family Portraits," draws us in with intimate visuals featuring his close circle of family and friends, all wearing pieces from his handcrafted collection of fine jewelry.
"What better way to tell those stories than with the people that inspire me directly," says James, "whether that be the physical design of the pieces or what the pieces mean within context."
Captured by photographer César Buitrago on a Big Shot (which was, incidentally, Andy Warhol's favorite Polaroid camera), the series aims to highlight creative individuals who embody the brand's commitment to diversity in the fine-jewelry industry and its mission to redefine modern luxury for a new generation.
"Jewelry is so personal," says James. "When people ask me, 'What do you see for me?,' I rarely give an opinion. My first response is always 'What do you see for yourself?' Because the whole idea of the collection is that I want you to explore something within the pieces that resonates with you."
With community being core to the brand's foundation, James's ongoing portrait series will continue to feature family and friends from the music, design, media, fashion, and art worlds who each define and shape contemporary culture as well as inspire him on a personal level.
Scroll down to see images from "Bernard James Family Portraits, Summer 2021."