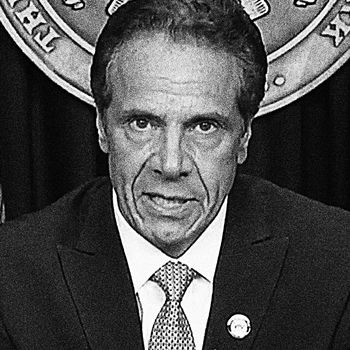 Photo: Screenshot via the Office of the Governor
After multiple allegations of sexual harassment, a toxic workplace, and a criminal complaint of sexual misconduct, Andrew Cuomo has officially resigned as governor of New York. In his speech on Tuesday, Cuomo addressed some of the accusations, offering an I'm-sorry-if-you-were-offended type of apology, though he consistently denied the allegations, as he has done for the past six months. About halfway through his 20-minute speech, Cuomo announced he'd be stepping down as governor in two weeks and that Lieutenant Governor Kathy Hochul would be replacing him.
Then, Cuomo just … kept talking. He talked about New York lowering its number of coronavirus cases, while omitting the part where his administration covered up the high number of COVID deaths in nursing homes. He talked about passing marriage equality, the number of women in his senior administration, his daughters (ages 23, "26 and 26 — twins"), and said "New York tough" about as many times as he said "I'm sorry."
His resignation felt like a drawn-out breakup where you keep asking the guy to leave and he keeps coming back to say, "And one more thing!" I suppose this is unsurprising from someone whose Twitter bio reads like a bad Tinder bio. ("Father, fisherman, motorcycle enthusiast.") So, let's give this man the send-off he deserves: a dumb little quiz about which quotes are from his resignation speech and which are something your ex probably said while you were breaking up.
Is This a Quote From Cuomo's Resignation Speech or Something Your Shitty Ex Said When You Broke Up?
It's more difficult than you think!