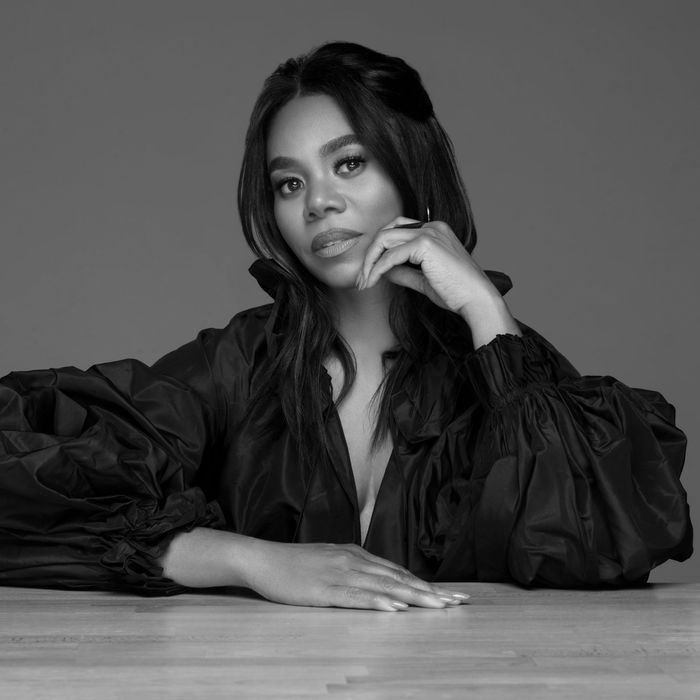 Photo: Derek Blanks/crowdMGMT
Regina Hall pauses to answer the door. We're Zooming, her from her expansive Los Angeles backyard, surrounded by tall trees as if perched at the edge of a forest; me, from my modest Manhattan apartment. The crew handling her home's ongoing renovations has already left for the day, so the knock comes as a surprise. It's a technician, there to swab her for COVID-19 so she could appear on Jimmy Kimmel Live! the next night. She carries her phone into her barren living room, and after cheerfully telling the test-taker to take her time setting up, she turns to me with a conspiratorial gaze. "Off the record," she says, eyes widening, "how are you?"
Talking to the Nine Perfect Strangers star makes me feel like I am in on a secret. In fact, after bidding the swabber adieu with a spirited, actually sincere-sounding "you have a wonderful day," Hall divulges that she's been staying at a Marriott down the street because of the construction. She recently had to rebook the room in her assistant's name to avoid being declared a squatter. Hall projects a warm familiarity when she speaks; she has a way of making a Zoom between strangers feel like a real-life conversation between, well, not-strangers. Like when she nods vigorously as I speak, chuckles while mentioning Brenda in Scary Movie as though she were a longtime friend, and speaks of Nicole Kidman — who apparently never broke character during the monthslong Nine Perfect Strangers shoot, which found her portraying a dubious Russian wellness guru named Masha; think Gwyneth Paltrow meets Arianna Huffington meets a cult leader dressed in white — with the same awe that you or I might.
Hall's character in the limited series based on Liane Moriarty's best-selling novel is Carmel Schneider, a hypersensitive divorcée who attends Masha's New Age–inflected California retreat hoping to lose weight after her husband leaves her for another woman. Carmel is a different speed for Hall. She tends to play headstrong dynamos who wouldn't be caught dead at a Goop-ian getaway built on self-help hokum. Imagine her brassy libertine from About Last Night, or her zero-bullshit empowerment sage in Girls Trip, or even her pragmatic sports-bar manager from Support the Girls meditating in a self-dug grave.
"My agent gets all the terrible calls," Hall says. "I'm like, 'I'm not going to be able to do it! Why'd I take this job? Who is Carmel?' Because she's not one of my normal archetypes. He kept saying, 'What do you mean?' I was like, 'I don't know how she sounds, I don't know how she walks, I haven't figured it out.' And I read it over and over, and you do all the work for it to drop in. I called him maybe two days or three days before shooting and said, 'I think I found her.'"
Part of what she found, with help from the show's costume designers, was a look that matched the exaggerated smile Carmel uses to mask her heartache. Hall wanted Carmel to seem "stuck." This is someone who used to spend time on her appearance but lost her self-esteem somewhere along the way. Her slightly unkempt curls and ill-fitted cardigans give suburbs circa 1997. "Her shoes are bad, but she did try to do her hair," Hall laughs. Like the other guests at Tranquillum House, and like many of us enduring the prolonged headaches of 2021, Carmel is having a life crisis. Sometimes her carefully controlled rage leads to savage outbursts. But you like Carmel even in her most destructive moments, because her pleading eyes look so sympathetic and because they belong to Regina Hall.
Hall also went digging for Carmel's voice, which sounds reedy and tentative — a far cry from the deep-throated assurance of Black Monday's Dawn. Hall was filming the Showtime comedy's most recent season when she had to rerecord some of her Nine Perfect Strangers dialogue. Upon entering the studio, she realized Carmel's cadence was so unlike her own that she'd need to hear the original audio in order to replicate it. "I was like, 'Oh, I forgot Carmel talks like that,'" Hall says, as though she were referring to a long-lost friend. Having seen six of the eight Strangers episodes, I can see why Carmel required a total transformation.
People often call Hall underrated. They're probably right; 2018's Support the Girls in particular proved she has a wider range than Hollywood sometimes lets her show. "It made a difference probably more than any other film," she says. But what's amazing is that the 50-year-old actor, who was born in Washington, D.C., and studied journalism in New York City before banking her debut movie role in the cherished 1999 rom-com The Best Man, has never suffered a real career lull. Sure, she has some duds on her résumé, like Mardi Gras: Spring Break, a Carmen Electra road-trip comedy from 2011 that she took because she wanted to work with Josh Gad. But she says she hasn't longed for quantity, whether that means Love & Basketball, Ally McBeal, Law & Order: Los Angeles, Think Like a Man, Little, or her recurring part on the slavery soap-opera parody within HBO's Insecure.
Being "underrated" is a nebulous thing. What confers success if not a prosperous career? And yet there's something jarring about the credits in the Nine Perfect Strangers trailer: Academy Award winner Nicole Kidman, Academy Award nominee Melissa McCarthy, Academy Award nominee Michael Shannon, Emmy Award winner Bobby Cannavale. Hall doesn't need awards to prove her worth, but the lack of a modifier before her name just feels wrong. Strangers, with its buzzy Hulu rollout, will surely capitalize on the prestige accelerated by Girls Trip and Support the Girls. Glance at Hall's upcoming projects, and you can tell that Hollywood now sees her as a leading lady: She'll soon portray a southern-megachurch doyenne in a satirical mockumentary and the dean of students at a predominately white liberal-arts college haunted by its occult racist history.
Hall's next chapter will also involve some uncharted territory. During quarantine, she and her neighbor, Antoinette Stella, who has written for Melrose Place and Rizzoli & Isles, started drafting an anthology series together. Showtime picked it up, and now they are preparing the pilot episode for production. (A Showtime rep told me it's being produced by Moonlight director Barry Jenkins.) Riding the continued wave of success in an industry that is finally making room for women older than 45, she is adopting an attitude that Carmel would be wise to emulate.
"I want to be a little scared or a little uncomfortable," she says.